Back
Wine tour of the Central Valley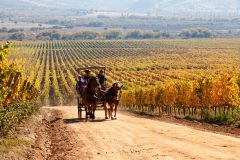 Visit prestigious wineries just an hour's drive from Santiago for a guided tour and tasting.
The sun-drenched vineyards of the Central Valley are a picture of rural serenity, yet lie within remarkably easy reach of the capital. On a relaxed daytrip from Santiago we can take you into the heartland of Chile's wine-growing region to visit one or two of our favourite wineries: historic properties where grand estate houses overlook landscaped grounds and rolling hills.
But of course the main attraction is what's in their cellars – Chile's finest wines are produced here and you'll have a chance to sample a few of them for yourself. A winery tour will also introduce you to the wine-making process and the viticultural heritage of this fertile valley.
Chile
Santiago and the vineyards