Packing for your upcoming holiday can be stressful; realising that nothing in your wardrobe accommodates tropical weathers, the confusion over what you'll actually need and the monotonous folding of clothes (or stuffing of suitcases!) It's safe to say we all wish we had someone else to do this for us! Until the wardrobe fairies come out to help, I've put together some tips to help make the packing experience more bearable!

Discovering Inland Mexico
Whether you're exploring Mayan ruins or the gorges of the Copper Canyon, comfortable footwear is an essential! But who said comfortable can't be trendy? Skechers offer a wide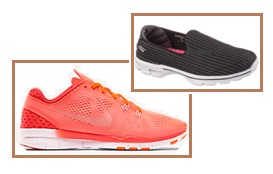 range of stylish shoes with memory foam insoles and lightweight materials. My top choice would be the Women's Skechers GoWalk 3 Slip-On Shoes, its extreme cushioning and slip on design is perfect for cobblestone streets like those in Campeche. If trainers are your go to for comfort, Nike Free TR 5 Breath will provide you with support while keeping your feet cool during hot-weather. With a variety of bright colours, including coral and fuchsia, these will also jazz up any outfit! If your feet need an extra support, we would recommend Laminate Trace outdoor shoes by Clarks. Its thick and curved sole will minimise the amount the foot has to bend and flex, allowing you increased comfort for longer.
We know different activities require different outfits; but make sure you pack good shorts. Breathable materials such as linen and cotton are perfect and can be found in cool, and fashionable styles and prints. Chinos are also a good staple for comfortable and casual day wear worn with a t-shirt and trainers. Jeans and polyester shorts are not advised as thick and non-breathable materials can be uncomfortable in the heat especially for long periods. If going on long hikes, zip off trousers provides comfort and practicality.
Mexican Beach Escape
You might be tempted to overpack for a beach escape but there's no need to over pack. If travelling for a week, two swimsuits would be advised. Monki Nanna's striped bikini, is a fun option or if swimsuits are preferred, Marks and Spencer's Secret Slimming Ruched Bandeau Swimsuit offers a supportive yet feminine cut. Pair your swimwear with a printed jumpsuit and you're ready for lunch, exploring or even dinner!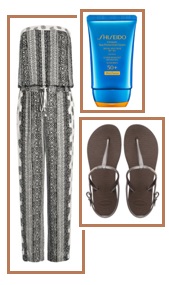 In search of flip-flops you don't need to look far, Havaianas is a favourite in our JLA office. With a variety of colours, prints and styles, you can colour coordinate to your outfits, mix and match prints, or simply choose your favourite; these flip flops are a perfect combination of style and comfort. The new Women Freedom with wrap around straps are a great replacement for daily sandals and can be worn both to the beach and on a day trip around town.
Of all my packing items, the contents of my beach bag are my favourites! Let's begin with essential skincare. We all read the articles which flood through as soon as the sun makes an appearance, but do we really know which SPF to use? Each skin colour requires different SPF coverage. Travelling to Mexico, an SPF of 30 or higher is advised, not only while at the beach but also throughout the day. It's hard to find a common favourite as different skin types suit different products but my best for sun protection are the Piz Buin 1 Day Long SPF 30 or if you're willing to spend a bit more the Shiseido Ultimate Sun Protection Cream SPF 50. Great for those who enjoy more time in the water due to its WetForce technology which provides extra protection once in contact with water. For body protection Riemann P20 Once a Day SPF 50 is the market leader in scientifically proven sun lotion.
Next time you're buying sunglasses, don't only choose them for their shape or colour but also for their UV protection. Protecting our eyes is equally important as our skin. Ray Ban's Classic Aviators with green lense absorbs 85% of visible light in both medium to bright sun.
Tailor-made holidays
Flexible, custom-made holidays to Latin America created to match your exact requirements: our tailor-made itineraries are as unique as the clients for whom they are designed.
Design my trip