Back
Posada Plaza Mayor
A mid-range colonial property with many historical features, which sits close to Colonia's pretty main square.
This traditional, colonial property has one of the best locations in the well preserved Portuguese colonial port of Colonia, on the corner of the main plaza. It occupies a rambling old early 18th century house which backs on to the River Plate. Posada Plaza Mayor oozes history and old-fashioned charm: a flower-filled central courtyard with deckchairs and a bubbling fountain, rooms with high ceilings and centuries-old stone walls, a lovely breakfast room with creaky wooden floor and views of the river. Most of its 15 rooms are in the original house.
This is the best least-altered of the colonial hotels in Colonia. A few stylistic misadventures lend it a slightly chintzy feel but lots of unpretentious, posada-style charm. It's ideal for a few days' change of scene from Buenos Aires.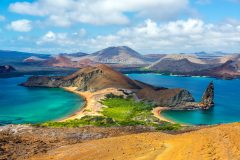 What our clients say
Quirky but excellent. Brilliant location and fantastic breakfast

The Colonia experience was always going to be different. It was a nice place but definitely a Posada

A very relaxing atmosphere, with old-fashioned facilities. We were left to own devices, more than in other hotels visited on trip, but Colonia provided a very welcome restful break.
Our Expert's Opinion