Back
Walking tour of Cusco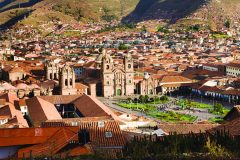 Take a guided stroll through the historic Inca capital with its extraordinary mix of ancient stonework and colonial architecture.
Once the capital of the ancient Inca Empire and still its tangible heart, Cusco is stuffed with the riches of many different eras. Spanish churches jostle for position with solid Inca walls that seem barely in need of preservation – such was the skill of their makers that they look certain to withstand many centuries more.
Our guided tour leads you through the city's cobbled streets and into its most impressive colonial buildings, displaying the wealth and zealotry of the Spanish conquistadors.
Peru
Cusco
Holidays Walking tour of Cusco
From expertly designed Private Journeys to trail-blazing Group Tours, browse our range of carefully crafted holidays.