Back
Wildlife of Soberania National Park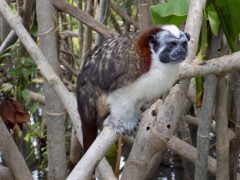 Take a guided tour by boat or on foot in the wildlife paradise of jungle Soberania National Park on the banks of the Panama Canal.
Not everybody knows that the Panama Canal cuts a swathe through rainforest seething with tropical wildlife. The artificial lake created to accommodate the canal, Gatún Lake, also attracts a myriad of bird species which flock to its shores and shady creeks, where monkeys suspend themselves on groaning branches and turtles sun themselves on the tangled branches of fallen, half-submerged trees.
This magical wildlife environment is embraced by the so-accessible Soberania National Park, a tropical rainforest reserve which sits astride the canal, just a short drive from Panama City. It's one of the most accessible nature reserves in Latin America, and visits are encouraged and facilitated with three self-guided walking trails each with its own car park: Charco a narrow, short trail, more like a jungle walk; the Pipeline trail – 17 km long and world-famous among birdwatchers for the number of species regularly spotted on the route; and the 20km Plantation Road, 20km long.
The park, embellished with cotton and oak tees, lianas, epiphytes and orchides, shelters 1,300 recorded plants, 525 bird species (including toucans, motmots, trogons, eagles), and is home to 100 mammals (howler and capuchin monkeys, sloths, and 79 reptiles with 55 amphibians (iguanas, turtles).
On any viist you are bound to spot plenty of those, a visit with a specialist guide will enhance your experience. Hikes, boat trips on the lake and bird-watching strolls are all available.
Panama
Panama Canal and Soberania National Park