Back
Hanging bridges and ziplines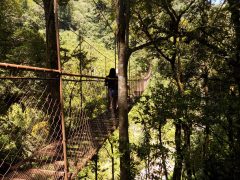 Get a bird's eye view of the cloud forest and canyons of Panama's volcanic interior from the vantage point of a canopy zipline or series of spectacular.hanging bridges.
High in the cloud forests mantling the volcanic mountains beyond the coffee plantations of Boquete in Panama, you have the opportunity to discover the natural highlights in spectacular style.
Choose between gliding along a zipline above the streams, canyons and exuberant woodland, travelling at adrenaline-pumping speed between 12 canopy-level platforms. The eagle-eye views of the giant ceiba trees, exotic ferns and liana-stifled tree trunks are magnificent and all the time you are secure in the knowledge that your highly trained guides are looking after your safely.
For a slightly less adventurous but equally stunning experience, you can take a 4km guided walk across six suspended steel bridges, also high in the canopy, where you will have the opportunity to spot wildlife up close. The brilliantly coloured resplendent quetzal, a frequent visitor to these cloudforests, is regularly seen by visitors on the walk.
Panama
Boquete and the Chiriquí Highlands