Back
Wildlife watching in the Galapagos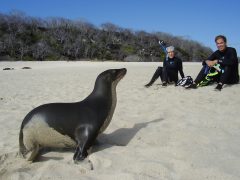 Stroll with sea birds and snorkel with penguins, sea lions and marine iguanas on guided expeditions in the pristine natural wonderland of the Galápagos.
Imagine a natural sanctuary where giant tortoises plod beside marine iguanas, while penguins and sea lions dart through an ocean brimming with tropical marine life... Welcome to the Galápagos Islands, where wildlife enjoys a fearless existence free from predators and unthreatened by man.
No matter which islands you visit, you'll see wildlife in huge numbers and from very close range – these exotic creatures are completely unfazed by your presence. You can walk among languid colonies of iguanas and sea birds, snorkel with playful sea lions and watch blue-footed boobies perform their delightful mating dance right before your eyes. Between June and October there's even a chance of sighting humpback whales breaching beside your boat.
Each island is surprisingly different to the next, both geographically and ecologically, and we can help you choose an itinerary that visits particular habitats if you are keen to see a specific species. However the truth is that there isn't a corner of the archipelago that won't enchant wildlife lovers, and the simple privilege of sharing this unique environment with the creatures who call it home is enough to make any visit a richly rewarding experience.
Galapagos Islands
Isabela (Albemarle)