Explore Espiritu Santo Island by Kayak
11 May 2015

Kayaking. Well I have done it on my home river, the Wye, and in the calm creeks of the south coast of Cornwall. No problem: so surely not too much of a challenge to paddle through the turquoise waters around Espiritu Santo Island, just off the coast of Baja Californian, Mexico.
Baja California is the 1,300km long finger of rugged desert stretching down parallel to the Mexican coast from the border with California in the USA. It is separated from the mainland by the Sea of Cortés, or Gulf of California. The 4-day or week-long kayaking trip around the uninhabited, protected Espiritu Santo Island embarks from the pleasant town of La Paz, where the friendly local operator has an office just off a palm-lined promenade. Here we were kitted out with wet suits and snorkels and details of the expedition were explained to us. No experience needed: though a sidelong glance at my fellow travellers, many of whom seemed to hail from that adventure-seeker's paradise Newport, Oregon, encouraged me to form the opinion that this was not an issue for most of them. No matter: we would be accompanied at all times by two watchful guides.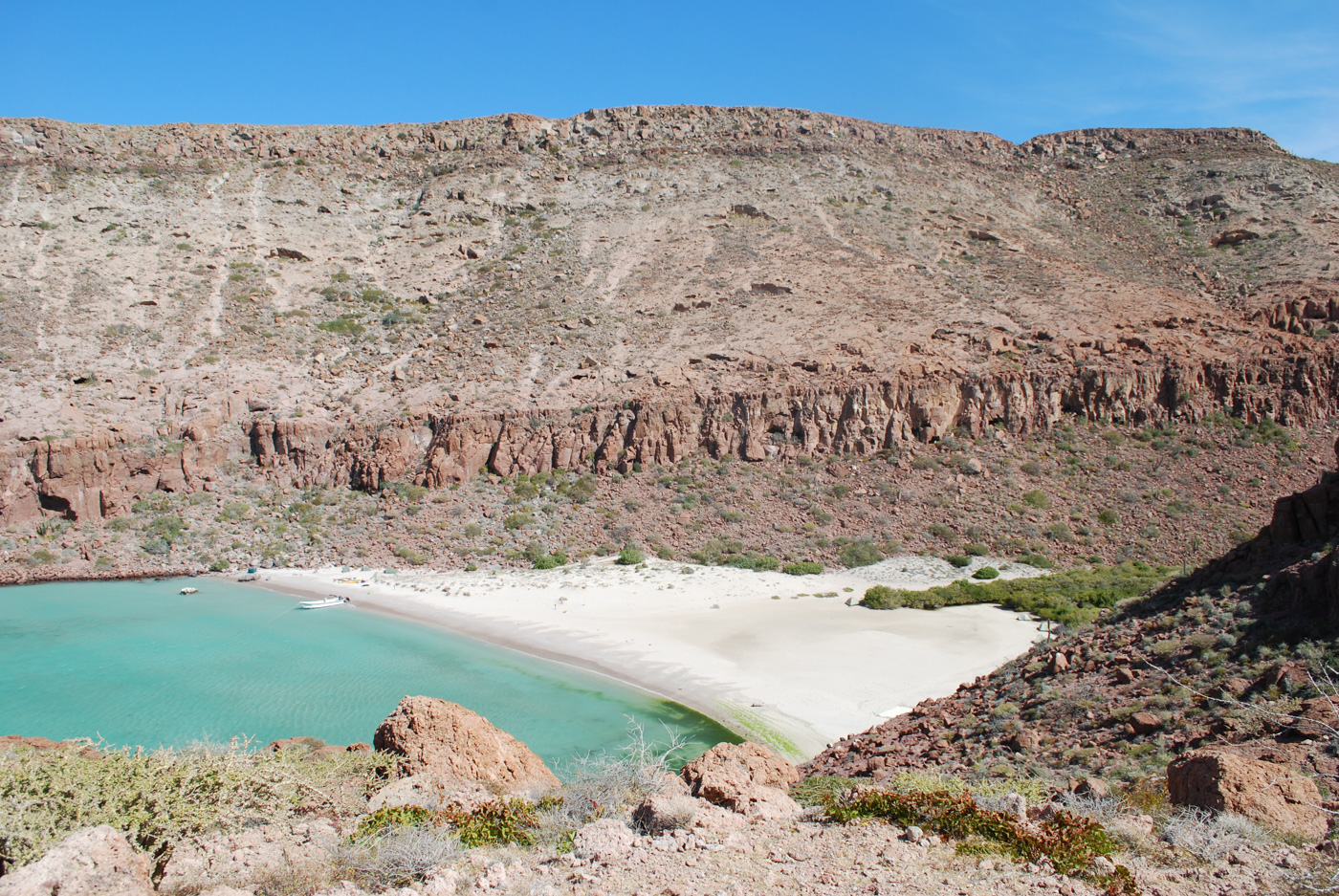 The island is a 90 minute speedboat ride from the port. We were accompanied by an expert team, perhaps the most cherished of whom would turn out to be our jovial chef. The boat creaked under its load of tents, sleeping bags, fresh food, plenty of alcohol and a portable loo. Throughout the trip, when we pulled up our kayaks on a sparkly white beach for lunch or to spend the night, we would find that the team would be ahead of us; our camp, with kitchen, loo, and even a row of chairs facing the sunset, would be in place.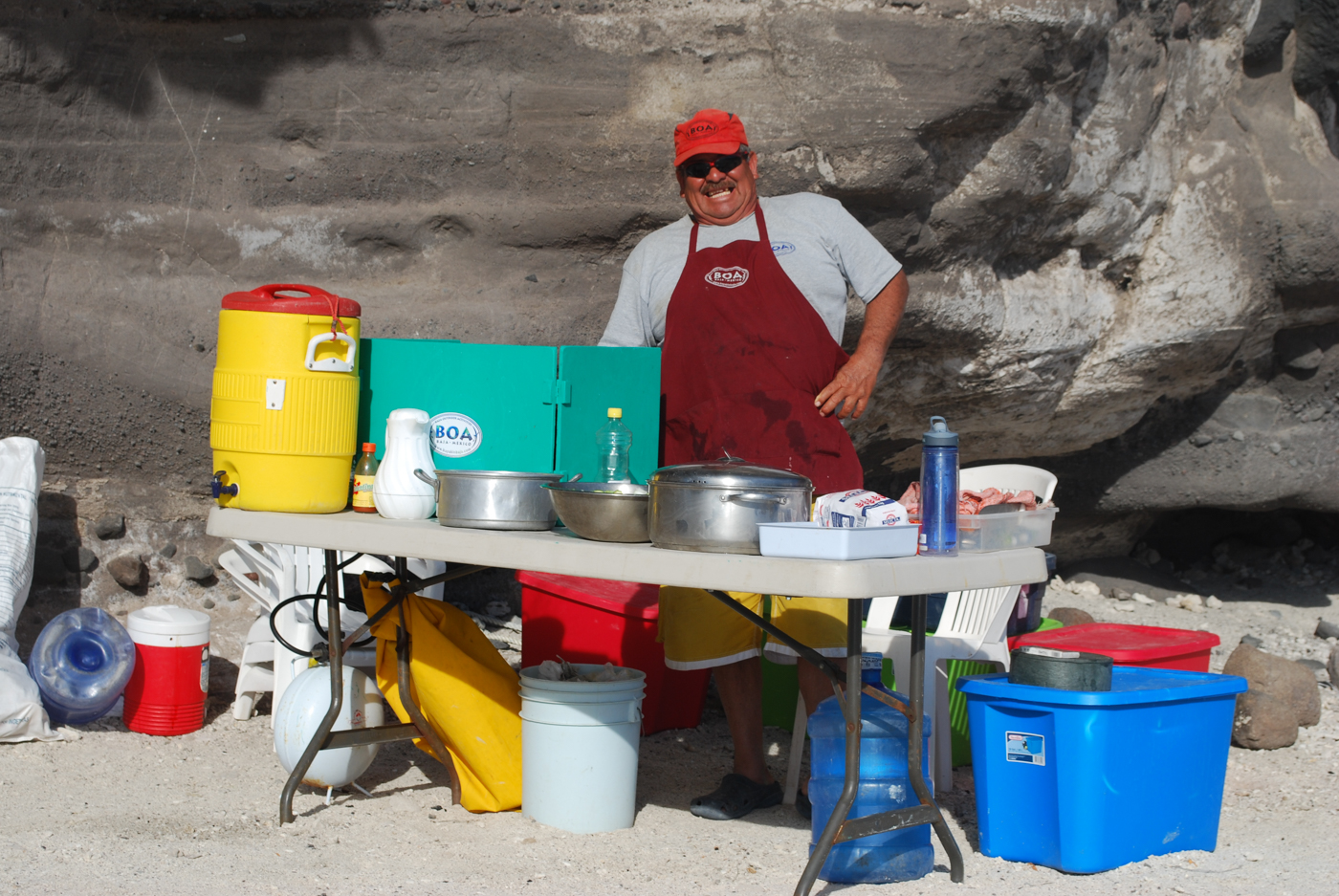 But what of the kayaking experience? Before you go out for the first time there is a brief training session on how to use the kayak and a "wet exit" practice where you throw yourself out into the sea and have to escape from your watery coffin (ie release the "skirt"). Then off we went, following the cliffs and bays of the arid coastline – not too close, nor were allowed to stray too far. The guides watch over everyone's kayaking progress. My husband and I were, surprisingly, usually up front, and every now and again had to be called back into line. There were regular breaks in sheltered spots for regrouping. If the wind is behind you it is a fairly easy, Hawaii 5 O experience. I don't know what it is like kayaking into the wind!
One of the highlights was a 'swim with sea-lions experience' at the north end of the island. Here there is a bay like a mini Galapágos or Ballestas islands: a cacophony of calls from the sea-lions, gulls, frigate birds, blue footed boobies, cormorants and pelicans. The sea-lions are very playful: you snorkel with them while they jostle with each other but sometimes come up and give you a friendly nibble too. The sea – not too cold – is heaving with fish, massive shoals of sardines, angel fish and many other varieties, live coral. Highly recommended!
The progress you make depends on your kayaking skills and the weather. If it is really windy, the kayaking may be postponed and you go for a walk in the mangroves or up a cliff path instead. What could be relied on every day however was the evening cocktail (a different one every day) and a superb cooked meal. You certainly had no trouble falling asleep in your tent at night, although one stormy evening my tent fell over and ended up cocooning me in a sea of nylon – another story to amuse the folk back home...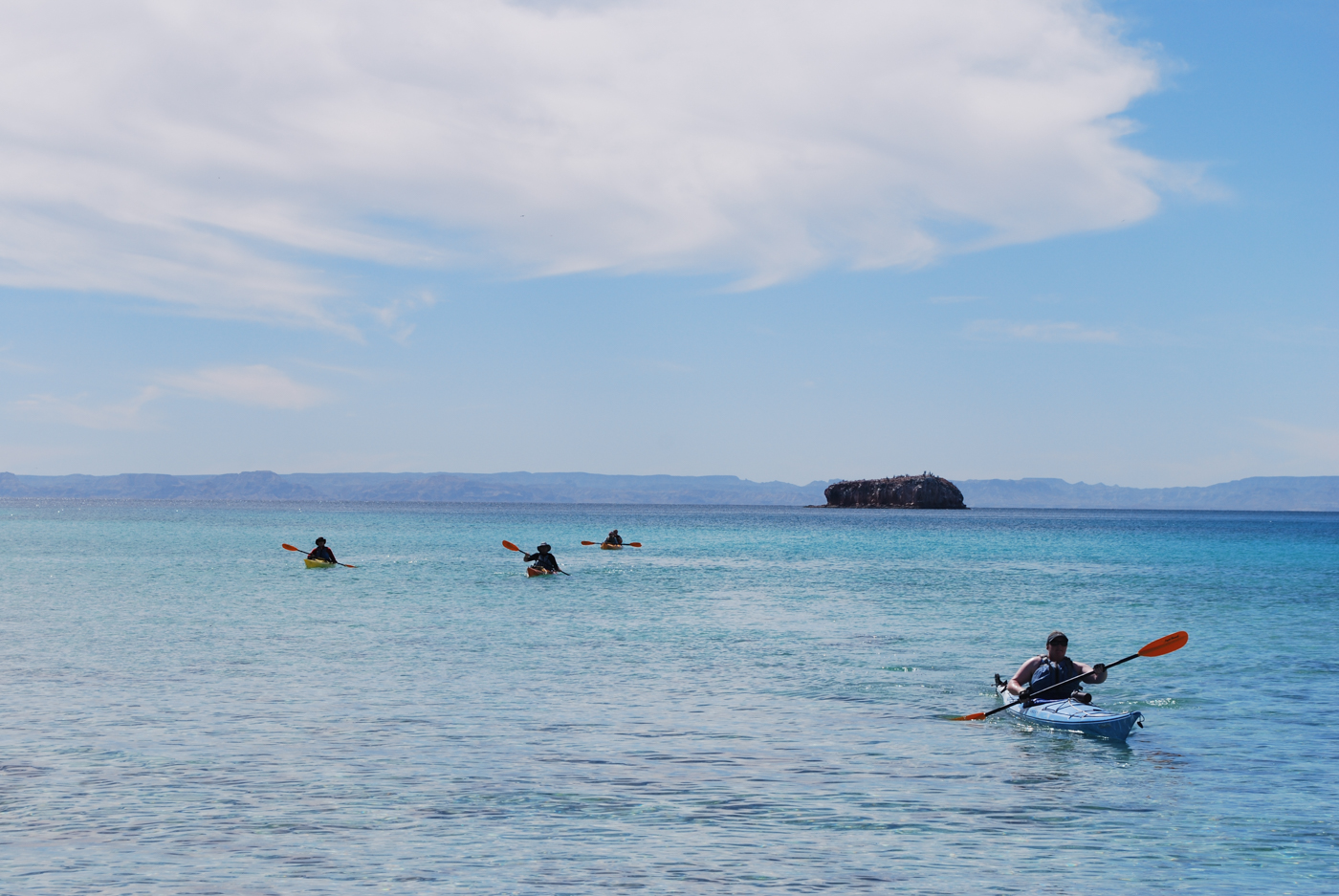 Tailor-made holidays
Flexible, custom-made holidays to Latin America created to match your exact requirements: our tailor-made itineraries are as unique as the clients for whom they are designed.
Design my trip