A little bit of Britain in South Atlantic? Not quite…
3 December 2015

The Falkland Islands. Inevitably, to the British, they summon up the memory of a rather vicious war over sovereignty between the UK and Argentina over 30 years ago. A bleak, treeless, yet quirky place isolated in the chilly waters of the South Atlantic. But what are the people of this archipelago of over 700 islands really like?
Until the war, and even after its conclusion, no one took much notice of this ruggedly-beautiful and wildlife-rich territory. Sparsely populated by 2,800 hardy and self-reliant people, from an economic and social point of view the islands are more or less left to look after themselves. The sale of fishing licences, farming (mostly sheep) and the increasing frequency of visits by cruise ships have brought relative prosperity. The autonomous local government takes care of the health and education of the inhabitants, when necessary sending them to the UK (often the city of choice is Southampton, in whose hospitals Channel Islanders are also looked after, funnily enough) at the Falklands' own expense. Nothing much controversial there, then. So they just get on with their lives, battered a bit by the wind, seemingly living in a time capsule but intransigent in their claim to Britishness.
So when I visited recently as part of a cruise on the expedition ship Plancius to the Falklands and South Georgia (of which much more later: watch this space for later articles), what was I expecting to find? I know that in the only town, Port Stanley, they had British red post boxes and I expected to see the Union jack flying in multiple locations: indeed, at the Customs area on the dock there is a plethora of them fluttering in the breeze like at a Jubilee village fete. But what else would remind me of home?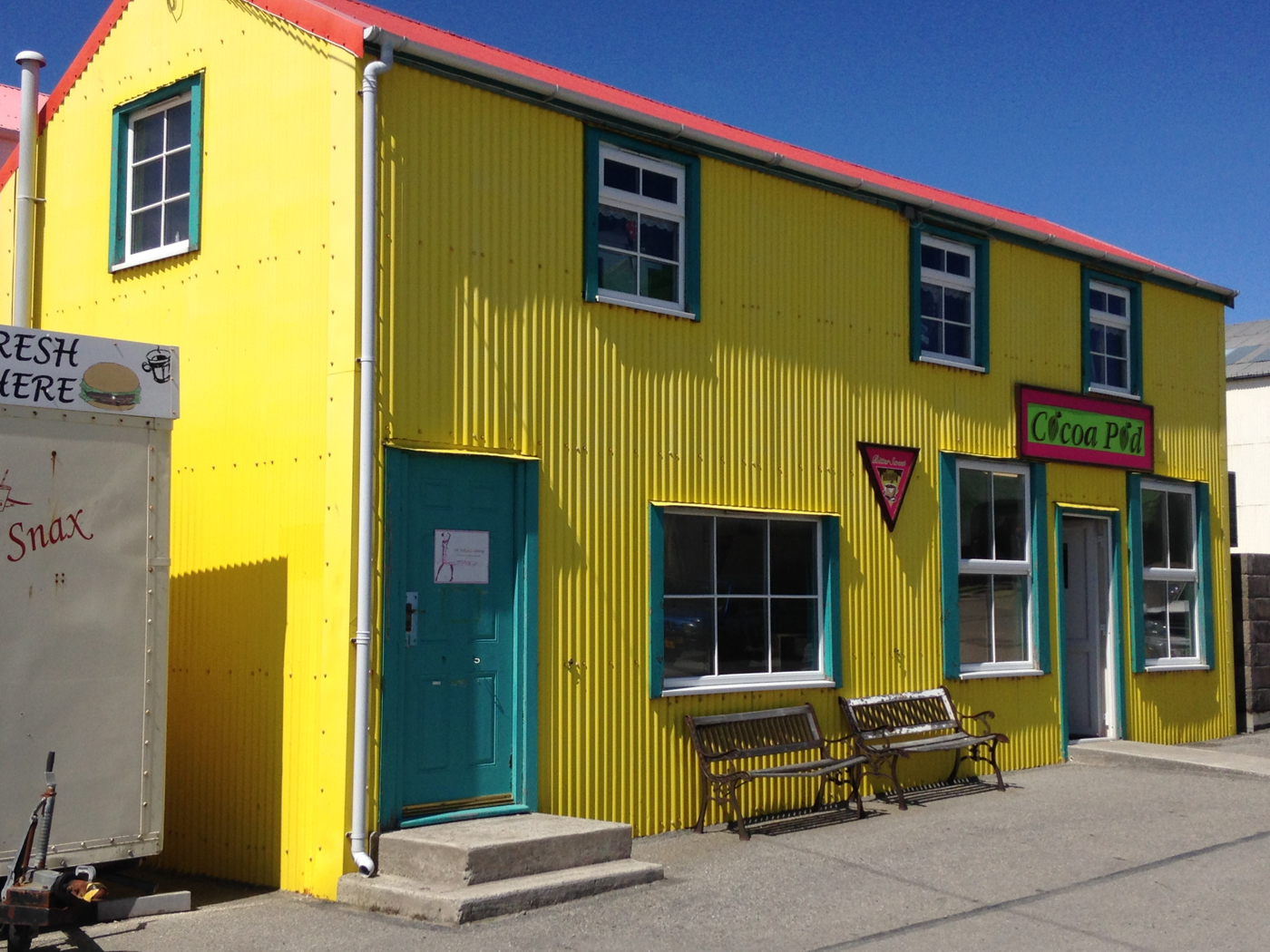 Port Stanley is situated on the eastern shores of East Falkland. Arriving by ship, you negotiate the Narrows and enter a snug, sheltered harbour. The multi-coloured houses of Stanley straddle the shore: a welcome sight after two and a half monochrome days at sea. The stern façade of the cathedral dominates the quay. Having passed through customs, you are confronted by a strategically placed gift shop and information office where there may or may not be a Wifi signal. Having bought their Wifi cards (sterling welcomed, dollars accepted) passengers settle down on a bench to be disappointed by the lack of internet coverage, which they have been starved of for a whole three days. Never mind, let's get on with our visit to the town in antediluvian mode: walking.
Well what do we see? There's a UK style bank, that's familiar. Some more gift shops and the odd half-hearted tea-room (closed). Rows of houses, some resembling austere terraced houses in Wales or northern England, others more like the wooden homes of Patagonia. A couple of desultory pubs in bland, rather unwelcoming buildings don't exactly entice one inside. There's one wine bar, well it calls itself a wine bar but reliable sources say that it isn't really anything of the sort. But where are the shops?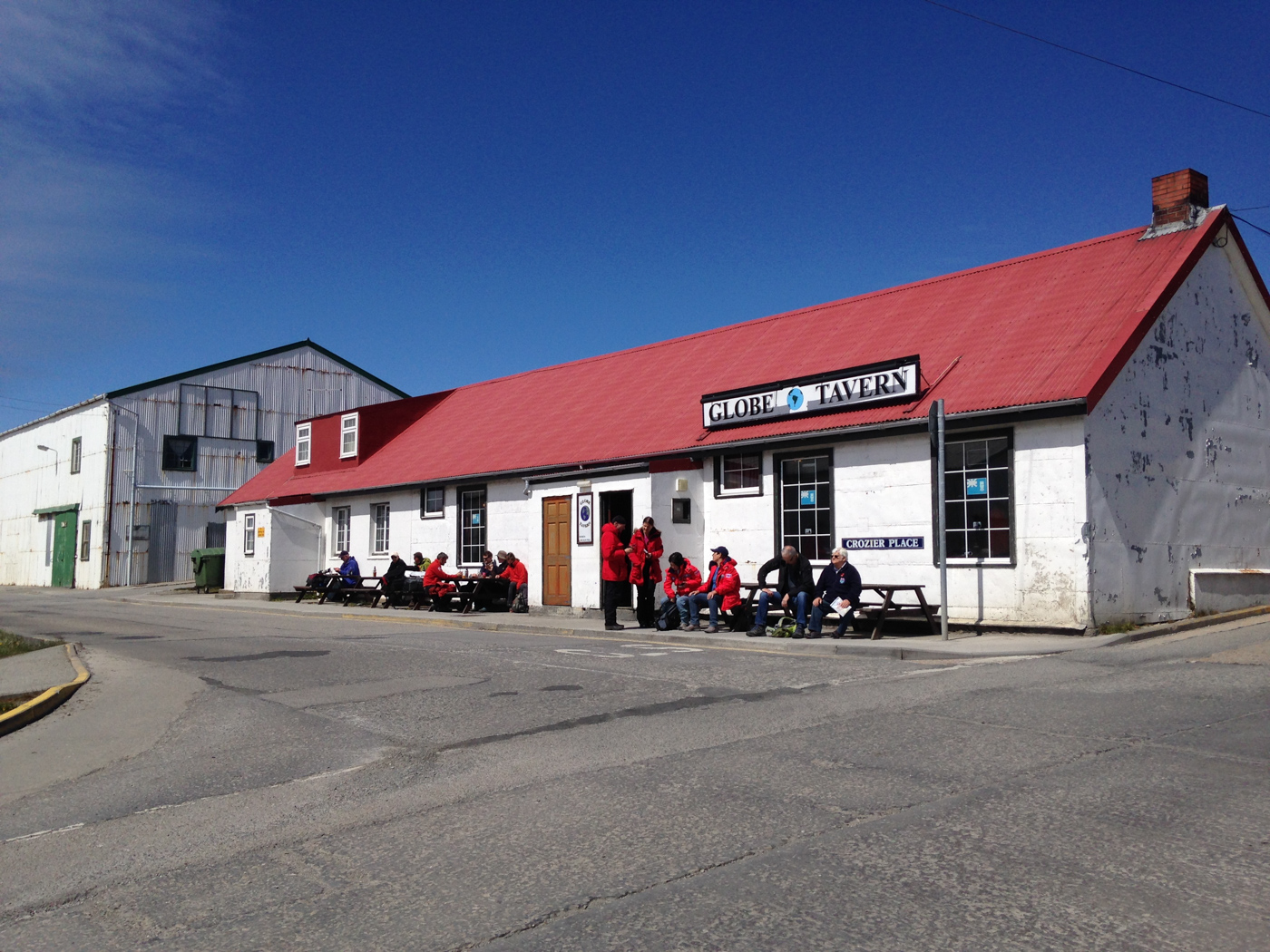 I live in Hay-on-Wye, a town of similar population bordering the equally bleak and treeless landscapes of mid-Wales. But we have shops: loads of them, boutiques, chemists, hardware shops, bookshops, jewellery shops, vintage shops. At least half a dozen hair stylists, a couple of beauty parlours. Here, in Stanley, leaving aside the gift shops catering for tourists, and builders' merchants, there seems to be one retail outlet. West Store. A small, 1960s style department store it sells tellies and washing machines, a small selection of clothing geared for the outdoor life, a café showing Sky News where you have a slightly better chance of getting Wifi, and a small supermarket. Upon entering the latter I said to my husband, as one does when in an isolated community thousands of miles from home, that I really fancied a butter minto. What a vain dream! Yet he disappeared up the sweets' aisle only to emerge with a packet of the same, branded: Waitrose. Now we are getting somewhere. I was also told there is another shop outside town which stocks Sainsbury's. But other than that: zilch. Apparently mail order is really big here: a company in Southampton (where else) ships out goods on a regular basis. And I really don't think the Falklanders here are very materialistic or image conscious. Yes they have mobile phones and intermittent internet but little else from the decades beyond the 1960s. You have to admire their dogged lack of vanity and acquisitiveness. (Very few pets though; I only saw one cat. What kind of people don't want dogs?)
Not that I met or even saw many of them. Stanley was overwhelmed by the presence of cruise ship passengers in their jolly branded parkas, wandering around: looking in vain for shops, perhaps. We tourists were vastly overdressed, having been delivered dire warnings about the climate. In fact it was a mild sunny day and the locals were all in T -shirts so you could easily pick them out. But there were really hardly any of them around: I don't think they walk much, as most seemed to be cruising the few otherwise empty streets in their omnipresent land rovers.
One vehicle did pull up though: "Are you tourists?" barked the portly driver, somewhat unnecessarily as we were wandering along with several cameras round our necks. Having received a reply in the affirmative, she directed us to visit the Memorial Forest, where trees are planted to commemorate the sacrifice of the British soldiers who died in the 1982 war. So we did (it was quite moving in fact): we wouldn't have dared to ignore the instructions of this formidable lady. I think she epitomised the Falklands character: no-nonsense, stubborn, hardy, focussed. No wonder they are doing well. In fact, nowadays an increasing number of the young people who are exposed to the fleshpots of the UK while they continue their education in the Mother country are coming back to live on the islands: as evidenced by the building of new, quite upmarket (dare I say modern) homes on the edge of town.
Good luck to them. I personally couldn't live without a nail bar, but…Respect.
Tailor-made holidays
Flexible, custom-made holidays to Latin America created to match your exact requirements: our tailor-made itineraries are as unique as the clients for whom they are designed.
Design my trip