Feedback from our CREES presentation by Andy Whitworth
23 March 2015

CREES foundation is a Peruvian based not for profit organisation, dedicated to supporting a sustainable Amazon through better understanding of the value of the rainforest and helping local people to access its resources in ways that are both profitable and that will preserve the forest for the future.
The Manu Biosphere in which CREES operate, propelled into the limelight after BBC2s 'I Bought a Rainforest' series which followed wildlife photographer Charlie Hamilton-James, who bought 100 acres of the Peruvian rainforest in the hope that it will stop loggers illegally cutting down trees. Visitors can go and stay at Manu Learning Centre, one of the first totally sustainable, carbon-neutral lodge to be opened in the region. Even the most serious wildlife enthusiasts will be impressed here – indeed, scientists and conservationists choose it as a base for research.
Tropical field biologist from CREES, Andy Whitworth visited our new JLA offices and gave a charismatic presentation on his work regenerating tropical forests and its potential for sustaining biodiversity. In this presentation we gained a valuable insight to life at CREES and were treated to film snippets taken from hidden camera traps. I asked a few people what they thought...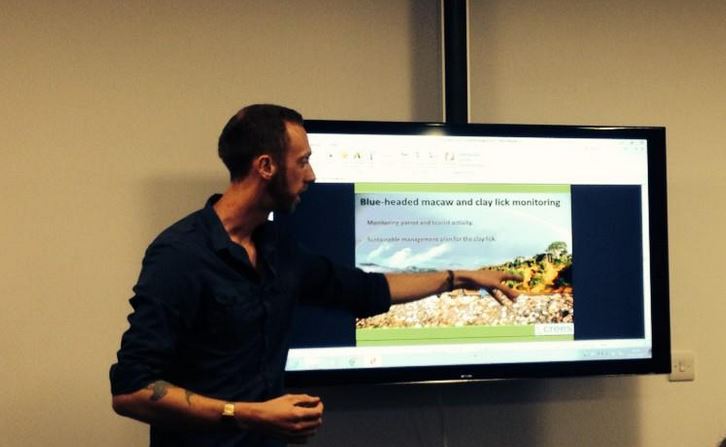 What did you take away from Andy's presentation?
Rafe Stone (Product Team): A real sense of the importance of Manu Biosphere as a model for sustainability- not just from an environment stand point but also from an anthropological one.
Barbara Zanoteli-Rodriguez (Marketing Team): An insight into the projects and how essential and interesting they are.
Antonio Vaquero (Operations Team): I watched and enjoyed the TV program, but did not realise until yesterday that Andy was based at Crees. It was a very polished presentation, highlighting the areas of work going on and fascinating long term projects. He had so much knowledge, passion and enthusiasm for the area that it felt contagious!
Konrad Mludzinski (Bespoke Team): I was really impressed with the presentation, Andy himself and all of what CREES stands for. It's been nonstop on my mind and I couldn't stop talking about it when I got home yesterday!
Dom M. Billins (Flights Team): What I loved about the presentation is that it was clear that Andy was very knowledgeable and passionate about his work. It was because of this that I was captivated by the work being done there and fascinated by the interesting facts he was able to impart about the area.
What was the highlight for you?
Rafe: The images from the web cams which catch nocturnal animals in their natural habitat.
Barbara: Definitely the video clips from the web cams, placed in hidden locations, which captured lesser-seen/lesser-known animals!
Antonio: The variety of work and how they are getting the community to learn about the value of how precious the area they live in is and introduce the cultivation of different produce into the community.
Konrad: The community projects – teaching the locals how to grow new fruit and vegetables to improve their diets.The huge diversity of animals and what they are doing in terms of research (and to build a template for other similar areas of conservation.) Probably most exciting part for me, were the stories about "un-contacted" tribes.
Dom: The awesome footage of monkeys!
Did it inspire you to go to Manu?
Rafe: Yes!
Barbara: Yes, despite all the snakes!
Antonio: Absolutely!
Konrad: I would love to go!
Dom: Oh definitely!
What would be the key message to convey to clients?
Rafe: You'll be hard pushed to find a place so dedicated to a cause and all of their beneficial projects.
Barbara: Important for us to show that CREES is as much a learning experience as a jungle lodge and birding paradise.
Antonio: The isolated setting of CREES and having people (scientists) working there who are so interested in what they do.
Konrad: For the right type of client (wildlife, science, nature-enthusiast), this would be a trip of a lifetime.
Dom: What I think is particularly great for visitors is that they are able to get really involved with all the work done there by the scientists and feel very close and intimate to the abundance of nature around them. Clients will also feel a sense of satisfaction that they are supporting such a worthy cause.
Tailor-made holidays
Flexible, custom-made holidays to Latin America created to match your exact requirements: our tailor-made itineraries are as unique as the clients for whom they are designed.
Design my trip