Back
Experience Cuban rural life at Baracoa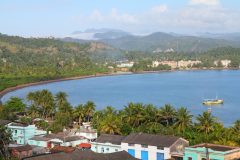 Sample the slower-paced life of the remote Cuban countryside, visiting farms, rivers and beaches.
In the beautiful, lush hinterland beyond Baracoa, the local lifestyle is relaxed even by the usual Caribbean standards. Sit back, synchronise your watch to the slower pace of life and ease into the tranquillity of this naturally blessed region.
Walking along the Cocoa Route will give you a good taste of the landscape, not to mention the Aztec-inspired chocolate drink known as chorote. You can see this traditional concoction and other chocolate products being made at a rural cocoa plantation as well as visiting small farms to see timeworn agricultural methods.
To get closer to nature, take a boat down the Rio Toa, a peaceful rippling river whose banks are cloaked in palm fronds and emerald forests, or enjoy the unspoilt white-sand beaches at sheltered coves and little-visited bays along the coast.
Cuba
Baracoa