Back
Visit the national parks and private reserves at Arenal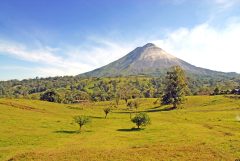 Visit the famous national parks and lesser-known private nature reserves of Costa Rica.
With over 25% of Costa Rica's territory occupied by national parks and with a population of under 5 million, you might be forgiven for thinking the whole country is a conservation nature reserve with a volcanic divide through the centre.
On the ground however, the differences between the biological, wildlife and marine reserves become more defined. Many of the national parks are well known and popular, with high visitor figures. But among the more secluded reserves are many privately owned properties, open to visitors.
These allow you to experience Costa Rica's great wealth of flora and fauna at close quarters with expert guides, often in solitude. These habitats range from lush primary rainforests - where paths have been forged so you can immerse yourself in the sights and sounds of the jungle - to wispy, ethereal cloud forests, where epiphytes such as bromeliads and heliconias are dive bombed by brightly coloured hummingbirds.
Many of the parks and reserves have remote or isolated but well located accommodation, ranging from rustic eco-lodges, often family-run with their own farm attached, through to top-of-the-range properties with spas or wellness facilities. All offer sensitively operated guided activities on land and water so that you can get the most out of your experience in the wild.
Costa Rica
Arenal and the north