Rosemary Morlin tackles the Ausangate Trek in Peru
28 October 2014

Loyal client, Rosemary Morlin, tackles the challenging yet spectacular Andean Lodges of Peru Ausangate Trek.
If you want a close encounter with Apu Ausangate but don't fancy high-altitude camping, then this might be the trek for you. Accommodation is in four comfortable lodges built and serviced by local communities roughly 10 to 12 kilometres apart, manageable by even the slowest trekker who likes to stop and take photos. Trekkers sleep in single and double bedrooms each with en-suite facilities and a soothing hot water bottle in the bed each evening, a far cry from what was average YHA accommodation in the United Kingdom up to the 1980s! There are no curfews, no morning jobs, and even live music is provided. A bandurria player entertained us on our first evening.
The vehicle dropped the guide and me just short of the village of Chillca after a four-hour drive from Cusco. Then it was a gentle stroll through the village past houses bedecked with the names of candidates in the forthcoming elections and a parish church where the priest comes only once a year to officiate at weddings. We reached Chillca Tambo after walking for an hour or so.
I was presented with a pair of alpaca-skin slippers on arrival which were a gift from the Andean Lodges. I shall certainly be glad of these if we have a winter as severe as that of 1962–1963 or more recently that of 2009–2010, not to mention they were warm and comforting after a day's trekking.
The next day began with a visit from a group of weavers from Chillca hoping to sell their wares. I bought a poncho woven by a woman called Cerella for 400 soles which was good value as it was made from alpaca wool and used natural dyes. Weavers say that alpaca wool is more difficult to weave as it is softer and shinier than sheep wool. Cerella was of course delighted to have made a sale.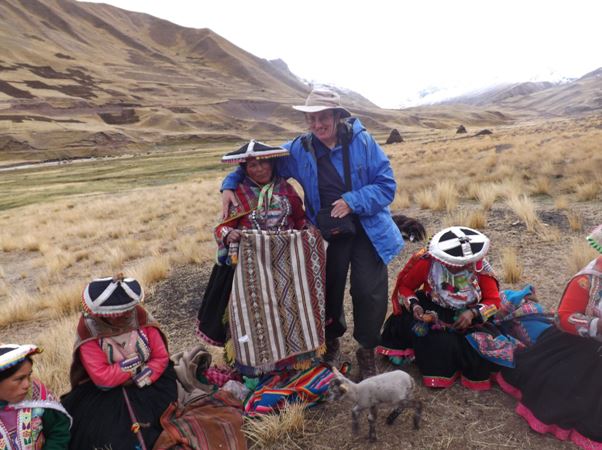 We pushed on up the valley with the snowy peaks of Santa Catalina, Mariposa, and Ausangate coming into view passing large herds of alpacas and sheep. After a lunch prepared by our cook, Nico, and the two housekeepers, Wilma and Nelly, we soon reached our second lodge, Machuracay Tambo with the peak of Ausangate towering above and its glacier melting into a small tarn.
The third day began, with an Andean blessing of the llamas which were to carry our luggage for the rest of the trek. This was probably the most challenging day so far with the ascent of a pass and a descent which one perhaps wouldn't describe as easy. After lunch near Ausangate Cocha the weather deteriorated, so we arrived at the third lodge, Anantapata Tambo, somewhat soaked and I was certainly glad of my new slippers and poncho. Anantapata Tambo is different from the other lodges as it is built of pre-fabricated materials and only consists of one storey whereas the others have two.
The fourth day was the most interesting in terms of scenery. After an early start to clear the first pass we made our way towards Lake Kayrawiri and the striated mountain with stripes of red, blue, and green earth indicating the presence of copper. We continued though a similarly coloured landscape until lunch and then passed close to the cliffs of Anta and the flatiron formations of Apu Labrayani before arriving at our final lodge, Huampococha Tambo.
It was intended that the final evening of the trek should be a celebration. Wine was provided at supper and afterwards each person had to sing a song. Being a bit of an amateur musician myself, I gave a rendering of 'D'ye ken John Peel' from my native Cumbria which is about a huntsman, not the late John Ravenscroft, complete with Cumbrian accent. The audience loved it and demanded an encore even though they couldn't understand the words.
We woke up to a light covering of snow on the last day of the trek. This soon melted and we made our way up to the final pass where we posed for group photos with me borrowing Wilma's montera for one of the shots. After a challenging descent through soft red earth, we stopped for lunch and then continued down the valley to where the vehicle was waiting for the return journey to Cusco via Pitumarca where we dropped Wilma off. All in all a wonderful experience.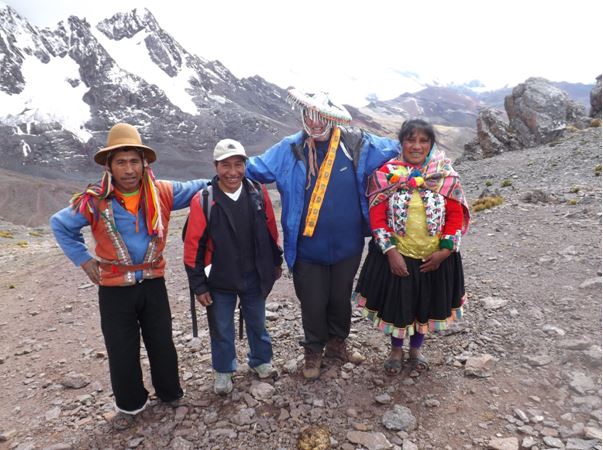 Feeling inspired by Rosemary's adventure find out more about the Ausangate Trek or take a look at our Peru for Trekkers holiday.
Speak to one of our experts, on 020 3603 8763.
Tailor-made holidays
Flexible, custom-made holidays to Latin America created to match your exact requirements: our tailor-made itineraries are as unique as the clients for whom they are designed.
Design my trip