Back
Spot wildlife in The Brazilian Amazon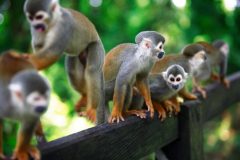 Stay at a secluded lodge where you can head out into the rainforest wilderness on foot and on water to spot wildlife and breathe in the sights and sounds of the jungle.
There's never a shortage of magical moments on a trip into the Amazon, but often the greatest thrill of all is catching sight of an exotic creature in amongst the dense and lush vegetation.
Whether it's a flock of exotic birds blazing across the sky, a hundred beady reptilian eyes returning your gaze on the surface of a jungle lake, or a mischievous troupe of monkeys leaping acrobatically between tree branches, snatched scenes of wildlife at rest and play paint a vivid picture of the inner life of the world's largest rainforest. And even when you can't see it, the diverse fauna all around you will be sure to make its presence felt in bird song, insect sounds and echoing monkey calls.
From a lodge tucked deep within the jungle wilderness you will head out on wildlife watching excursions on land and water. Typical activities include boat journeys at sunrise and sunset, piranha fishing, canoeing, visits to indigenous villages to see how the people of the Amazon live, and walking safaris by day and night. Alternatively you can take an expeditionary cruise from 4 to 8 days in length to penetrate further into the forest.
Brazil
The Brazilian Amazon