Back
Visit the Humahuaca Gorge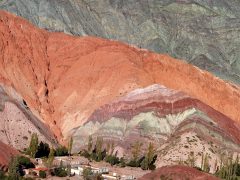 Explore an otherworldly landscape drenched in colour and dotted with remote adobe villages and pre-Inca ruins.
Like the backdrop to an old Hollywood western, the arid plains around the Humahuaca Gorge are spliced with canyons and dotted with cacti. Many of the tiny settlements that lie in the folds of its barren hills consist of nothing more than a collection of adobe homes dominated by a gleaming white chapel.
From the lovely village of Purmamarca (2,400m), which lies at the foot of the famous Hill of Seven Colours, you can delve right into the Humahuaca Gorge with its candy-striped rock faces and inhospitable desert terrain. We'll also take you to Tilcara, where you can explore the ruins of a pre-Inca fortress high on a hilltop affording superb views.
Argentina
Salta and the northwest Andes