Lares Trek with client Rosemary Morlin
2 November 2018

Having already travelled to Peru 14 times, client Rosemary Morlin finally fulfilled her dream of doing the Lares Trek. Here she shares her experience with us:
I had long wanted to do the Lares Trek and I was curious to see what was on the other side of the pass from Muyoq Orco where there are several Inca colcas (storage buildings) which I visited in 2013. My wish was fulfilled when Belisario (guide) collected me from the hotel in Cusco where I was staying early one September morning.
We then drove to Calca where we went to the market to pick up some more provisions and drank copious amounts of fruit juice. We then picked up Lucho, the cook who had accompanied me two years earlier on the Choquequirao trek. We then drove to Huaran where arriero Juan was tacking up two mules and Negro, a black gelding. Once everything was ready, I mounted Negro and we followed the river up to Canchacancha (3954 metres above sea level) where we had our lunch.
We pressed on for an hour after lunch until we found a suitable place to camp. Four-year-old Wilson, the son of landowners, helped us put up tents in the afternoon sunshine. We then relaxed for the rest of the day.
The next day, after inspecting the weavings produced, by Wilson's mother we set off early. There was no sun and the ascent was slow. We eventually reached the top of the Pachacutec pass (4540 metres above sea level) and from then on it was downhill all the way, passing glacial lakes and herds of alpacas. We passed a waterfall which consisted of seven distinct streams.
As we arrived in Quishurani and were about to set up camp for the night, one of the weavers ran to get her loom. She wanted to give me a weaving lesson. I obligingly sat on a sheepskin and watched her weave intricate patterns. Then it was my turn. Despite being invested with a montera (hat) and a manta (shawl), I only managed one row. It was alpaca, the worst possible wool for a complete beginner! Even hardened professionals prefer to work with sheep's wool. However, this was all in good spirits and I hope didn't mess up her work too much. I was able to do a bit of Christmas shopping which made the weavers happy.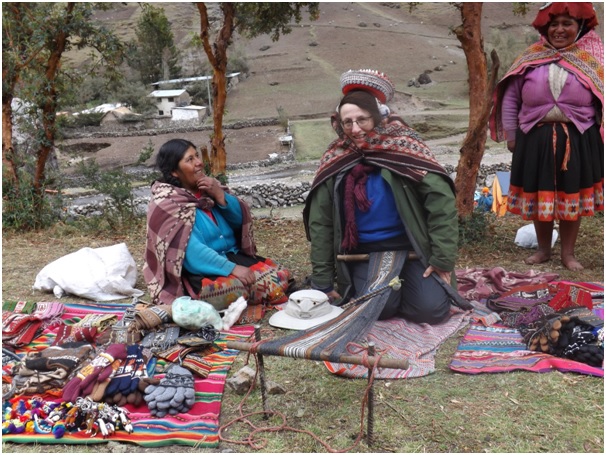 The weaving lesson, I swap my Tilley hat for a montera.
The next day was probably the most challenging. We made it to the top of the Wilcaccasa pass (4458 metres above sea level) and looked down at more small lakes and the snowy peaks beyond. The descent was steep and Negro found it taxing. The direct route to Cuncani was blocked with rocks, so we had to find an alternative route. Eventually we arrived in Cuncani in time for lunch and Negro, still tacked up, had a well-earned rest.
After lunch, Belisario and I started to walk along the unmetalled road in the direction of Lares leaving Juan and Lucho to pack up. A Suzuki 4×4 caught up with us and took us to the thermal baths complex outside Lares where we camped for the night. It was a Sunday, and the baths were full of families enjoying themselves.
The next day we drove to Choquecancha, a village beyond Lares. En route, we said goodbye to Lucho and Juan. As we were admiring the Inca ruins in the main square two women, Rosa Marina, accompanied by her friend Raimunda, approached us and invited us to her house. When we arrived at the house after a ten-minute walk up hill, Rosa Marina brought out her loom and several weavings including an orange poncho which Belisario put on. Belisario then left me with the women and Rosa Marina made me a mate (herbal infusion) and offered me some maize. I was then introduced to an orphaned kitten and a chicken which Rosa Marina had adopted. Rosa Marina showed me a red poncho which she had made which I bought.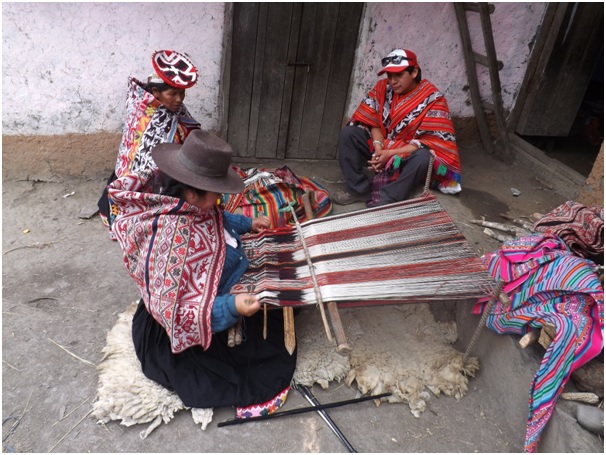 Left to right, Rosa Marina, Raimunda, Belisario.
We sat and chatted for a bit and then Rosa Marina and Raimunda accompanied me back to the square. We sang the praises of ojotas (sandals made from motor tyres) and agreed that they had a good grip and were hard wearing. Rosa Marina also admitted to having 20 guinea pigs which helped keep her kitchen clean. We soon reached the square and said goodbye.
On the way back to Cusco we saw a beautiful rainbow in the vicinity of Pisac, a fitting end to a memorable trek.
Follow in Rosemary's footsteps on our Peru: Beyond the Sacred Valley with the Lares Trek holiday.
Tailor-made holidays
Flexible, custom-made holidays to Latin America created to match your exact requirements: our tailor-made itineraries are as unique as the clients for whom they are designed.
Design my trip