Back
Exploring Buenos Aires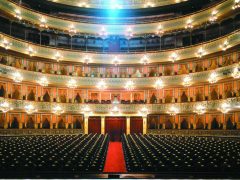 Experience the city in depth visiting its most intriguing sights and neighbourhoods.
Buenos Aires is undoubtedly one of the world's great urban destinations. Vibrant and invitingly cosmopolitan, it's a 24-hour whirlwind of culture, cuisine and sophistication. If you're wondering where to begin, we'd suggest a city tour which introduces all of the capital's most important neighbourhoods and attractions.
Cast an eye over the imposing Plaza Lavalle with its many historic buildings, stand beneaththe Obelisco – the emblem of the city – and walk or drive down the remarkable 16-lane Avenida 9 de Julio, the widest avenue in the world. Some tours include a guided tour inside the Teatro Colón, a magnificent turn-of-the-century auditorium considered among the best 5 concert venues ever built.
A highlight is a visit to the Casa Rosada, the seat of government, and the neighbourhood of La Boca. Originally built by Italian immigrants, the barrio is full of corrugated iron houses painted in bright primary colours, and is now a centre for artists and craftsmen.
Palermo is a fashionable area with charming pavement cafés and bars. Similarly chic are the leafy, mansion-lined boulevards of Recoleta, recalling the belle époque. Recoleta is home to the extraordinary cemetery favoured by élite porteño society, including the surprisingly modest tomb of Eva Peron.
Argentina
Buenos Aires