Everybody loves a penguin – and the penguins in Argentina are bound to be a top highlight when you visit this southerly country. Whether you're a seasoned naturalist or casual enthusiast you'll find them bobbing about on the water like ducks, gliding through the crystalline sea as though they are flying, leaping around like dolphins or clumsily waddling about on the beaches, and are guaranteed to make your face light up.
Read on to find out more about the various species of penguins that inhabit Argentina's coast, as well as the top sites to spot them and some of our own best penguin-spotting holidays.
Argentina penguin species
Magellanic penguin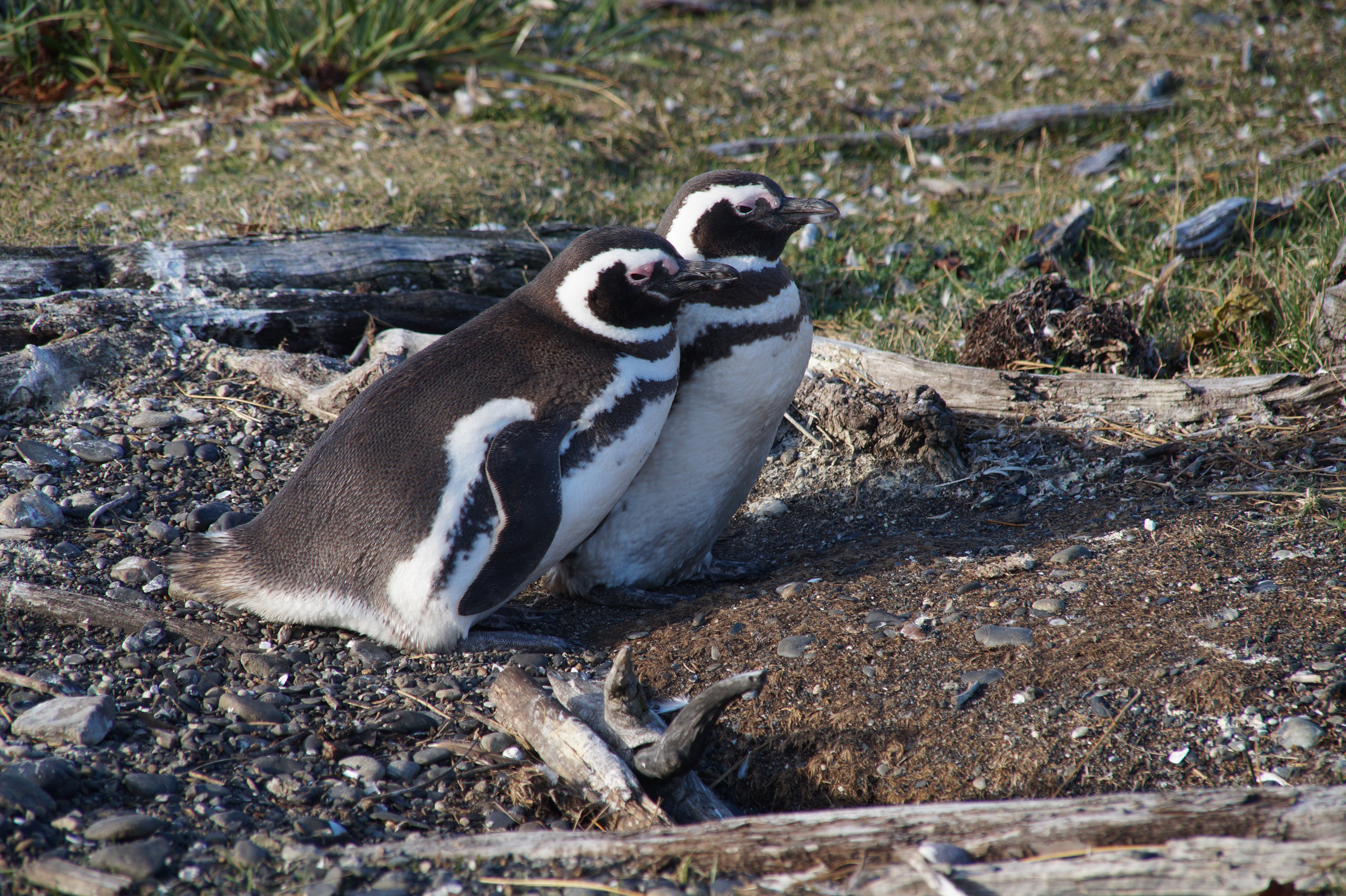 Magellanic penguins have two black bands across their chests and pink calluses around their eyes which help to shed heat, allowing them to survive in a variety of environments. Like many things in this region, they were named after the explorer Ferdinand Magellan. Circumnavigating the cape in 1519, this would make him one of the first Europeans to ever lay eyes on these comical birds – and certainly on this species.
Their ability to regulate their body temperature means this penguin is the most likely species to be encountered on a trip to Argentina, breeding around the entirety of southern Argentina and Chile's coastlines. Pairs lay one or two eggs in burrows - albeit very short ones that one can peer into if standing above one.
When winter sets in and the breeding season ends, they migrate to the warmer waters of northern Chile and southern Brazil. Nearly all this time is spent in the open ocean, feasting on fish and crustaceans, and they don't usually come ashore unless they're ill.
Where to see them: All over Argentina's coast, from Peninsula Valdés down to the southern tip. The largest colony is found at Punta Tombo, where one million individuals nest.
King penguin
With its tall stature and bright orange head marks, the king penguin is one of Argentina's most beautiful penguin species. This species mainly nests on the isolated islands of the South Atlantic, where it forms huge colonies up to 100,000 strong. Chicks are covered by drab brown fluff until they reach 10 to 12 months of age, at which point they start to molt into their adult plumage.
King penguins are a relatively new arrival to South America – a colony was established on the Chilean half of Tierra del Fuego in 2010, and in 2017 a pair began to establish themselves on Isla Martillo. They even hatched a chick in 2019, though sadly it did not survive. Since then, they've been seen somewhat regularly by visitors to this island.
Where to see them: Isla Martillo, along with gentoo penguins, is the only place in Argentina where one can see this species.
Insider tip: If you take one of the boat tours (i.e. one that does not set foot on the island), head up to the boat's upper deck. The king penguins are sometimes hidden behind the small hill that separates the main penguin colony from the beach.
Gentoo penguin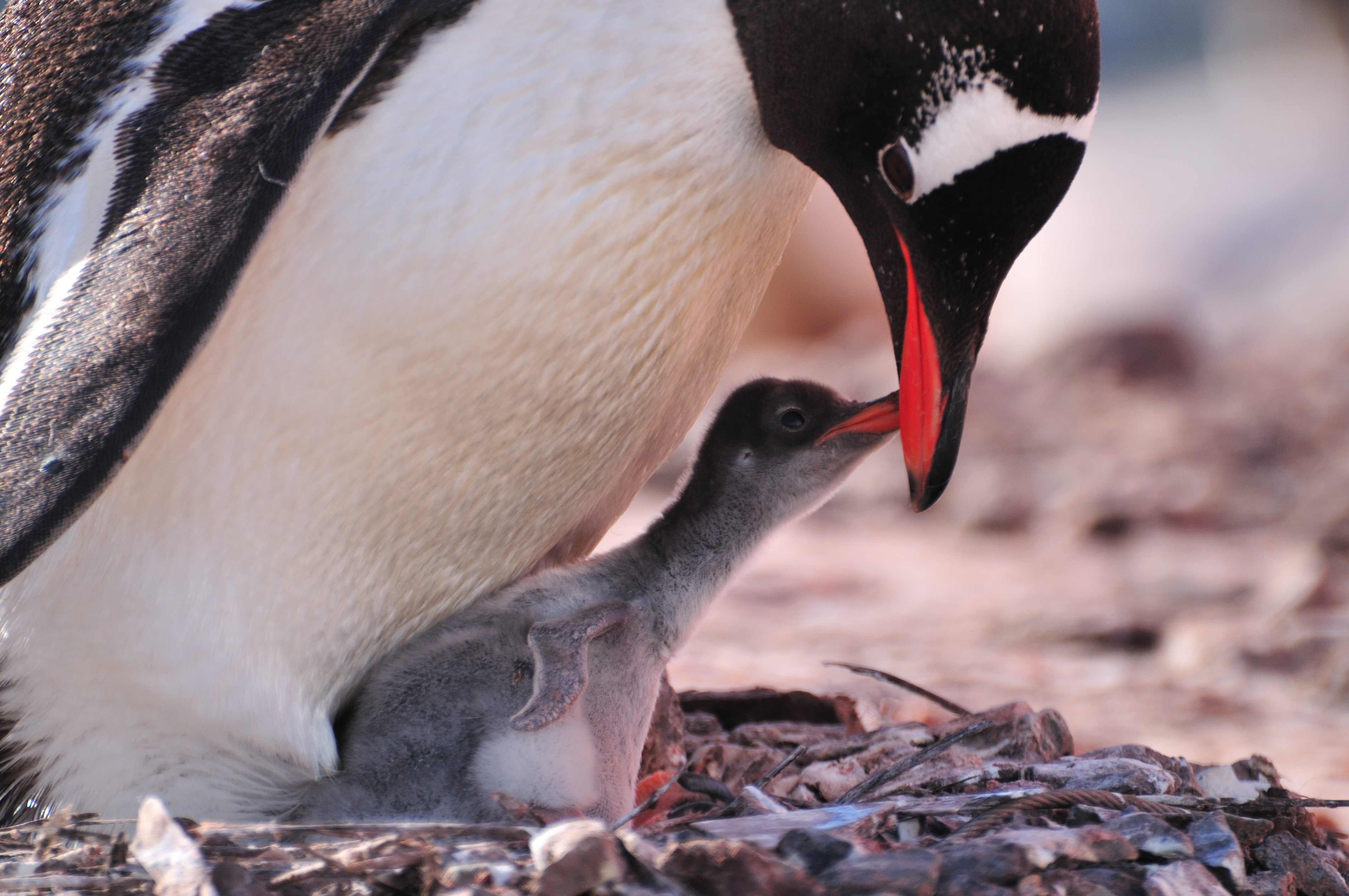 It is not entirely clear how the gentoo penguin got it's name but one theory is that the word gentoo, used by Europeans to describe Hindu inhabitants of India during the 17th and 18th centuries, was used since the white stripe above their eye looked a little like a turban. Another says that it came from the Portuguese word for nice, gentio due to their friendly nature.
Gentoo penguin colonies have interesting social dynamics. Round pebbles, which penguins use to make their nests, are so prized that violent confrontations often occur when neighbours steal from each other. A male penguin will often flirt with females by offering them pebbles – though, there are various other courtship rituals he'll need to overcome too in order to win her heart.
Where to see them: Isla Martillo in the Beagle Channel is the only place on (or technically, just off) the South American mainland where this species nests. This species began nesting here in the 1990s, and the individuals are believed to be descended from a few intrepid ancestors from the Falkland Islands.
Rockhopper penguin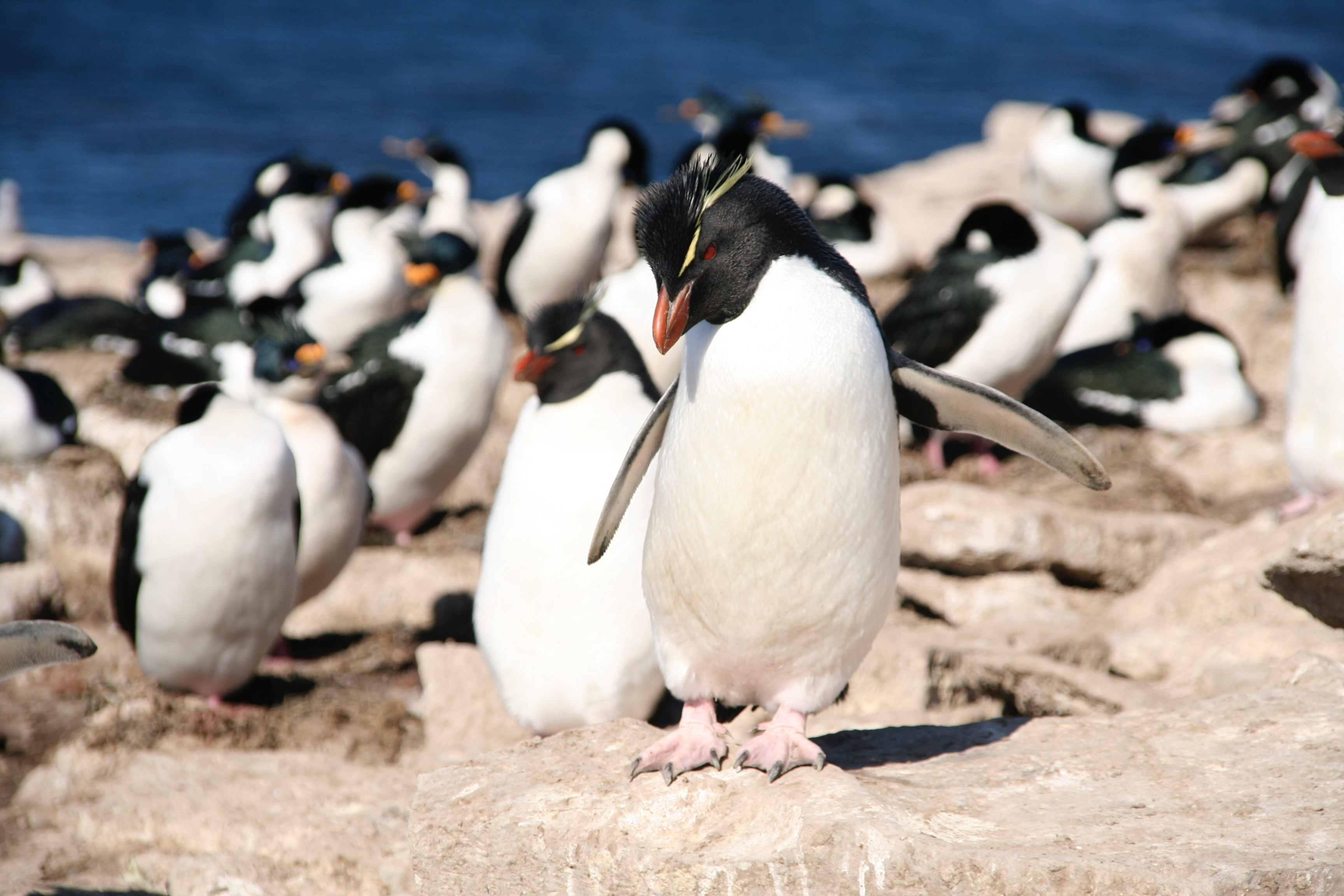 The rockhopper penguin is known for its colourful crest which it uses to attract mates, express emotions and recognise individual penguins – including, most importantly, its partner. As its name suggests, it primarily lives around rocky beaches, making its nests from tussock grass and pebbles.
Where to see them: In Argentina, the only colony of this species is on the tiny island of Isla Pinguino near the fishing port of Puerto Deseado – which bears some head-scratching when one considers how long Argentina's coastline is. Unfortunately, getting there is a lengthy affair: Puerto Deseado is located more than four hours away from the nearest airport (Comodoro Rivadavia), and the drive is not the most scenic in South America. If you'd like to see this species, we'd generally recommend going to the Falklands and South Georgia instead.
Where to see penguins in Argentina
Roughly 60 km from Ushuaia sits the small island of Isla Martillo. Nestled right in the middle of the windswept Beagle Channel, with Argentina on one side and Chile on the other, a trip here is where Ushuaia's "End of the World" tagline comes alive. Dress up warm when coming here, for even a few seconds in the gusts is enough to chill any part of you that isn't covered.
Three species of penguin live here: Magellanic, gentoo and king (and of the latter two, this speck of land is the only colony in Argentina). Gentoo penguins can often be seen porpoising, or leaping out of the water, then clumsily rolling around in the waves as they reach land. As well as these penguins, birders will also enjoy the sight of flocks of albatross and shearwater streaking across the waves, and giant petrels and skuas flying overhead.
Boat trips here are launched from Ushuaia, the region's capital and the launchpad for Antarctic cruises. They'll typically also visit some small islands just outside Ushuaia upon which sit an iconic red and white lighthouse and colonies of cormorants and sea lions.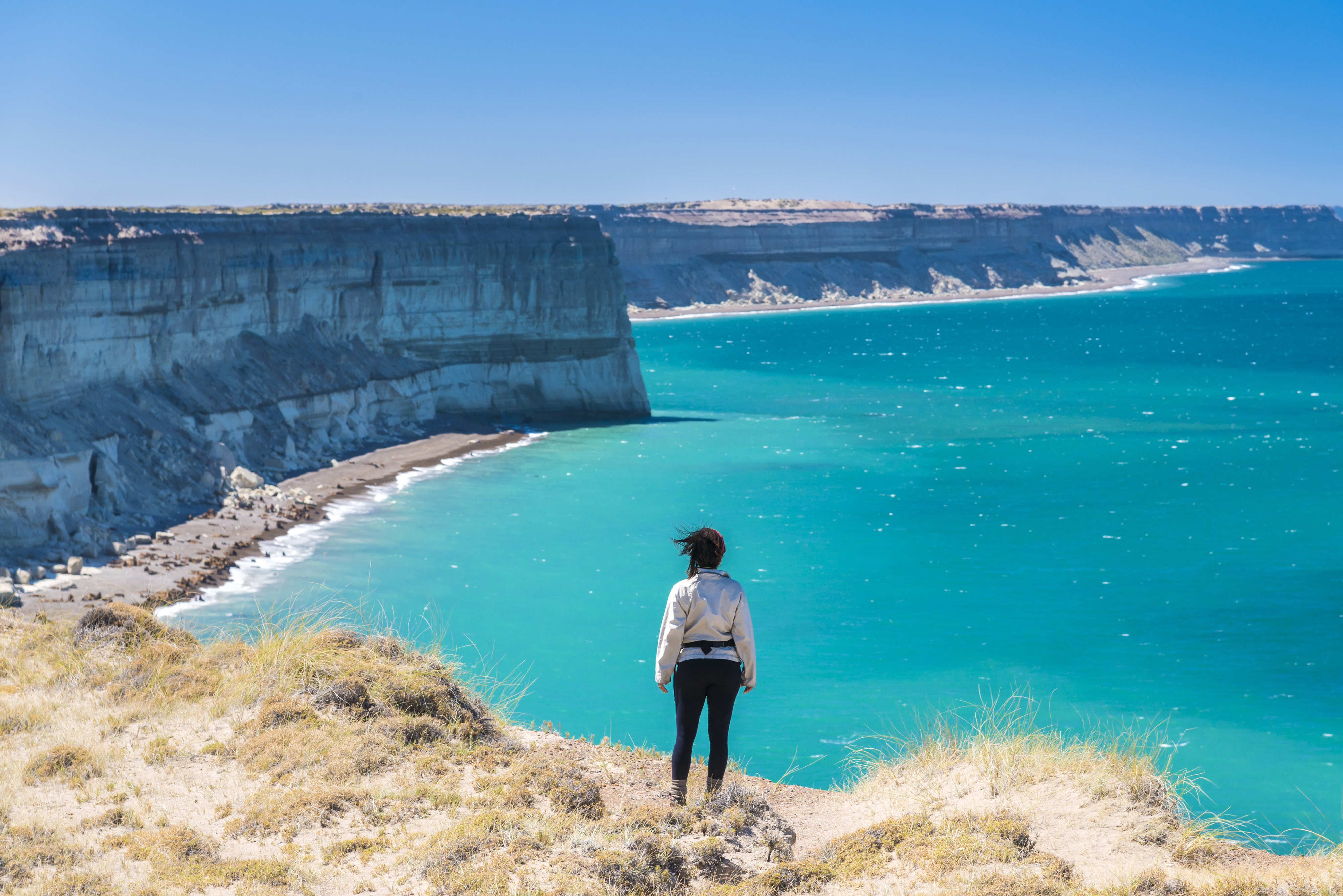 A bulbous piece of land connected to the Argentinian mainland by a razor-thin isthmus, Peninsula Valdés has many more curiosities beyond its shape.
For penguin lovers, the highlight is sure to be the small colonies of Magellanic penguins. One of the most prominent colonies is at Punta Norte, where 300,000 penguins rear their chicks – and, it is estimated that this colony is growing at a rate of 20% per year. A much smaller, but publicly accessible colony, can be found at the aptly named Mirador Pinguinos. The birds make their nests all the way up to the short fence that prevents them from straying into the car park, and if you visit at the right time you may see their chicks.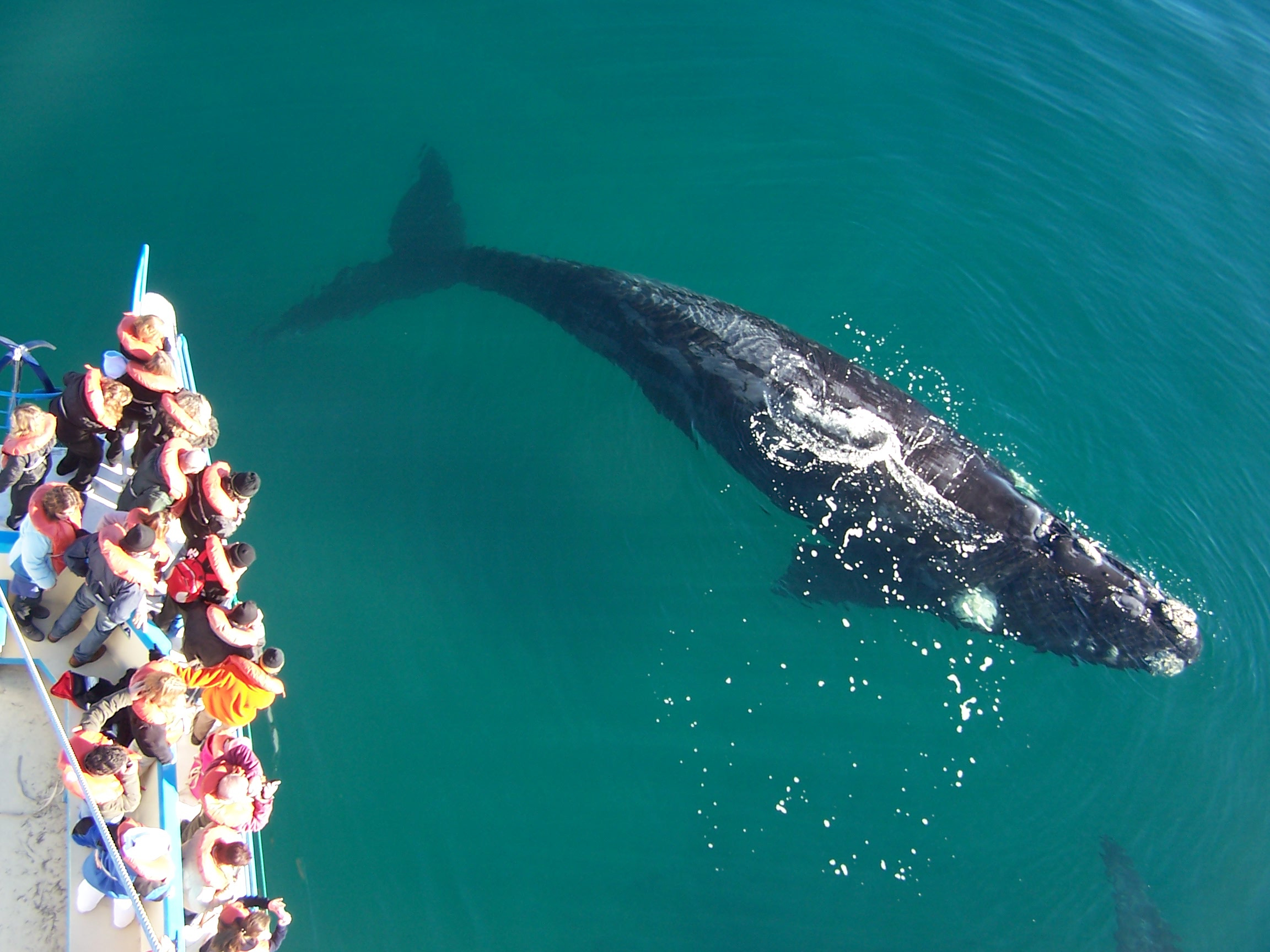 In addition to penguins, Peninsula Valdés is home to a staggering collection of other animals: killer whales stalk the coastlines for sea lions, elephant seal bulls fight on the beaches, armadillos, skunks and wild guinea pigs scurry through the scrub, guanacos, rheas and Patagonian cavies roam the plains and southern right whales corral in the peninsula's sheltered southern waters.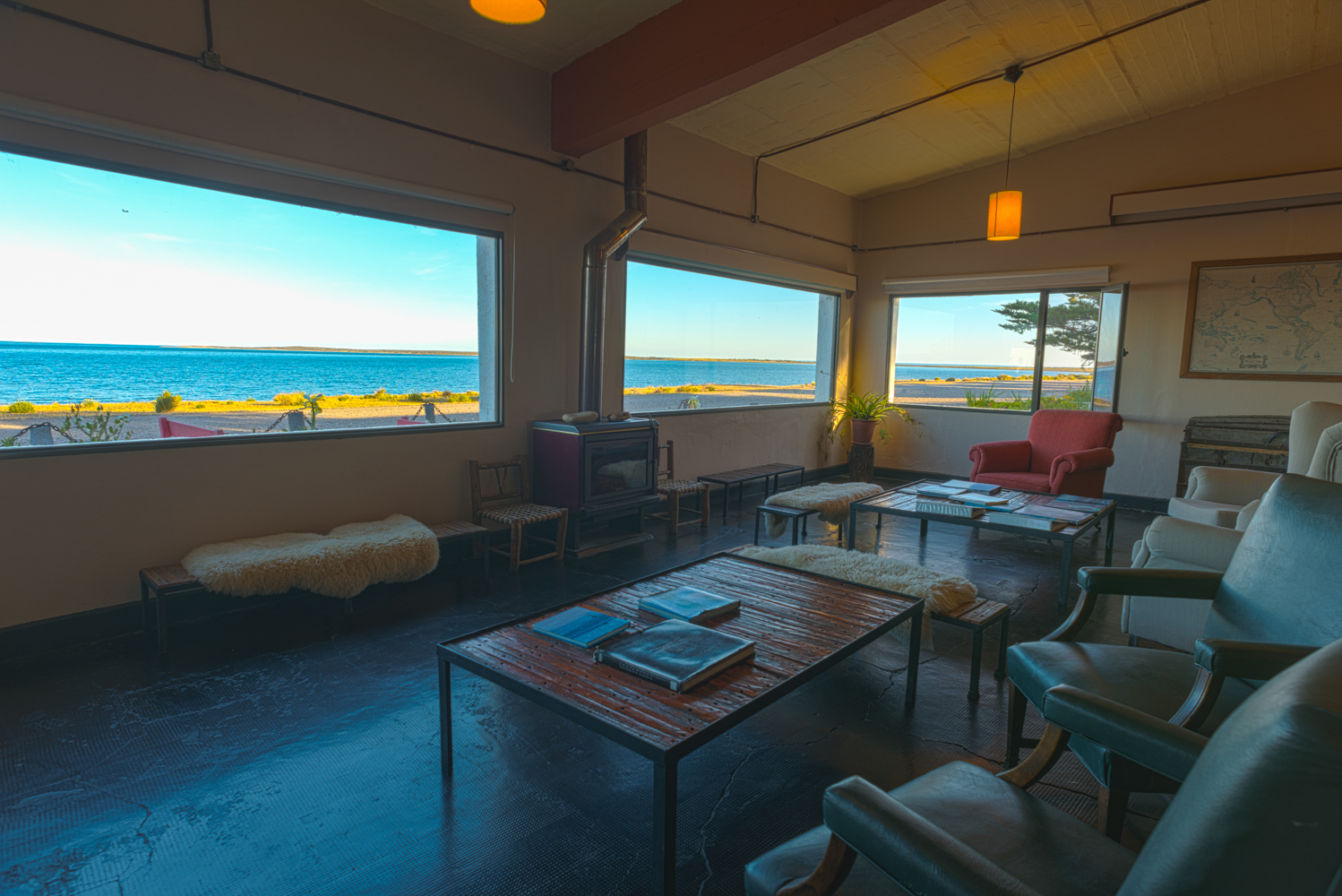 "A magnificent private reserve, as well as an authentic and superbly-hosted remote estancia experience, is what you'll find here. And it's unique: where else can you explore a petrified forest, visit exceptional seabird and penguin colonies, wander fossil-strewn beaches, and watch sea lions from your breakfast table? I would go back in a heartbeat."
-David Nichols, Product Manager
Coastal Argentina's sheep farms have the good fortune of having penguins in their backyard, and experiencing this remarkable bit of harmony between humans and nature doesn't get much more authentic than at Bahia Bustamante. This tiny village of 40 people looks like it has barely changed since it was first founded, with its historic buildings and the main lodge's cosy common area that used to be the general store.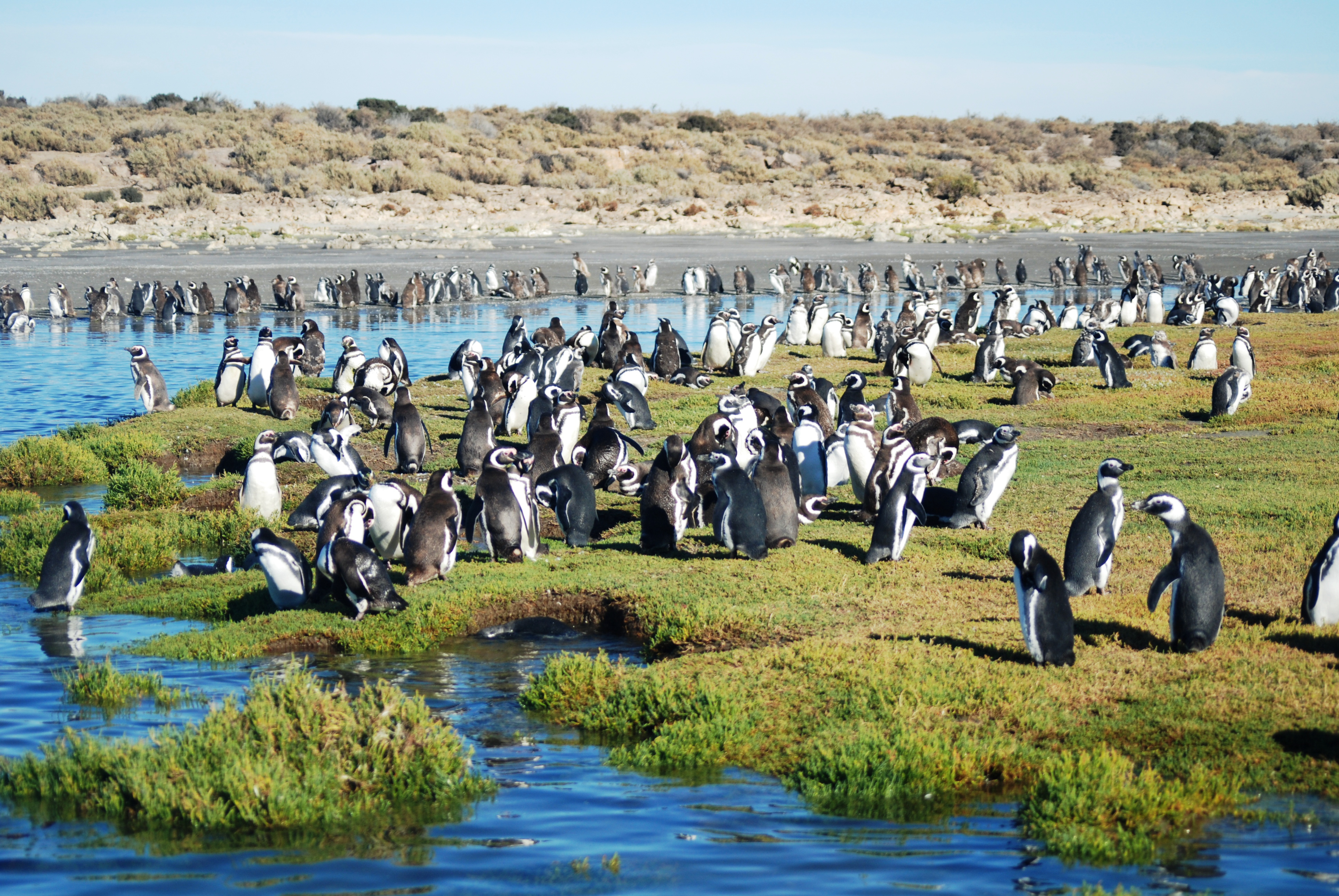 While the penguin colony here is much smaller than those further north, its biggest difference is the ability to come face to face with them and wander through their colony. Guided tours to Penguin Island, reachable on foot at low tide, will have you wander through the scrub where they nest and enjoy a picnic as they amble past you.
The hamlet and surrounding reserve take sustainability very seriously and, as a result, only 18 people are allowed at any one time.
Punta Tombo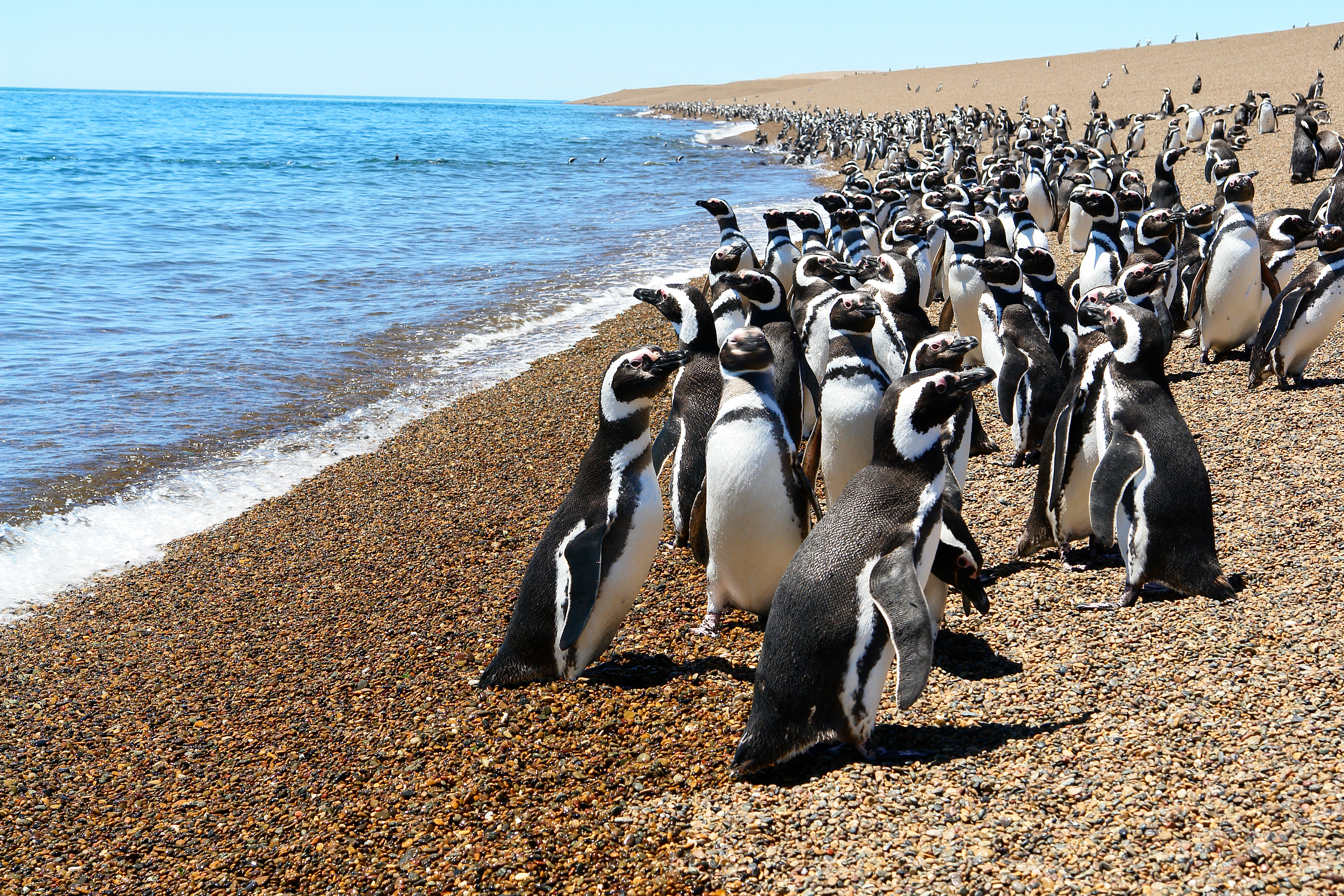 The beaches of Punta Tombo are a popular day trip from Trelew, thanks to their million-strong penguin colony. Criss-crossing the peninsula is a series of trails and boardwalks that keep human visitors from disturbing the nests – though, the penguins themselves are often happy to share this space. An interactive museum with English translations also provides more insights into the fascinating lives of these birds, as well as the other animals that inhabit the area.
Can I see penguins near Buenos Aires?
While penguins winter in the waters outside the mouth of the Rio de la Plata, there is very little chance of spotting any since they rarely come ashore or even close to land at this time.
Furthermore, Puerto Madryn (the gateway town to Peninsula Valdés and Punta Tombo) is an easy two-hour flight from Buenos Aires, making a quick side trip here the best option by far.
Useful tips for visiting Argentina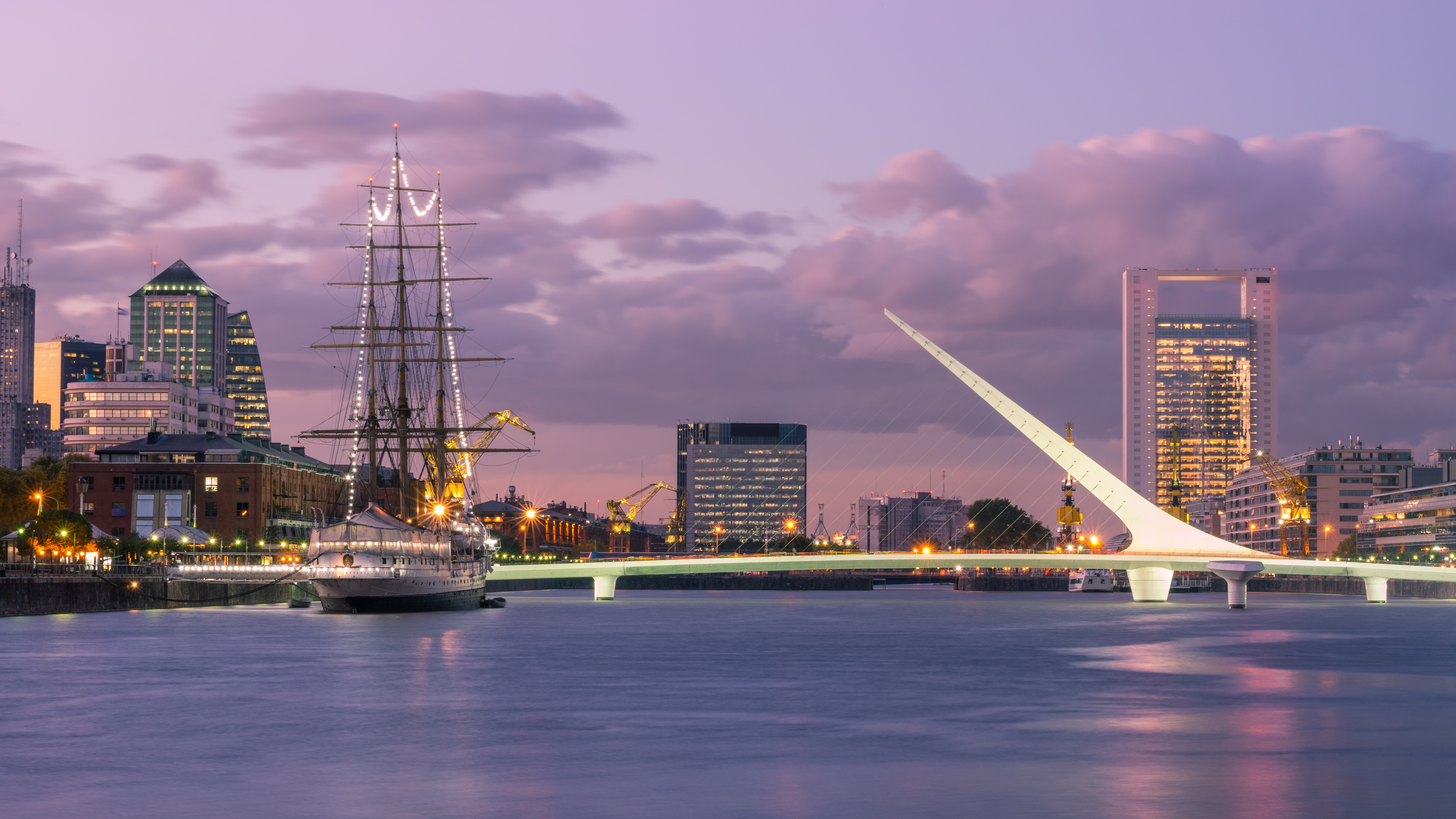 · Buenos Aires is the main port of entry if you aren't already in a neighbouring country. Direct flights are available from the UK, though it is likely that you will need to transit through either the US or Brazil.
· The best time to visit Argentina for penguin spotting is during their summer, from September to March. However, September - December is the best time if you also want to see whales in Peninsula Valdés.
· Visiting Argentina will generally involve a lot of flying due to the distances involved.
· Argentina primarily speaks Spanish, though many people who work in tourism and a significant percentage of young people also speak English.
· Argentina's main currency is the Argentine Peso.
· Inflation is very high in Argentina, having gone up to 100% this year. Prices can change day to day, though exchange rates mean foreign visitors don't need to worry about this too much. Furthermore, if you're travelling on an organised holiday, most expenses will be pre-paid anyway.
Our top penguin-spotting holidays in Argentina
Wildlife Argentina: Combine the wildlife of the subtropical north with the marine life of the coast on this two-week holiday. From cosmopolitan Buenos Aires, you'll head to the Ibera wetlands where capybaras roam the open plains and caimans and waterbirds line the banks. Then you'll journey over to Puerto Iguazu for the famous falls, where there is a chance of spotting toucans and monkeys.
After that it's penguin time, with a day trip to Peninsula Valdés and an excursion to secluded Bahia Bustamante. Included in this part of the holiday is a variety of nature-spotting activities from Bahia Bustamante Lodge and a whale-watching trip that will get you to within a whisker of these gentle giants.
Patagonia Cruise: Voyage through the most remote stretches of Patagonia aboard an expedition cruise, following in the wake of Charles Darwin's The Beagle and other intrepid explorers. Zodiac boats will take you close to penguin colonies on islets nestled among the glacier-streaked peaks, allowing you to appreciate them in their (beautiful) natural habitat.
Once you've docked in Ushuaia, you'll then fly to Trelew for a trip to Peninsula Valdés where you'll get up close to the resident wildlife.
Bonus: Visiting Antarctica from Argentina
With its proximity to Antarctica, the southerly Argentinian city of Ushuaia is where most people's access point to the White Continent (hence why we list it as a destination).
For penguin lovers, there are a few species unique to Antarctica. The most famous is the emperor penguin, though a trip to see the bird that graced Happy Feet is nothing short of an expedition. It spends its entire life on ice and only leaves the stormy Southern Ocean during the harsh Antarctic winter. During the summer, Adelie and chinstrap penguins can be seen on the islets and beaches, together with a variety of seals and whales.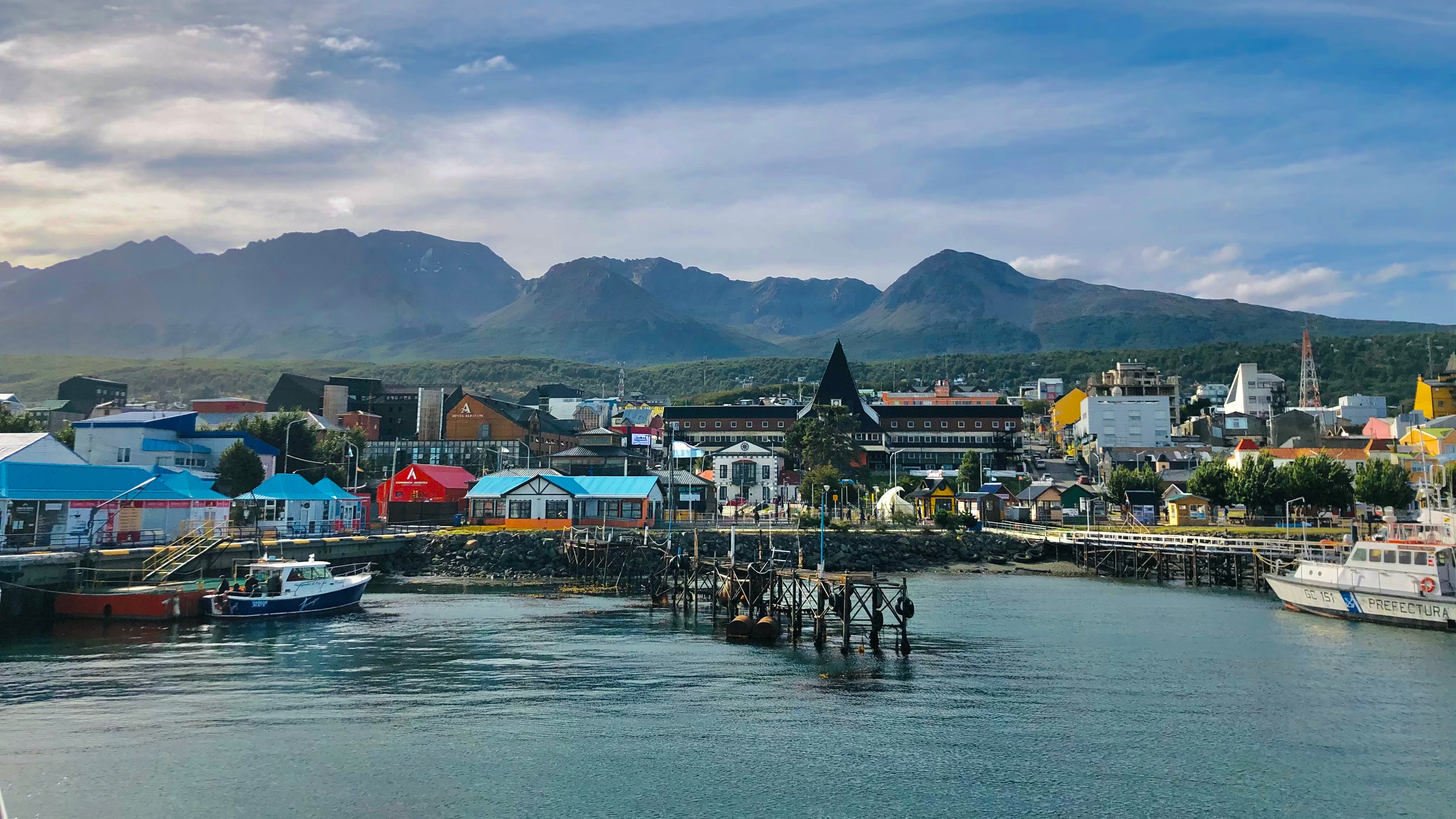 Ushuaia is easily accessed via daily flights to and from Buenos Aires and Trelew and offers no shortage of things to do as you wait for your cruise to begin: pubs with roaring fires and hoppy ales, trips into the Beagle Channel, fascinating museums and hiking in the surrounding mountains await in town and nearby. And for its End of the World moniker, Ushuaia is a surprisingly cosmopolitan place, with such 21st-century trimmings as vegan cafes and vibrant nightlife.
Tailor-made holidays
Flexible, custom-made holidays to Latin America created to match your exact requirements: our tailor-made itineraries are as unique as the clients for whom they are designed.
Design my trip
Papagaio
Your edit for Latin American inspiration
Our exciting range of articles on Latin America explore everything from iconic destinations and lesser-known cultural gems to delicious traditional recipes. You'll also find exclusive travel tips, first-hand client reviews and the chance to get your personal questions answered by our travel experts.
View Extraordinary Inspiration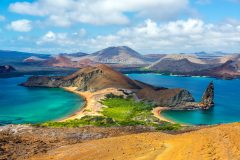 Meet our team
Real Latin american experts
Chris Rendell-Dunn - Travel Expert

Anglo-Peruvian Chris grew up in Lima and spent much of his adult life in between London and Cusco as a tour leader, before settling permanently in our London-based Tailor-made and Group Tours sales team.

Sophie Barber - Travel Expert

Sophie lived in Chile before joining us and has travelled extensively across Latin America, from Mexico to the furthest tip of Patagonia and beyond to Antarctica.

Carrie Gallagher - Travel Expert

A former JLA tour leader, Carrie brings a wealth of on-the-ground experience to our London-based Tailor-made and Group Tours department.

Ben Line - Travel Expert

Ben fell in love with Latin America on a six month backpacking trip from Colombia to Mexico in 1995. Since then he has explored most of South America, including living in Peru for a year. He is now Head of Sales.

Charlotte Daubeney - Travel Expert

Charlotte's fascination with Latin America began with a family holiday to Belize. She went on to study Spanish in school and at university before spending a year living in Santiago, Chile.

Hannah Donaldson - Travel Expert

Having spent part of her childhood in Colombia and worked in Brazil and Costa Rica, Hannah's ties to Latin America run deep. Hannah is a much valued Travel Expert in our Tailor-made Holidays and Group Tours sales team.