White-water rafting on the River Apurimac in Peru
21 June 2017

Read about Claire in our Marketing team's intrepid adventure on an upmarket river rafting trip near Cusco, Peru.
"Have you ever heard of Ed Sheeran?"
Not a question I was expecting of my Peruvian river-rafting guide as we bounced our way over humpy Andean hills from Cusco en route to the canyons of the River Apurimac.
"Er… yes. He's the number one pop star in the UK at the moment. Recently, he had nine out of the top ten places in the singles chart. Why?"
"Oh! We took him down the same stretch of the river just yesterday…"
Well that's as close as we got to the youthful celebrity who, by this time, had headed off to Machu Picchu. But if he had half as good a time as we did, he'll have been well pleased.
My husband Jim and I had a couple of days free in the Cusco area before flying to Lima and, since we have been to each of the main attractions in the vicinity several times at least, we were looking for something new to do. We'd been rafting before, in Brazil, Chile and Costa Rica, as well as on the Urubamba close to Cusco, so we knew we had a good chance of not making complete fools of ourselves. We aren't experts, but were assured that rafting in the Apurimac's Black Canyon (up to Class IV rapids) was appropriate even for beginners, although there is enough excitement to get the heart pumping and make you feel you've achieved something a bit challenging.
White-water rafting in comfort
And you are really well looked after. On this private trip (there are also group departures), we were accompanied by three expert rafting guides. One was Santiago, the other two – somewhat to my relief as I am not good at remembering names – were both called Victor. We had two inflatable rafts, one to be navigated by Santiago, with the help (or hindrance) of Jim and myself; the other carrying all our gear. There's a lot of it: for just one night camping we had a mess tent, sleeping tents and mats, sleeping bags and pillows, chairs and tables, cooking stoves, crockery and cutlery and portable toilet. Basic, this is not.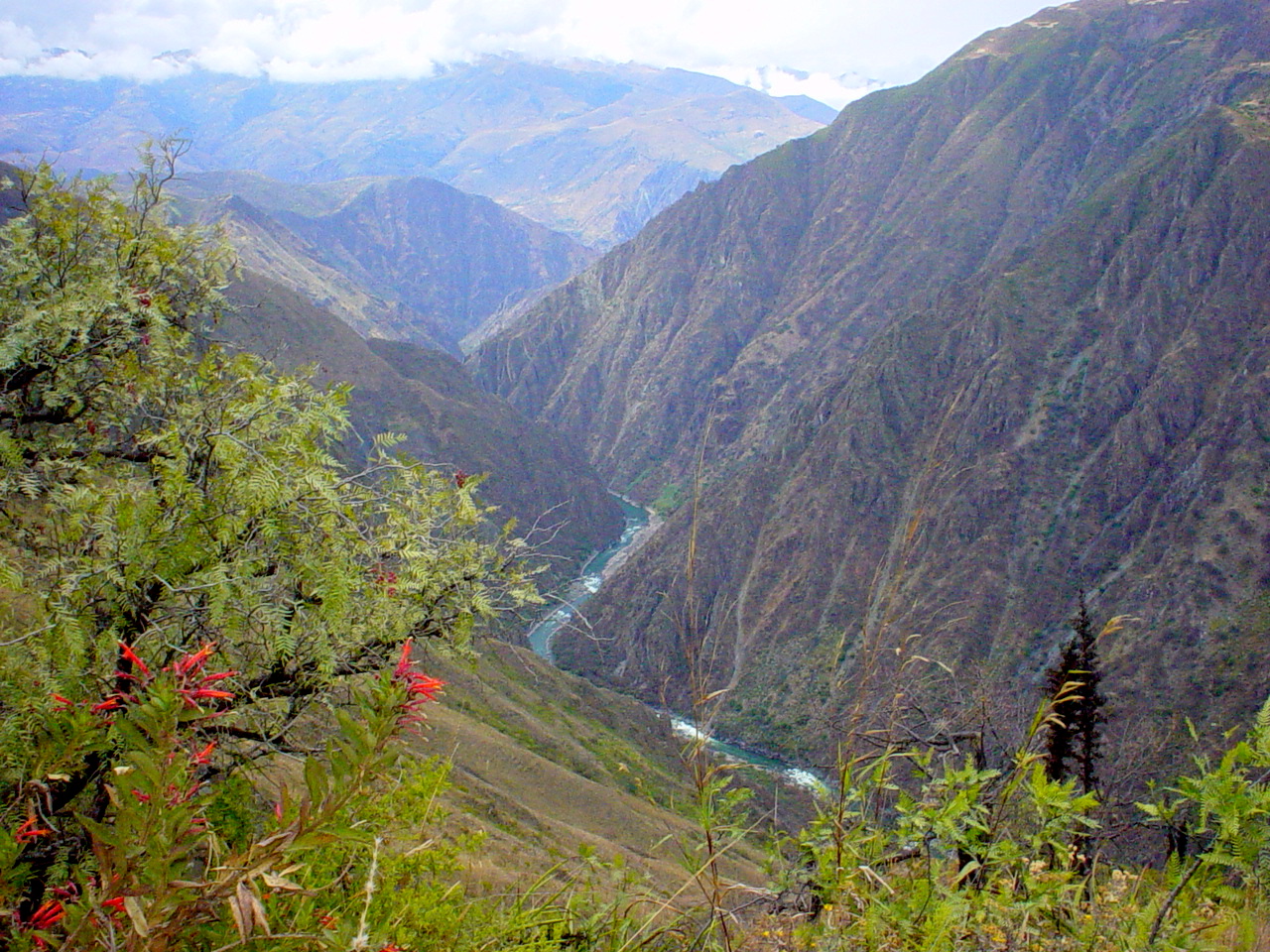 As you climb out of the Andean bowl which shelters Cusco – a rapidly growing city now crawling up the hillsides – you soon reach open moorland with views over range after range of purple, jag-toothed peaks with just a few alpacas and local shepherds to be seen. Then it's down, down to the bottom of a steep-sided granite canyon, finally to reach an isolated spot at which to launch our rafts. After a bit of a lesson, basically telling us to do what we are told at all times, we put on our wetsuits and life jackets and, well, off we go, expertly guided by Santiago. One of the Victors accompanies us in a safety kayak, dipping and weaving through the surf, obviously showing off and, to put it mildly, enjoying himself. The other Victor steers the supply raft on to the white-sand beach where we'd stop for lunch.
Thrills and spills on the Apurimac
We glide along the quiet stretches, gazing up at the exquisite flower-strewn cliffs towering above us, our attention occasionally drawn by a curious river otter, hovering hawk or darting kingfisher (condors are occasionally spotted, too). Then our reverie would be disturbed by a command from Santiago and we'd grab our oars to negotiate a bundle of foam, avoiding the grasp of swirling eddies, plunging into walls of water the size of a small house (no, I don't want to put you off – more like a Porsche Cayenne). Then it would be over and we were back in the millpond. And that was just Class III.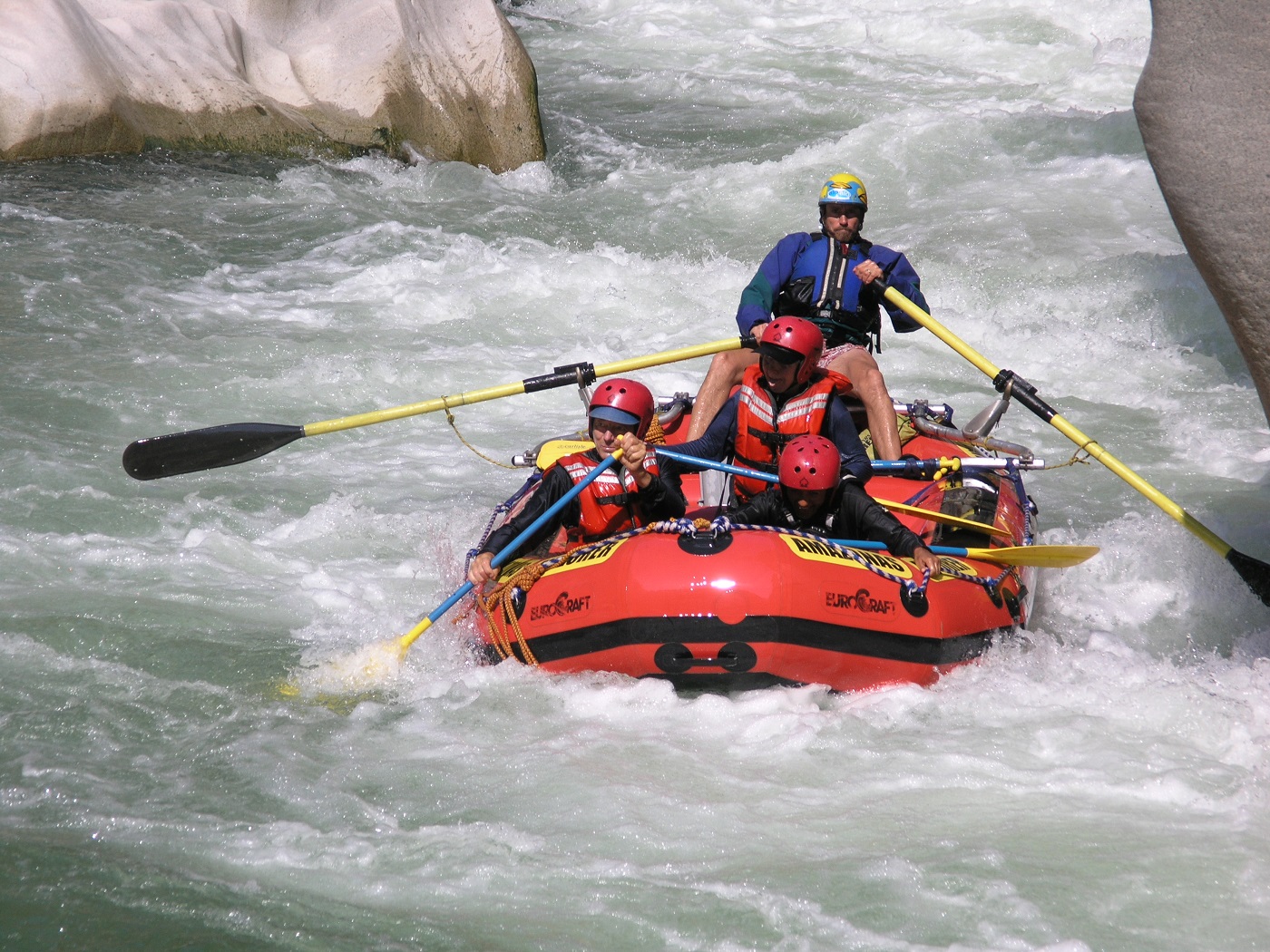 We'd been impressed enough by our fresh and nutritious lunch but when we pulled up for the day in the late afternoon we were to be wowed by what came next. The three lads quickly erected the camping gear and, while I had a cooling swim in the river, set out to prepare dinner, while we tucked into afternoon tea. Next came an ice-cold pisco sour cocktail, prepared using a wind-up liquidiser. Yes, I kid you not; a wind-up liquidiser is seen as an essential piece of kit on the trip. Our hot dinner was beautifully presented with pride and skill; meat, fish, loads of veg and salad, pudding. We were tired enough to get an early night but not before lying back on the softy, sandy beach (the sand flies were by no means as bad as we had been warned) to gaze up at the stars as each new galaxy pricked the darkening sky.
Next morning, we enjoyed a full English breakfast – yes, scrambled eggs, sausage, bacon and mushrooms – before heading off again in the rafts. I can't emphasise enough how beautiful the mountain landscapes we passed through were. What a bonus to our adventure. By now we felt fully confident to take on and pacify the Class IV waves, so when we regretfully ended the ride and were picked up for our return journey to Cusco, we felt we really were experts.
By the time we arrived back at our hotel, Ed was already in Lima gearing up for his concert there. We ourselves set off to Starbucks (ooh, yes: sorry) to mull over what had been a superb adventure (Serious coffee lovers should head for the Museo del Café, Espaderos 136, to learn about the drink as well as try out different roasts).
Raft the Apurimac on our Active Peru holiday.
Save
Tailor-made holidays
Flexible, custom-made holidays to Latin America created to match your exact requirements: our tailor-made itineraries are as unique as the clients for whom they are designed.
Design my trip