South America is a land of stunning nature and pulsating culture, and its wealth of iconic landmarks is the perfect starting point for getting to know this incredible continent.
From the shores of Brazil to far-flung Easter Island, South America is full of wonders that will take your breath away. Read on to find out more about the best ones to visit, as well as what a visit there will involve.
Christ the Redeemer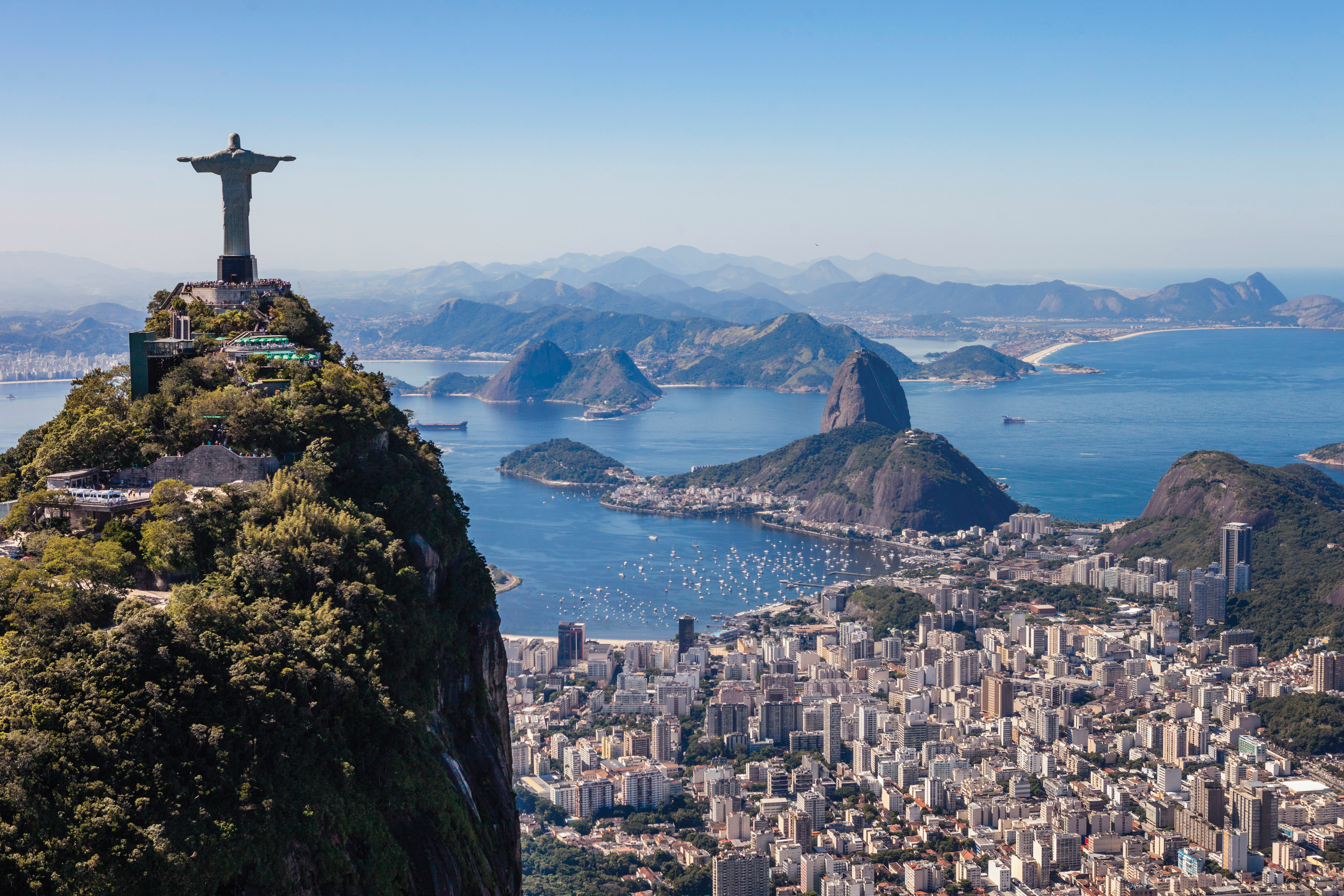 Casting its gaze over Rio, Christ the Redeemer stands tall as one of Latin America's most iconic landmarks. Yet, once you get up close, amidst the other visitors splaying their arms, it's the vistas that steal the spotlight. Perched upon Corcovado mountain's summit, a cityscape panorama unfolds in every direction, with the karst peaks of Guanabara Bay further out in the distance.
Fun fact: Christ the Redeemer was voted one of the New 7 Wonders of the World, while Rio de Janeiro's harbour area was named by CNN as one of the 7 Natural Wonders of the World.
How to visit:
The base of the statue's steps lies at the top of the peak, 700 metres above sea level and cloaked in rainforest. To get here, you have two options; ride up via the seemingly gravity-defying cog railway, or opt for a minibus, taxi or open-top jeep that climbs up the steep roads. The journey itself will likely be a highlight of your visit, with up-close views of succulent tropical fruits and flowers that adorn the railway tracks and line the winding road. Once there, there's a series of stairs, escalators and lifts to get you to the statue itself.
--------Holidays to Rio de Janeiro--------
Lençóis Maranhenses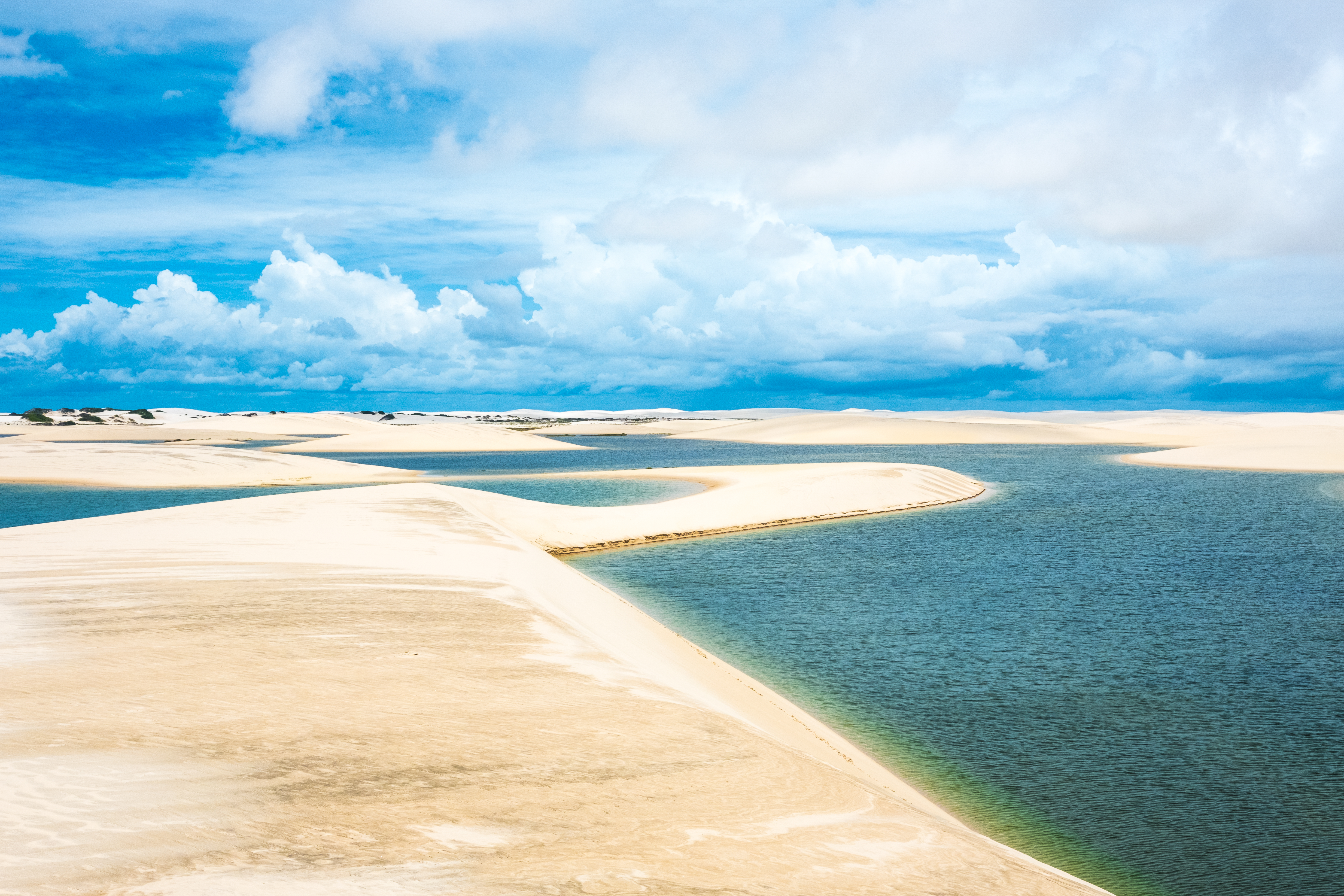 Picture an expanse of Saharan wilderness, its rolling dunes stretching as far as the eye can see, but with a shimmering blue lake cradled at the base of each dune. The Lençóis Maranhenses in the remote northeast of Brazil is a desert with a difference, almost a mirage of the mind. Thanks to a layer of impermeable rock below, the summer rains pool among the dunes, giving rise to this spellbinding spectacle between May and September.
How to visit:
Embarking on an expedition into this national park is a half-day affair, in which you'll navigate the dunes and lagoons aboard a rugged 4x4 jeep. Immerse yourself in the ever-changing desert scenery as the breeze from the open windows wafts in before stopping by one of the hundreds of pools. The slopes of the dunes act as a natural sunbed, and the freshwater aquamarine pools, lukewarm from their time in the sun, are especially refreshing.
--------Holidays to the Lençóis Maranhenses--------
Iguazú Falls
Attempting to describe the sheer magnificence of the Iguazú Falls is difficult, to say the least – its very name alone came from the Guarani word for "big water". Not only is the chasm capable of accommodating the London Eye, but it also boasts a ring of 275 waterfalls, according to official records, some of which are double-decker. When Theodore Roosevelt's wife visited the falls in 1944, she gasped "poor Niagra".
On a visit to the falls' boardwalks, you'll find yourself standing at the very brink of the falls, where flocks of butterflies silently flitting through the mist contrast with the roaring symphony of crashing water.
How to visit
With Brazil on one side and Argentina on the other, the Iguazú Falls are easy to add to any itinerary in either country (flying from either Buenos Aires or Rio de Janeiro takes two hours).
A labyrinthine network of boardwalks and panoramic viewing platforms line the falls on both the Brazilian and Argentinian sides, allowing you to get views up close and from a distance.
For an even more exceptional encounter, venture close to the falls' base through a thrilling boat ride or take to the skies in the company of the resident swifts aboard a helicopter excursion.
--------Holidays to Iguazú Falls--------
Machu Picchu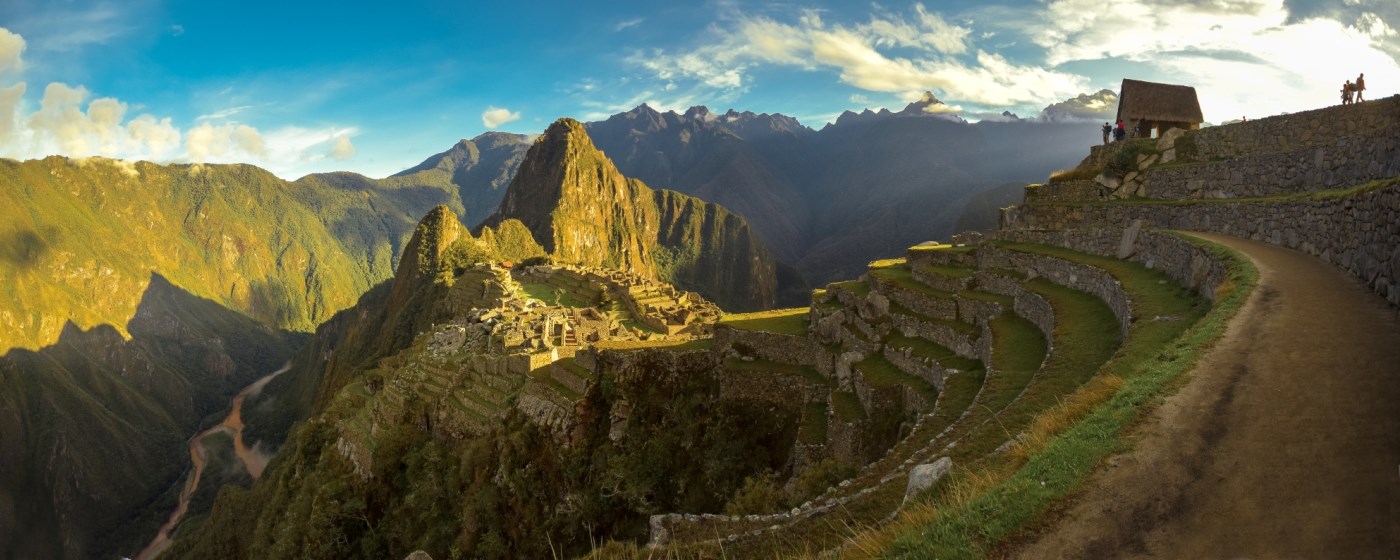 The ancient Incan citadel of Machu Picchu is Peru's most iconic and unmistakable landmark. Constructed circa 1450 AD and abandoned a mere century later, only to be "rediscovered" as recently as 1911, this site is nothing short of an archaeological marvel.
It's not solely the citadel's aesthetic allure that captivates; the ingenuity behind its construction is equally enthralling. Perched atop a ridge nestled between two mountain peaks, at a lofty altitude of 2,430 meters above sea level, simply transporting the massive stones to this spot must have been an extraordinary endeavour. The observant eye will notice that nearly all the walls incline inwards, a strategic design to minimize vulnerability to earthquakes. The stones interlock with such precision that no mortar was used, prompting ongoing speculation about the methods employed by the builders. Additionally, the layout of key sections hints at an understanding of celestial bodies, a knowledge that would elude Europeans for years to come.
How to visit:
Early arrangements are vital. Recent efforts to preserve the ruins' integrity have led to a significant reduction in the number of visitors allowed on-site. Tickets are now categorised into five distinct circuits that visitors must adhere to. Certain circuits provide a more extensive experience, granting extra time amid the ruins, while others omit access to the famed vantage point overlooking the site. There are also circuits that will take you up the peaks of Huayna and Machu Picchu (the mountain after which the ruins are named) for an even more dramatic view.
--------Holidays to Machu Picchu--------
Lake Titicaca
Perched at an elevation of 3,812 metres, Titicaca claims the title of the planet's loftiest navigable lake and South America's largest aquatic expanse. Amid its alluring vistas, its cluster of artfully crafted floating islands adds a layer of curiosity.
Crafted meticulously over centuries by the Uros people, these islands, spacious enough to accommodate but one family, were constructed from totora, a gargantuan bullrush sedge that thrives along the lake's shores. Rafts woven from the same material ferry individuals between the islands and the mainland.
While the majority of these ingeniously constructed islands grace the Peruvian side, the neighbouring Bolivian side holds its own profound significance. Here, amidst the natural islands, ancient ruins from the Incan and Tiwanaku Empires are enshrined.
How to visit:
Lake Titicaca is easily accessed as a day trip from La Paz on the Bolivian side. On the Peruvian side, it's worth spending a few days due to its distance from other popular sites such as Cusco. Boat tours to the floating islands and the natural islands in Bolivia are often available.
--------Holidays to Lake Titicaca--------
Atacama Desert
Get ready for your camera's SD card to swell. Those who journey here return laden with memories of landscapes reminiscent of the moon, vast salt flats, hissing geysers and an array of rock formations that act as a natural art gallery.
Among the region's main attractions, Moon Valley stands out as a must-see. The magic unfolds most vividly at sunset, when the sun's golden brushstrokes mingle with the valley's rugged contours, creating a captivating spectacle. Despite its moniker, the valley's crimson spires feel closer to stepping onto Mars. This hasn't escaped the notice of NASA, who frequently utilise the Atacama as a training ground for their illustrious Mars Rovers.
Speaking of cosmic exploration, seizing the chance to stargaze beneath the desert's skies is not to be missed. Situated at an elevated latitude and graced by near-constant cloudless nights, the Atacama Desert provides a stargazing experience few other places could hope to match.
How to visit:
The town of Calama has frequent flights from Santiago, from which it's a 1.5 hour bus ride to San Pedro de Atacama. With its proximity to the Atacama's attractions and a wealth of accommodations and restaurants, most tours depart from here. There are also more exclusive lodges in the wilderness itself where multi-day packages will include your meals and explorations.
--------Holidays to the Atacama Desert--------
Easter Island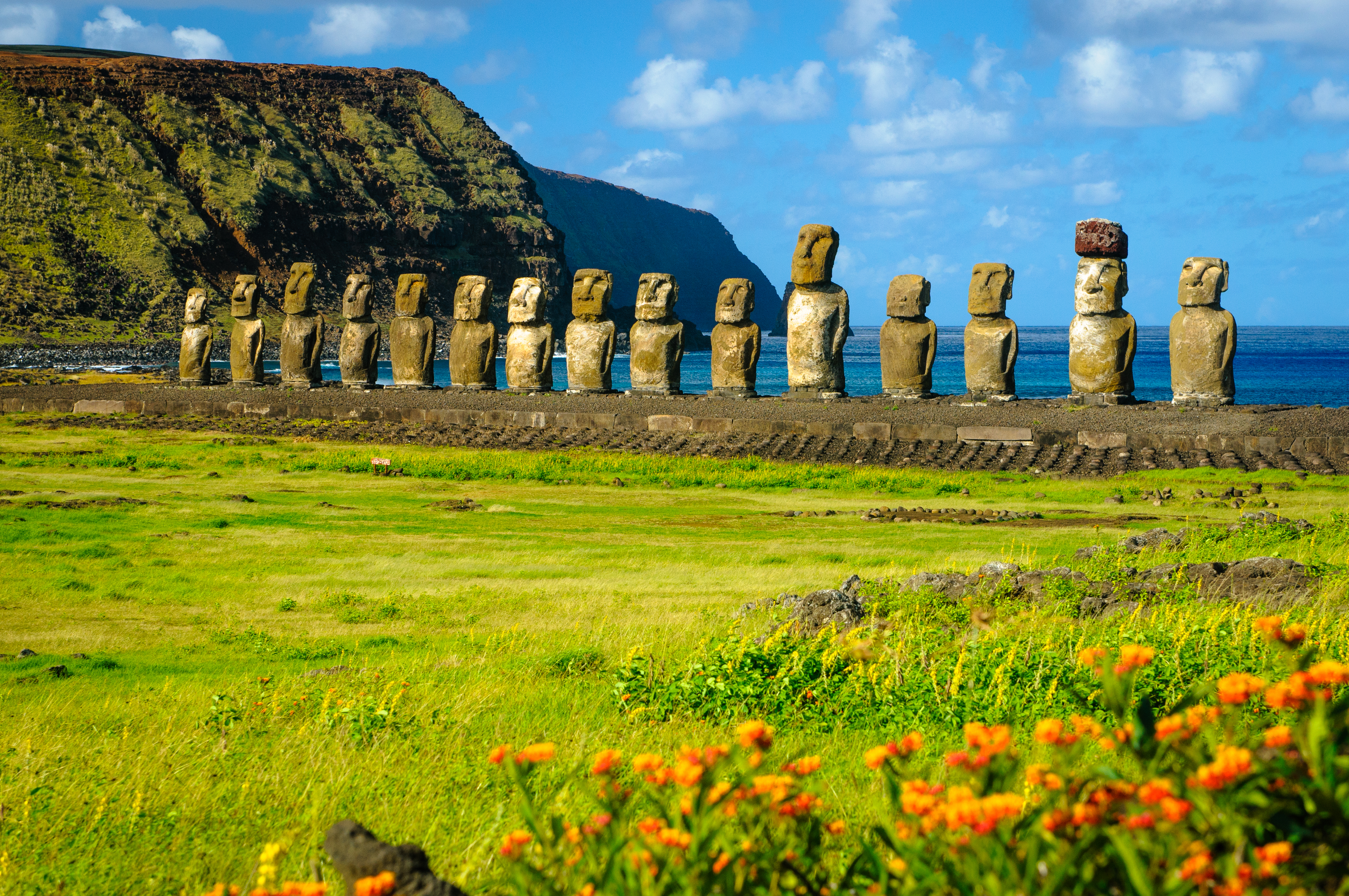 Easter Island, or Rapa Nui, beckons as a realm of ancient mysteries and entrancing landscapes. According to the calculations of diligent mapmakers, this island stands as the third most isolated piece of land on our planet, at 2,200 miles from mainland Chile (roughly the distance between London and the Holy Land).
This land is renowned for its veiled moai statues, colossal stone sentinels that dot the shores and countryside. Traverse along the wild coastline and ascend the rim of the Rano Kau crater for an unpolished side of the island, full of moai remnants that have toppled from their pedestals and abandoned villages. One that is especially worth visiting is the Orongo ceremonial village, where the island's artistic inhabitants imprinted the rocks with unique petroglyphs.
Amid your explorations, remember to enjoy this Pacific paradise's beaches. On certain shores, like the illustrious Anakena beach, you will find yourself in the company of stone-faced spectators.
How to visit:
As a part of Chile, Easter Island is accessible via flights from Santiago. The airport and most of the accommodation are in the small town of Hanga Roa, the only sizeable settlement on the island. A guide or tour is required nowadays to explore the main sites and hikes. There are statues scattered all around, including near Hanga Roa, so you're never far from any. A few days here should suffice, so Easter Island can be conveniently combined with some of Chile's other highlights or even Machu Picchu.
--------Holidays to Easter Island--------
Torres del Paine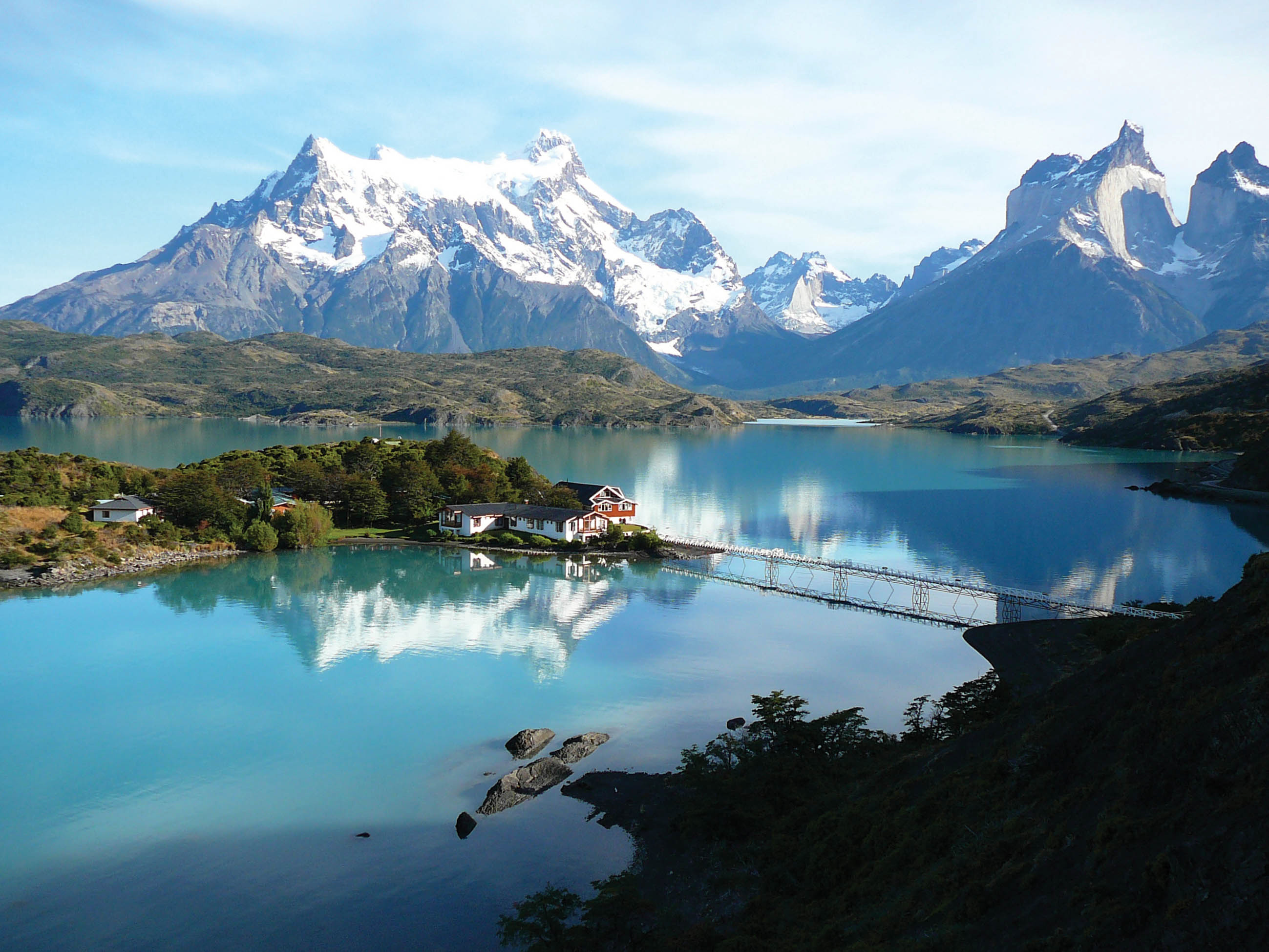 Nestled within the heart of Patagonia, this UNESCO Biosphere Reserve boasts some of the most breathtaking scenery in all of Latin America. Take in the grandeur of its three granite peaks that pierce the heavens, the glacial lakes that shimmer like gems and the viridescent forests that blanket the lower slopes.
For trekkers, this park is a veritable paradise. A network of well-marked trails lays the way to iconic landmarks like the base of the towering peaks and the enchanting Grey Glacier (which is more often white and a vibrant shade of blue). Some trails can be done as single-day escapades, easily attainable from lodges within the national park or just beyond its boundaries. Other trails are multi-day odysseys, lined with remote refúgios where fellow travellers gather to swap stories over noodles and Cerveza Austral.
Wildlife enthusiasts will also be enamoured by the orchestral drumming of giant black woodpeckers in the forests and the graceful guanacos strutting across the eastern plains. There is also an excellent chance of spotting pumas out here.
How to visit:
Torres del Paine can be reached via the town of Puerto Natales, from which it's a two-hour drive to the park itself. A road traverses the park's southern reaches, making day trips perfectly doable – the famous Base Torres trek, for example, can be done as such. If you want to see the park's most beautiful stretches, though, you'd do well to follow the trekkers who flock to the W and O circuits, which will take you around and through the park's peaks.
--------Holidays to Torres del Paine--------
Uyuni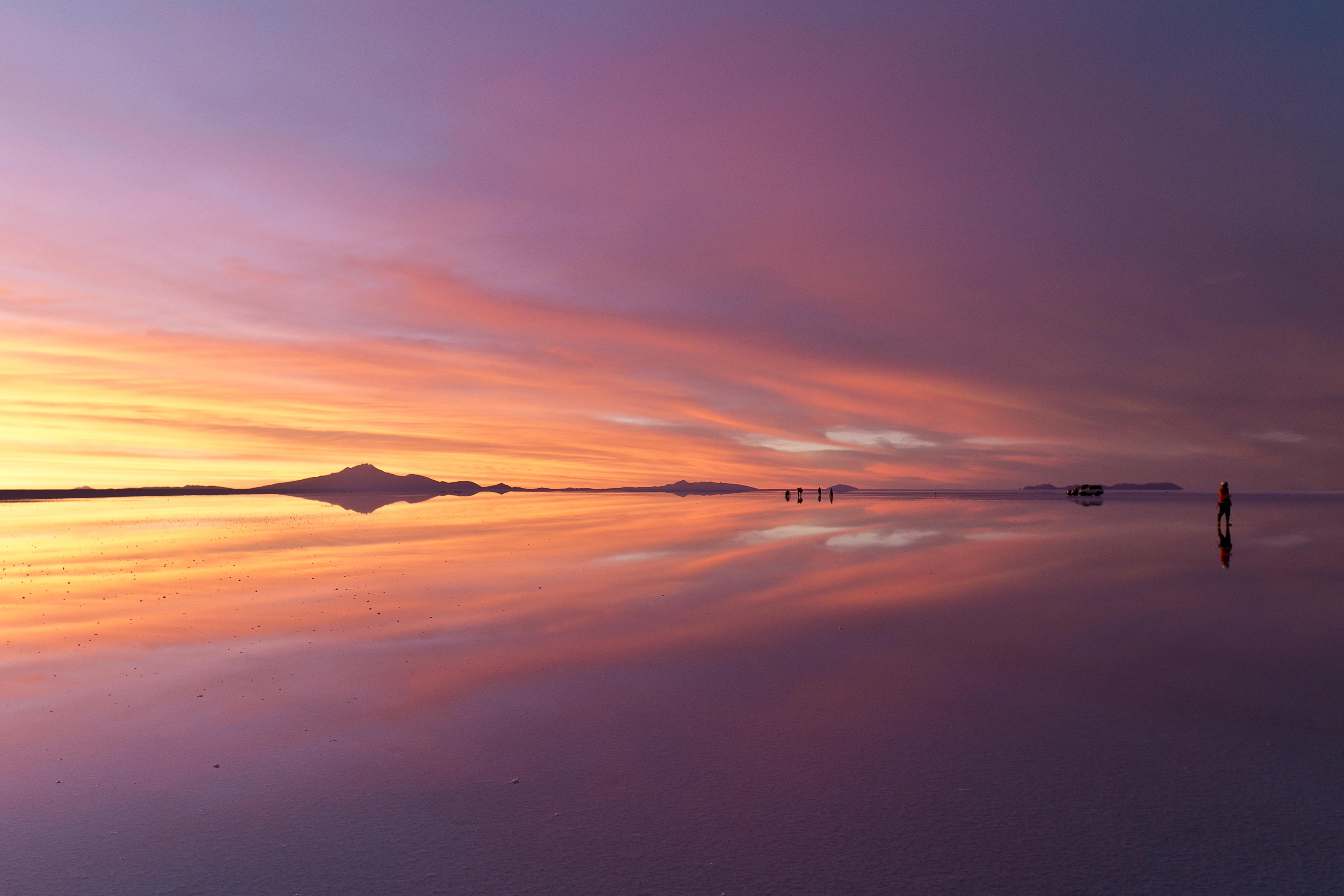 Encompassing a staggering expanse, the size of six Londons, the sprawling Salar de Uyuni stands as a testament to nature's grandeur. This salt desert is best visited during the wet season between December and April, when it turns into a giant mirror and the boundary between sky and earth fades.
In addition to this otherworldly sea of white, there's the "island" of Isla Incahuasi, a rocky outcrop festooned with bristling cacti, and Colchani, where age-old methods continue to extract salt by hand, crafting pristine mounds that punctuate the salt fields like frozen waves.
How to visit:
Jeep safaris are the best way to see the salt flats, with tours starting from the town of Uyuni. Some of these continue across the border into Chile and ultimately the Atacama.
--------Holidays to the Salar de Uyuni--------
Perito Moreno Glacier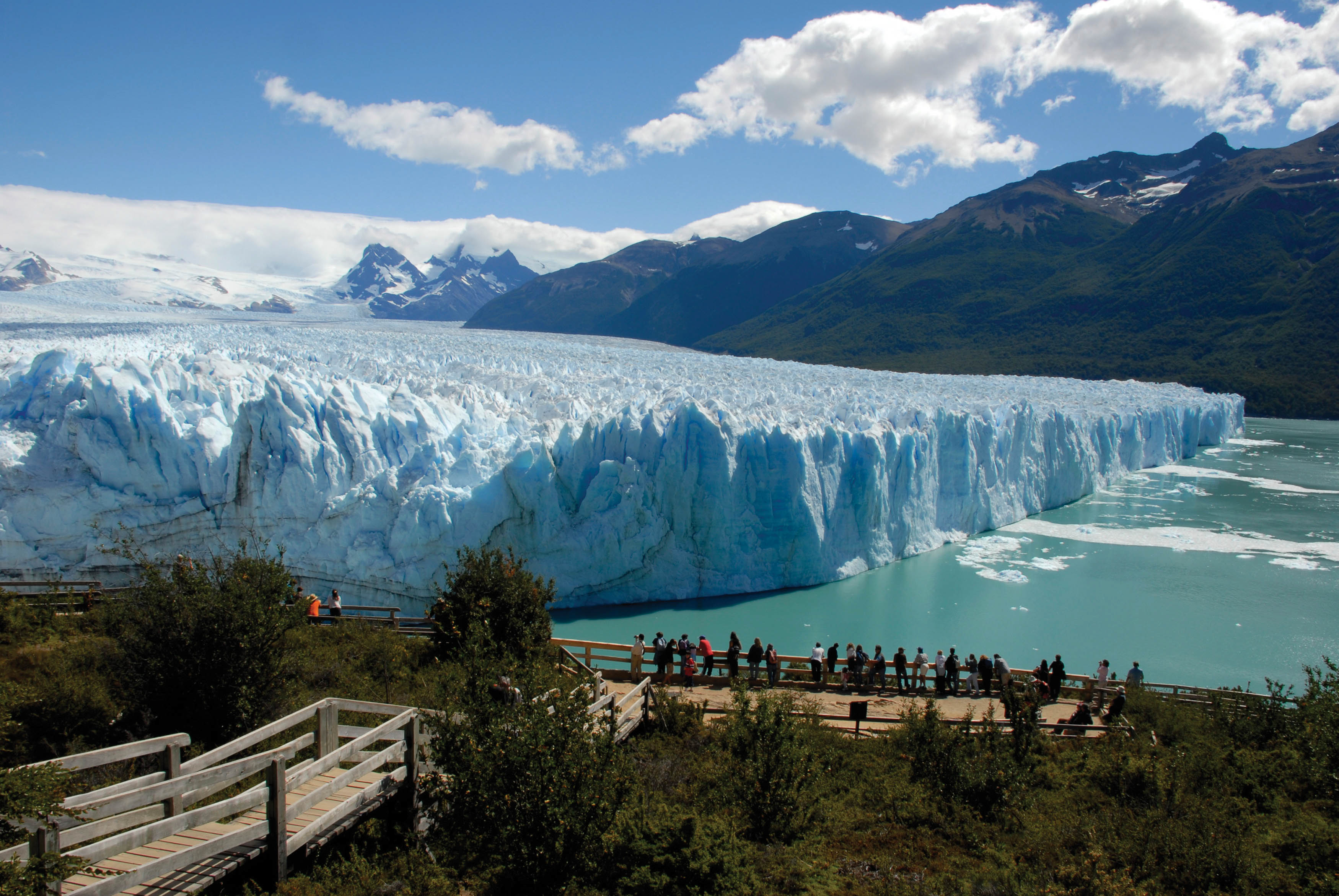 Slowly shuffling its way down the Andean peaks and into frigid Lago Argentino, Perito Moreno has to be seen to be believed. At 60 metres in height, and one of the few glaciers on the planet that's expanding, the wall of ice looms large over the baby blue water. Rather like Iguazú Falls, a boardwalk leads visitors to a safe viewing distance – close enough to appreciate this natural wonder, far enough that nobody gets wet when chunks of ice break free and crash into the water.
How to visit:
Perito Moreno is an easy day trip from the town of El Calafate, one of the main stops on the quintessential Patagonian itineraries. As well as a boardwalk, cruises bring you to within touching distance of the ice. If that's not close enough for you, there are also many hiking trips across the top of the glacier. Strapped into crampons and led by mountain guides, you'll trek your way through the icy pinnacles and caverns.
--------Holidays to Los Glaciaries National Park--------
Galápagos Islands
The Galápagos Islands may be part of Ecuador, but there's more distance between them and the mainland than there is between the UK mainland's southern and northernmost points. It was in the wildlife of these parched and isolated islands that Darwin's theory of evolution had its origin.
A century later, these unique and infamously tame animals continue to delight visitors. Peaceful giant tortoises amble through the islands' forests and fields, marine iguanas and sea lions sunbathe in the towns' harbours and nesting seabirds blanket the ground on the smaller islands.
How to visit:
The Galápagos are only accessible by plane from mainland Ecuador, a place worth visiting in its own right. Once there, you can choose between going on a cruise across the islands or staying in land-based accommodation and taking excursions from there.
--------Holidays to the Galápagos Islands--------
Amazon Rainforest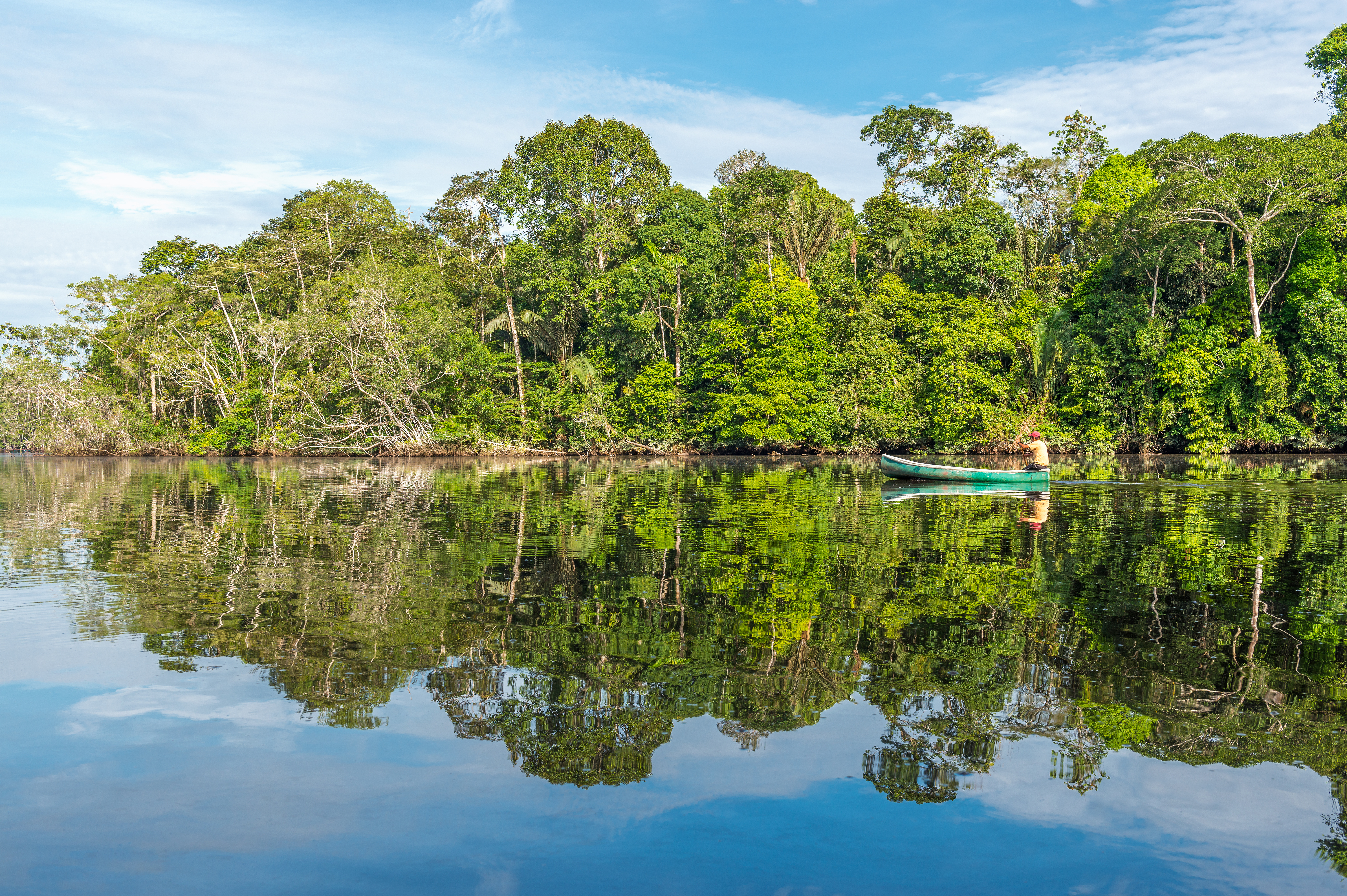 Spanning a third of South America and nine countries, the world's largest rainforest is a verdant wonderland. Home to a dazzling array of wildlife and indigenous cultures, a visit here will be nothing short of fascinating. A typical day here may involve sipping coffee while pink dolphins surface around you, being led into the forest as your guide points out plants and insects, catching your dinner with a spot of piranha fishing and partaking in a game of blow dart shooting in an indigenous village.
How to visit:
Given that the Amazon Rainforest spans nine countries, there are various points of access: Manaus in Brazil, Iquitos in Peru, Coca in Ecuador and Leticia in Colombia, to name a few. Various tours run from these towns to cosy lodges in the forest, and there are even luxury cruises plying the rivers.
Tailor-made holidays
Flexible, custom-made holidays to Latin America created to match your exact requirements: our tailor-made itineraries are as unique as the clients for whom they are designed.
Design my trip
Papagaio
Your edit for Latin American inspiration
Our exciting range of articles on Latin America explore everything from iconic destinations and lesser-known cultural gems to delicious traditional recipes. You'll also find exclusive travel tips, first-hand client reviews and the chance to get your personal questions answered by our travel experts.
View Extraordinary Inspiration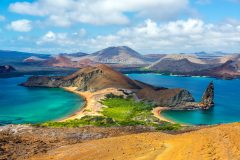 Meet our team
Real Latin american experts
Sally Dodge - Travel Expert

A former Journey Latin America tour leader, Sally spent 7 years working, travelling and living throughout Latin America before returning to the UK to help people arrange their own adventures to this wonderful destination.

Charlotte Daubeney - Travel Expert

Charlotte's fascination with Latin America began with a family holiday to Belize. She went on to study Spanish in school and at university before spending a year living in Santiago, Chile.

Hannah Donaldson - Travel Expert

Having spent part of her childhood in Colombia and worked in Brazil and Costa Rica, Hannah's ties to Latin America run deep. Hannah is a much valued Travel Expert in our Tailor-made Holidays and Group Tours sales team.

Paul Winrow-Giffin - Travel Expert

After graduating in Computer Science, Paul spent seven months travelling from Colombia to Argentina and came home hooked on Latin America.

Millie Davies - Travel Expert

Having caught the travel bug as a child, Millie has travelled all over Latin America before making her home in Buenos Aires for 3 years.

Hannah Waterhouse - Travel Expert

Hannah had an early introduction to Latin America when her family moved to Ecuador and she returned to study in Buenos Aires for a year before backpacking across the continent.