Travel Consultant Lina shares her incredible experiences on South Georgia and why she thinks you shouldn't miss it out.
Finally after two days on open seas, we arrive in South Georgia. We are all so excited for our first landing on the island (this is the highlight of my trip – everybody always talks highly of it and I can't wait to disembark!). Our first stop is Grytviken, an ex-whaling station where the government administration and British Antarctic Survey Research Centre is located. We paid our respects to Sir Ernest Shackleton and Frank Wild (his right-hand man) at the cemetery and were served a glass of whisky so we all drank to his memory.
Gold Harbour
Now, I have been lucky enough to travel to many wonderful places around the world but I do not exaggerate when I say that Gold Harbour is the most beautiful place I've ever seen. We had perfect weather and the perfect setting: I felt like I was part of a National Geographic expedition and it was easy to imagine Sir David Attenborough popping up at every corner.
The stunning backdrop of hanging glaciers and the exceptional abundance of sea birds like the Antarctic tern and Giant Southern petrels are incredible but the most spectacular aspect is the colony of king penguins.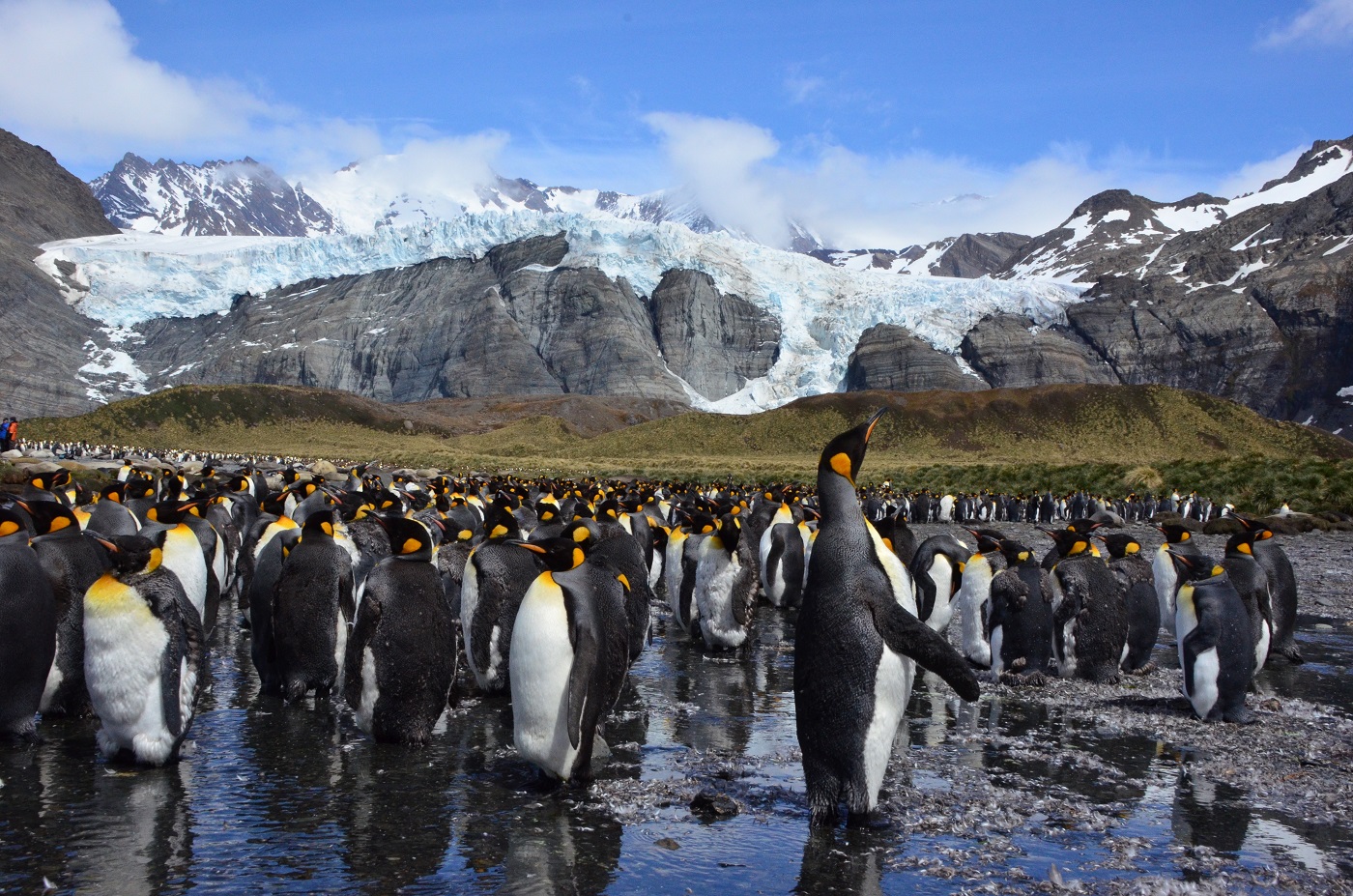 There were around 25,000 breeding pairs - not counting their fluffy little brown chicks – and it was difficult to take it all in; every now and then I would have to stop and take a deep breath to actually believe what I was seeing. Six hours somehow passed and the guides had to drag me back to the last boat! What an amazing place it was – none of us could stop talking about it, it really was magical.
St Andrews Bay
If I was impressed by Gold Harbour then I had no idea what was about to hit me when I arrived at St Andrews Bay. Even now it's hard to comprehend and register the sheer amount of king penguins that we found there: over 300,000 breeding pairs with their (uncounted) chicks… The enormous bay is backed but the ice-clad summits of the Allardyce mountain range, glaciers and a river that aids the juvenile penguins when it's time for them to shed their thick brown coats; it's an incredible transformation and we witnessed all of the different stages of this process right before our eyes!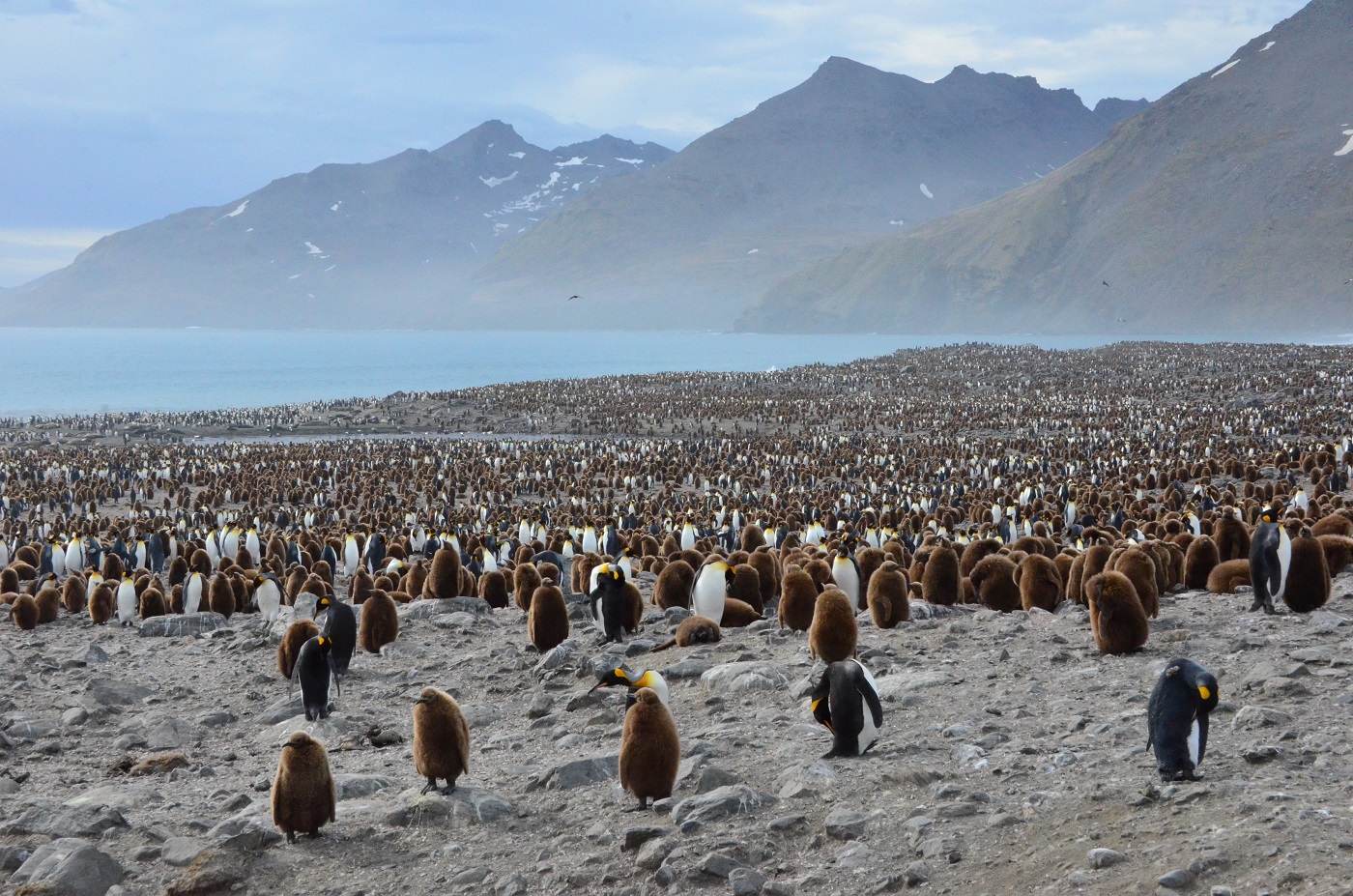 The more we walk, the more spectacular the site becomes: the river is absolutely packed with grown-up chicks that get together to warm up, but the moment that takes your breath away is when you arrive at the top of the hill and are rewarded with a panoramic view of the main colony. The scene seems impossible to describe and so many questions come to mind: How can they know which one is their partner? With hundreds of thousands of penguins making noise and calling to each other, how can they tell which one their chick is? I have been told that each couple has a different sound, but how they remember the exact spot to get together is a complete mystery. I sat there to watch, and watch and watch… what a spectacle!
Cooper Island
We could not land here because there were too many fur seals breeding on this beach (we saw a couple of baby seals which were very cute!). Our guides found that all the designated landing spots were taken by the seals so the landing excursion became a Zodiac cruise – you've got to stay flexible in this part of the world!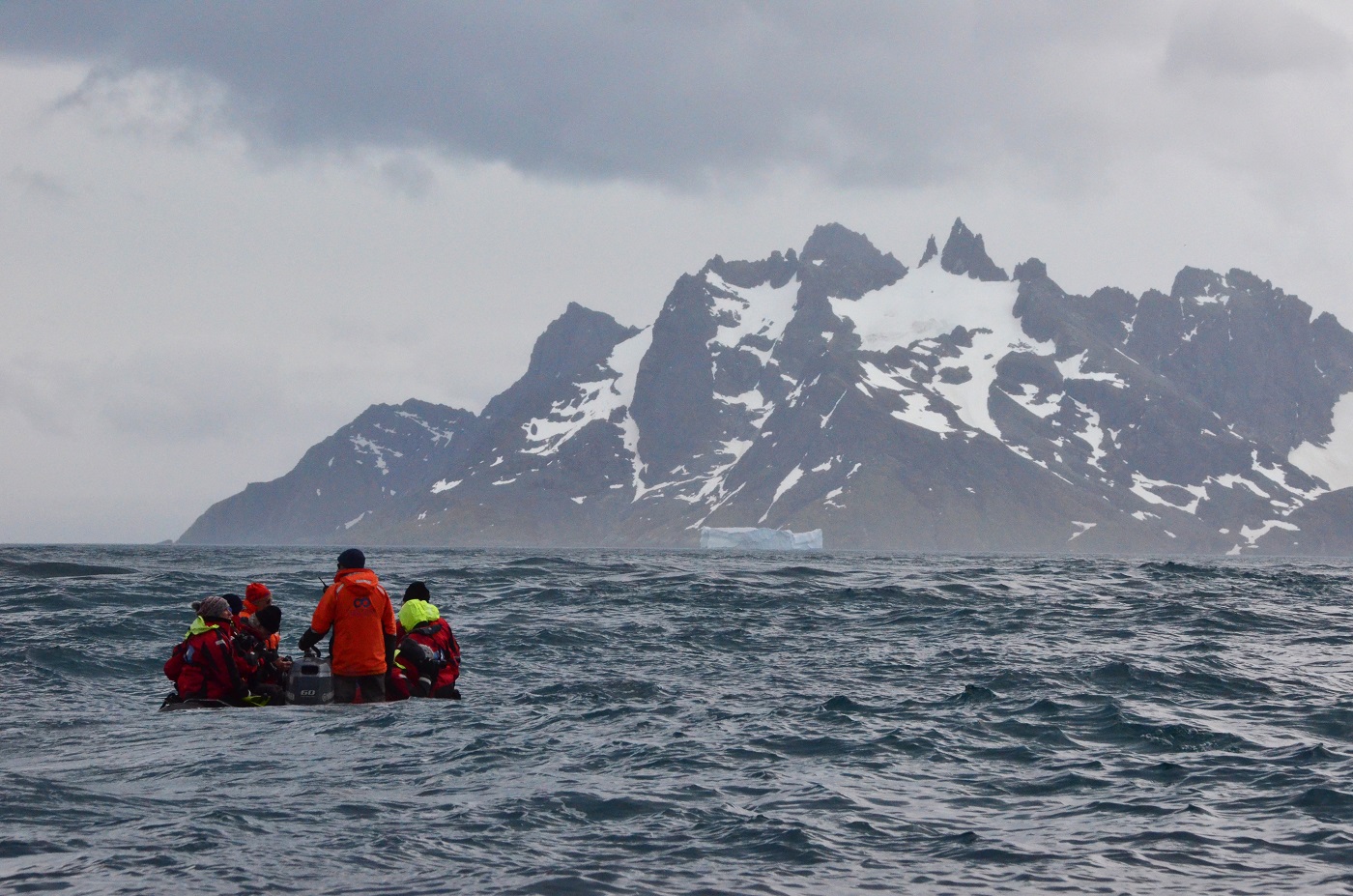 We spent the next two hours watching the largest colony of over 10,000 chinstrap penguins breeding pairs, building their nests – they have this beautiful line on their faces which distinguishes them from other species of penguin. On another side of the mountains we found the elusive Macaroni penguins that hide their nests between the tussock on the slopes of very steep mountains and gentoo penguins seemed to be scattered around the different colonies making friends with everyone. The diversity in this part of South Georgia doesn't only apply to penguins: later in the year, albatrosses start arriving and the Blue-eyed shag, skua, pintail, petrel are all regular breeders on the bay.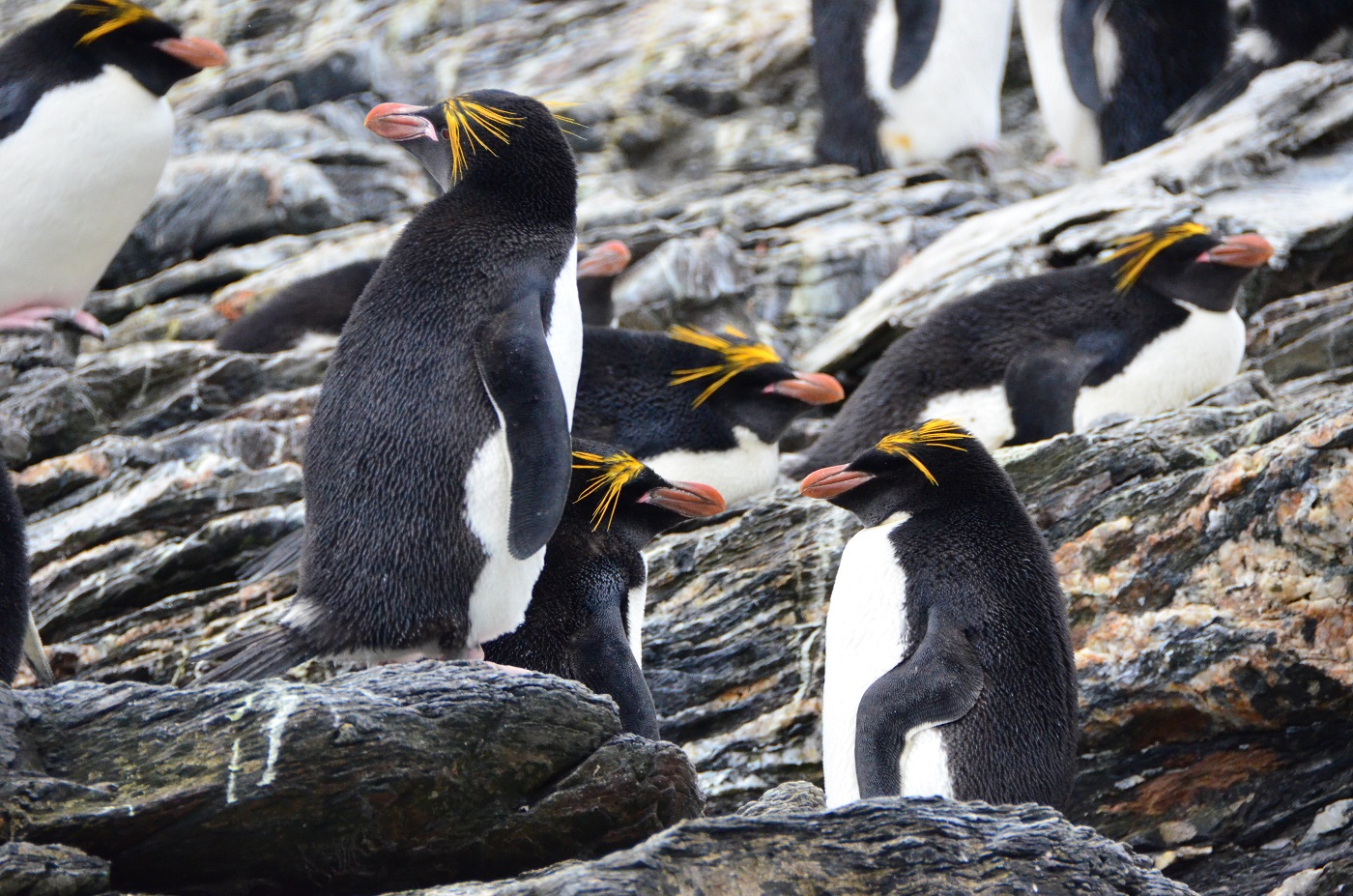 My experiences on South Georgia just got better and better and I think that everyone who is interested in wildlife, or even just wants to see something unique, should visit South Georgia. Every minute spent admiring these beautiful creatures is an experience that will stay with you forever; hours after when we were back on board, we exchanged experiences and all agreed that there were no words to describe what we'd seen – people will have to come to see it for themselves. I felt totally overwhelmed by the whole adventure… simply wow!
Sadly our visit to South Georgia came to an end; the ship raised its anchor, turned on its engine and began navigating the Scotia Sea towards our next destination: Antarctica!
Follow in Lina's footsteps with our Antarctica wildlife: Falklands, South Georgia and the Antarctic peninsula holiday.
Tailor-made holidays
Flexible, custom-made holidays to Latin America created to match your exact requirements: our tailor-made itineraries are as unique as the clients for whom they are designed.
Design my trip