Senior Travel Consultant Mary shares her tales of adventure and intrigue in Belize's ATM Caves.
An Indiana Jones adventure
"Listen up, everyone! Do you know what ATM stands for?" asked our guide, who promptly dismissed our convoluted mumble that contained the words Actun Tunichil Muknal with a wave of his hand. "Yes, well, that. And what else?"
Then, without waiting for an answer, and with a mischievous grin and a glint in his eyes, he finished: "It also means 'Another Tourist Missing' – so, do what I say and you will be fine". And that, together with the idea of venturing inside a pitch dark, underground cave with only a torch for company, was enough to set our adventurous juices flowing.
As it happens, you have to be pretty daft to get lost and as Indiana-Jones-style adventures go, this is rather tame: no dangerous animals lurking in the corners, no armed fanatic chasing you… However, having said that, this is one of the most engrossing and fascinating tours I have ever been on, and most certainly unique. A definite must-do for any trip to Belize.
What's inside the caves?
Discovered in 1992, this cave was a sacred Mayan religious site in the pre-classical period (around 700-900 AD). Believed to be a door to the Underworld, offerings and sacrifices were made here to the God of Rain in times of drought and so the harsher the times, the bigger the offerings: some of the gruesome items you see are the skeletal remains of sacrificial victims, including adolescents and children who were left where water would run. This had the unintended effect of calcifying the ceramic and bones, a coating which sparkles under the torch lights, so the cave is also known as the Crystal Sepulchre and the best preserved skeleton as the Crystal Maiden.
How do you reach them?
And as if this wasn't exciting enough, the way you get here is also part of the adventure: an hour's walk on flat and easy terrain – if very hot under the Belizean sun – involves crossing three rivers which, depending on the water level, means you swim, wade or just cross at ankle-depth. I had to do all three, but the good news is that you have a rope to hold on to if you need to.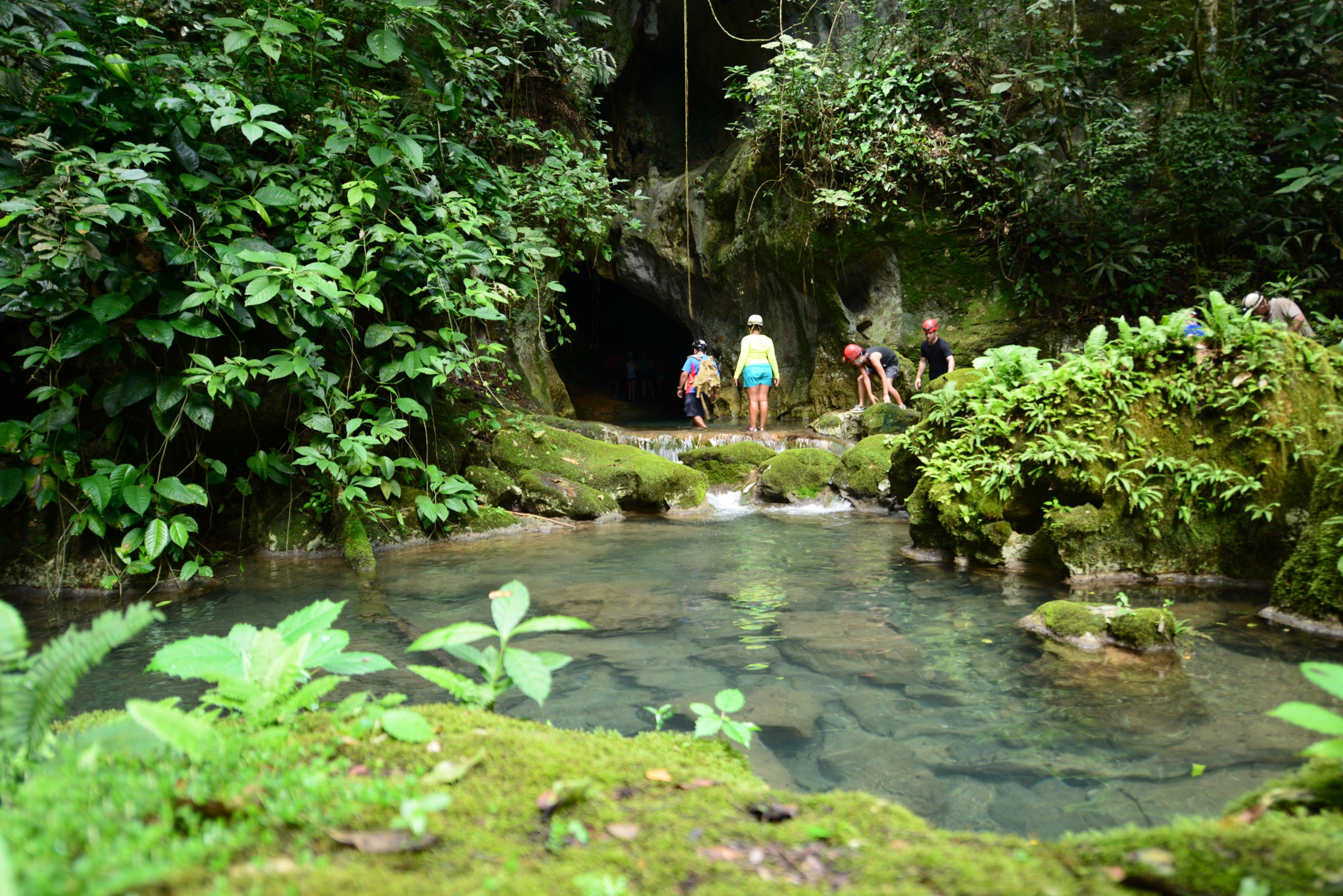 The entrance of the cave is a peaceful, small lagoon formed by an underground river which you need to cross before venturing into the pitch black passage that will take you to the Mayan remains. Again, the level of water means swimming or just wading, but either way you need to be aware that you will get wet and remain wet for the duration of the tour. You will then walk, splash, swim, scramble and climb some rocks, passing incredible formations and squeezing through more than one tight corner where you need to crane your neck at a specific angle in order to pass.
Although the cave runs for about 5km, you will only survey the first one where, after scrambling up some rocks you get to what is known as the 'cathedral' – a huge vaulted cavern containing sacrificial pots and ceremonial tools used for sacrifices, as well as fantastic rock formations, some of which were altered by the Mayan people to create eerie shadows resembling gods' profiles. At this stage, you need to take off your shoes and continue in your socks only – this is to protect the remains – before continuing deeper in the cave where you begin to see the bones, some in perfect order and some scattered and difficult to discern, until you finally arrive to the star of the show: the perfectly calcified remains of the Crystal Maiden.
At this stage, and despite knowing what a huge honour this was for the victim, I couldn't help but wonder whether the sacrifices were worth it. And so there was a sense of respect and deep humility for both the passage of time and different beliefs – a feeling that followed me while I was scrambling and swimming my way back to the light outside. In the end, nobody went missing and the warning was nothing but a joke, and yet there was that eerie feeling of… well, go visit and find out!
Please note that cameras are not allowed in the cave. A careless tourist dropped his in 2012 thus shattering a precious thousand-year-old skull and since then you can only enter with the clothes on your back, your helmet and head torch. Don't try to smuggle that small GoPro – it will be confiscated. Also, remember that you will be inside a dark cave so if you're claustrophobic or uncomfortable in water, this may not be the ideal tour for you. You also need to be reasonably fit and sure-footed.
Browse our holidays to Belize.
Tailor-made holidays
Flexible, custom-made holidays to Latin America created to match your exact requirements: our tailor-made itineraries are as unique as the clients for whom they are designed.
Design my trip