Wines of Uruguay
6 April 2015

Uruguay is emerging as one of the most exciting wine-producing countries in the world; with plenty of money being invested into developing vineyards and existing producers getting the recognition they deserve.
It's the fourth largest producer in South America (after Argentina, Chile and Brazil) but the production is tiny. Only 73,000 tonnes harvested per year (compared to 1.6 ml tonnes in Argentina) making Uruguay close to Japan or Switzerland's production in terms of volume. Uruguay's total annual production of 10 million cases is less than that of a single large producer in Chile.
The country is roughly the size of the state of Washington (176,000 sq km), with the population equivalent to that of Wales (3 million). Yes, Uruguay is home to just 3.4 million people, who happily consume most of their own wine, leaving just under 10% of the production available for exports.
The secret in terms of quality lies in its climate and soils, both of which contribute to the style of wine produced, and are very different from its neighbours in Chile and Argentina. In general Uruguay produces a more European style of wine with less jammy fruit, less alcohol, more acidity and structured tannins.
The wine producing areas are located on the 34th parallel South, the same as Santiago, Mendoza, Stellenbosch and the Barossa Valley (the equivalent in the north being Lebanon and Los Angeles).
Uruguay is a flat country; the product of gentle ageing and weathering of a variety of soil types, in the main winemaking areas, a mix of alluvial clays, silts, sand with some gravel overlying a limestone bedrock. There are no dramatic igneous or faulted structures that create mountain ranges; in fact the highest point in Uruguay is only 514m above sea level.
This flat landscape and its proximity to the Atlantic Ocean, with the chilly Antarctic currents, along with sometimes fierce winds that blow inland from the sea, give the southern coastal region a cool maritime climate that could be comparable to Bordeaux or Margaret River, it's almost sub-tropical further north.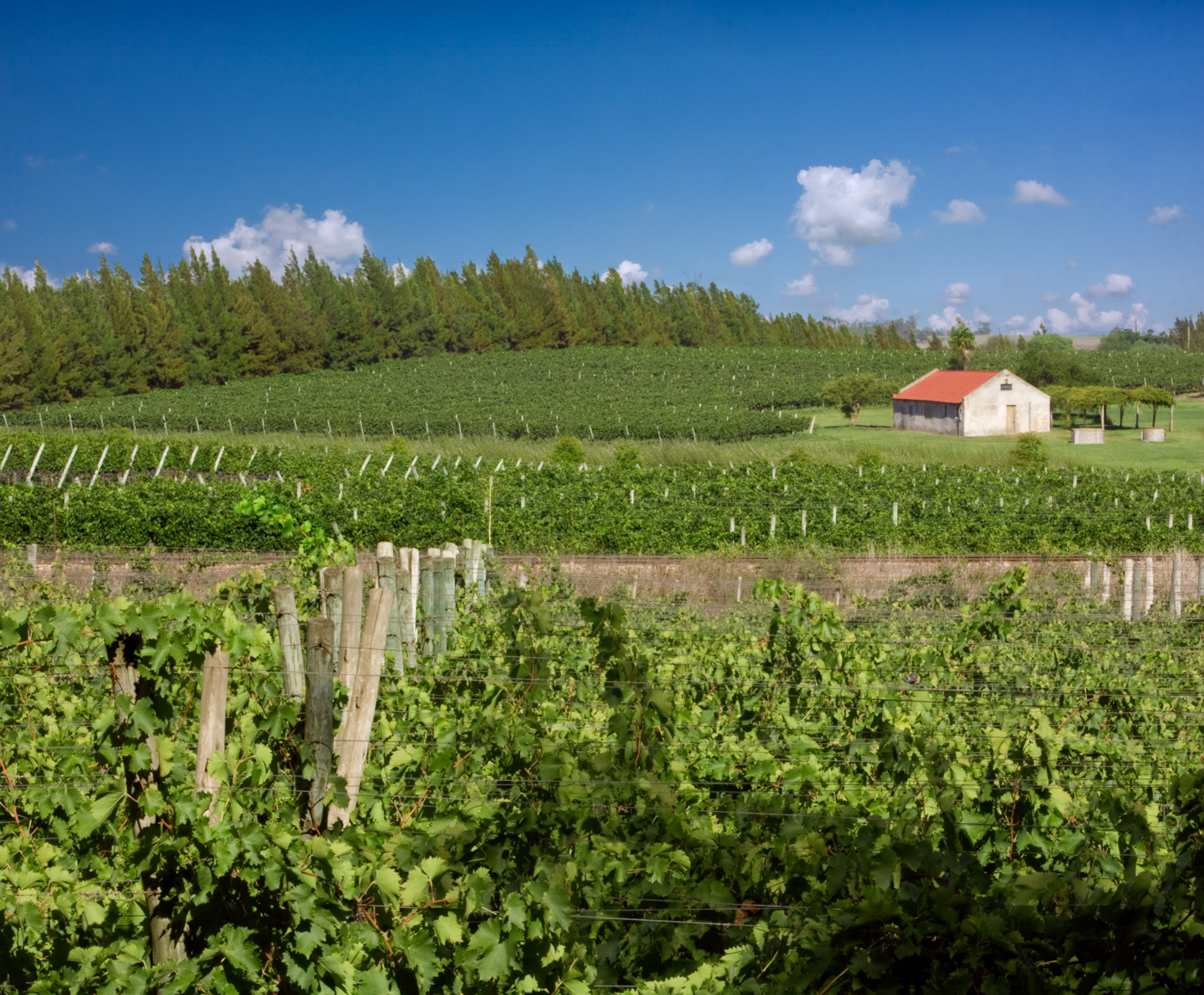 The main wine-growing region, where 90% of the wines are made, is Canelones; situated around the capital Montevideo and next to the Rio de la Plata (the world widest river; an estuary that leads into the Atlantic ocean). The highest area gently rises to 100m; there are no slopes or river valleys for vineyards here. The soils are clay or clay and limestone mix. Clay retains water well during dry periods, forming a hard crust on the surface. These vineyards do not need irrigation and although it can be dry, the vines are rarely water stressed.
The undisputed signature grape of Uruguay is Tannat, a red variety originally from France that produces robust wines with strong tannins, dark fruit flavours and spicy notes. It is also considered to be one of the healthiest red wines as it contains 3 to 4 times more antioxidants than other red grapes, and also has a high concentration of resveratrol.
All the wineries are small and still family-owned and run. The wines are virtually all hand-made every step of the way, and infused with the passion and enthusiasm of these families, resulting in unique wines with characteristics that reflect both the territory of the vineyard and the personality of the individual winemaker.
Uruguayan wines offer excellent value for money; they can blow Chile or Argentina out of the water in the price-quality boat. There's no question that Uruguayan wines, particularly Tannats, are worth seeking out.
This year (2015) we launched our first Uruguay-only holiday which visits Colonia, vineyards, Montevideo, estancias and Punta del Este.
Tailor-made holidays
Flexible, custom-made holidays to Latin America created to match your exact requirements: our tailor-made itineraries are as unique as the clients for whom they are designed.
Design my trip