Senior Travel Consultant Mary Anne shares some interesting facts about the colonial centre of the Costa Rican capital, San José.
The thought came with the big news – British Airways will, as of May 2016, start operating direct flights from London to San José in Costa Rica. About time, we say, given the high demand for travel to this tiny, peaceful and environmentally friendly Central American country. But what do we really, factually, know about San José, apart from it being the capital? It's not a beautiful city, to be honest, and so we spend as little time as possible there. And I can't help but ask myself, why? Where is the colonial centre, so attractive in the majority of capitals and minor cities in Latin America? You know, the central square, the usual "Damero" plan (streets running parallel and vertical from the square outwards. Classic Spanish; you will find it in almost every Latin American city colonised by them), beautiful pedestrianised streets and quaint doorways? Think Cartagena in Colombia, Antigua in Guatemala and Granada in Nicaragua to name but a few.
Absent. Nowhere to be seen. NADA. Oh, there are some nice buildings, of course – a National Theatre, National Museum, some colonial houses and the like – but these are few and far between and there is no well-kept pedestrianised street that you would like to photograph until death do you apart. So here's what I found:
For starters, San José wasn't even the original capital. This illustrious status was held, until 1824, by Cartago, 25km away. Until then, San José was a bit of a backwater with a relatively sparse population, no planning or even a proper government because it wasn't considered a city – or even a town. Strictly speaking, it was founded in 1738 with the building of a chapel dedicated to Saint Joseph – hence the name - in order to concentrate the scattered inhabitants of the surrounding valleys, but there wasn't an official act of foundation and it was only recognised as a city well into the 1800s. Ironically, lack of water contributed to the population's slow growth, though the building of ditches and subsequent development of the tobacco industry helped to increase urban concentration.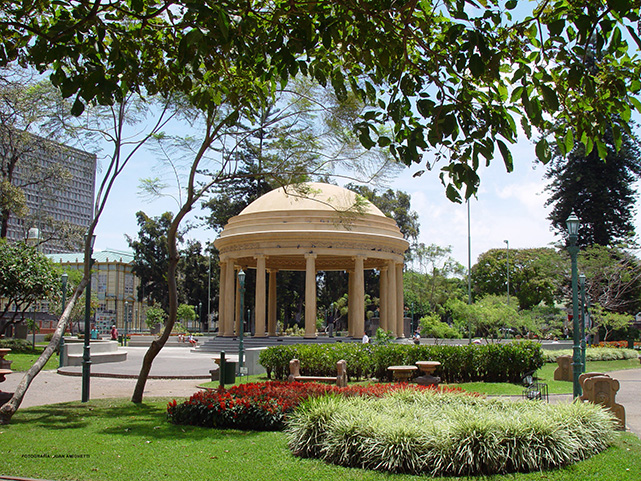 However, there were two other factors that eventually made the city and the first of which was independence from Spain. Two years after it was gained in 1821, there was a brief civil war that ended with the joint Republican strongholds of San José and Alajuela defeating the pro-Mexican Democrats of Heredia and Cartago and thus the capital was duly moved from the latter to the former. We could also argue that an earthquake in 1822 which completely destroyed Cartago might have helped, but there is no hard evidence and therefore I'm only going to sow the seed of doubt...
The other factor was the introduction of coffee in the Central Valley during the early 1800s. The trade brought money as a result and, with it, an urban merchant class that wanted a better city; modern and pleasant to the eye. These nouveaux-riches started looking to Europe as an architectural muse – look no further than the National Theatre – and San José grew. Haphazardly, though. Did you know that addresses are either non-existent or useless? Try "the house to the left of the big tree, besides the green garage" and the fact that the tree burned down a few years back and the garage was repainted bright pink gives you an idea. But hey! What are memory and a bit of imagination for?
Having said this, Chepe, as it's known by the locals, albeit big, noisy and difficult to get the hang of, is still attractive in an "I-have-taken-leave-of-my-senses" kind of way. Some places are changing, blossoming, as it were. Old houses are being converted into boutique hotels, new restaurants and quirky cafés are opening, cultural events are being hosted in different parts of the city and there is even a "fall in love with your city" movement with ongoing series of workshops and performances in urban parks hosted by the Culture Ministry – all free and public. In short, San José is worth a visit nowadays. Give it a try.
Browse our Costa Rica holidays.
Last updated: 23 May 2017
Tailor-made holidays
Flexible, custom-made holidays to Latin America created to match your exact requirements: our tailor-made itineraries are as unique as the clients for whom they are designed.
Design my trip