Homestay visits – where guests, usually travellers from abroad, have the opportunity to lodge with a local family in a place of interest, have become somewhat de rigueur nowadays. Increasing numbers of people are looking for a more "authentic" experience than one that is offered by a tour where you whizz round the highlights in a blur or restrict yourself to accommodation in refined luxury properties, where the only local people you will meet, albeit friendly, see themselves very much as being at your service.
Cuba, Chile and Peru, for example, have been welcoming visitors in this way for some time now. It was all rather haphazard at the start, with guests being accommodated on an ad hoc basis. Some hospitable communities in Peru, however, have long recognised the possibility of earning a bob or two putting up tourists. On the islands of Lake Titicaca, traditional communities welcome visitors to their homes, in a controlled manner supervised by the community leaders.
A few years ago I myself took my family to Taquile, where upon arrival we were whisked off to the house of Don Benjamin and his family. None of them spoke a word of English, but those of our party who didn't speak Spanish or any indigenous language managed to communicate with smiles and gestures. The family did not eat with us but they prepared wholesome meals and were happy for us to snoop round their kitchen. The bedrooms were similar to those of the family themselves, consisting of a simple bed in a freezing cold room, albeit with loads of blankets. The loo was a stone pot in the yard, with a bucket of water alongside: but it was very clean, and fine once we had summoned up the courage to leave our beds to nip down in the frost-bitten night. A lovely family, I think they were genuinely touched when we gave them our hot water bottles (brought all the way from Boots): they had never seen such luxuries before!
My Journey Latin America colleague Hannah Waterhouse stayed on the man-made floating reed Uros Islands in 2012. The indigenous islanders have a way of life which is totally unique. Once fishermen, nowadays they travel to the mainland to earn a living or, increasingly, by welcoming visitors. Five enterprising families on the island called Q'hantati clubbed together to set up a "hotel" where you can stay in any one of their houses. The huts - constructed totally from reeds - are raised up from the reed floor on wooden bases, with a couple of stairs up to the rooms. The beds were comfy, reports Hannah, there are no windows but you can prop your door open. The families take you on a tour of the islands and will tell you about their way of life. Ride in a reed boat, fish, learn how to make artisan crafts, dress up in local costume and dance: you have plenty of opportunities to get a genuine feel for local life.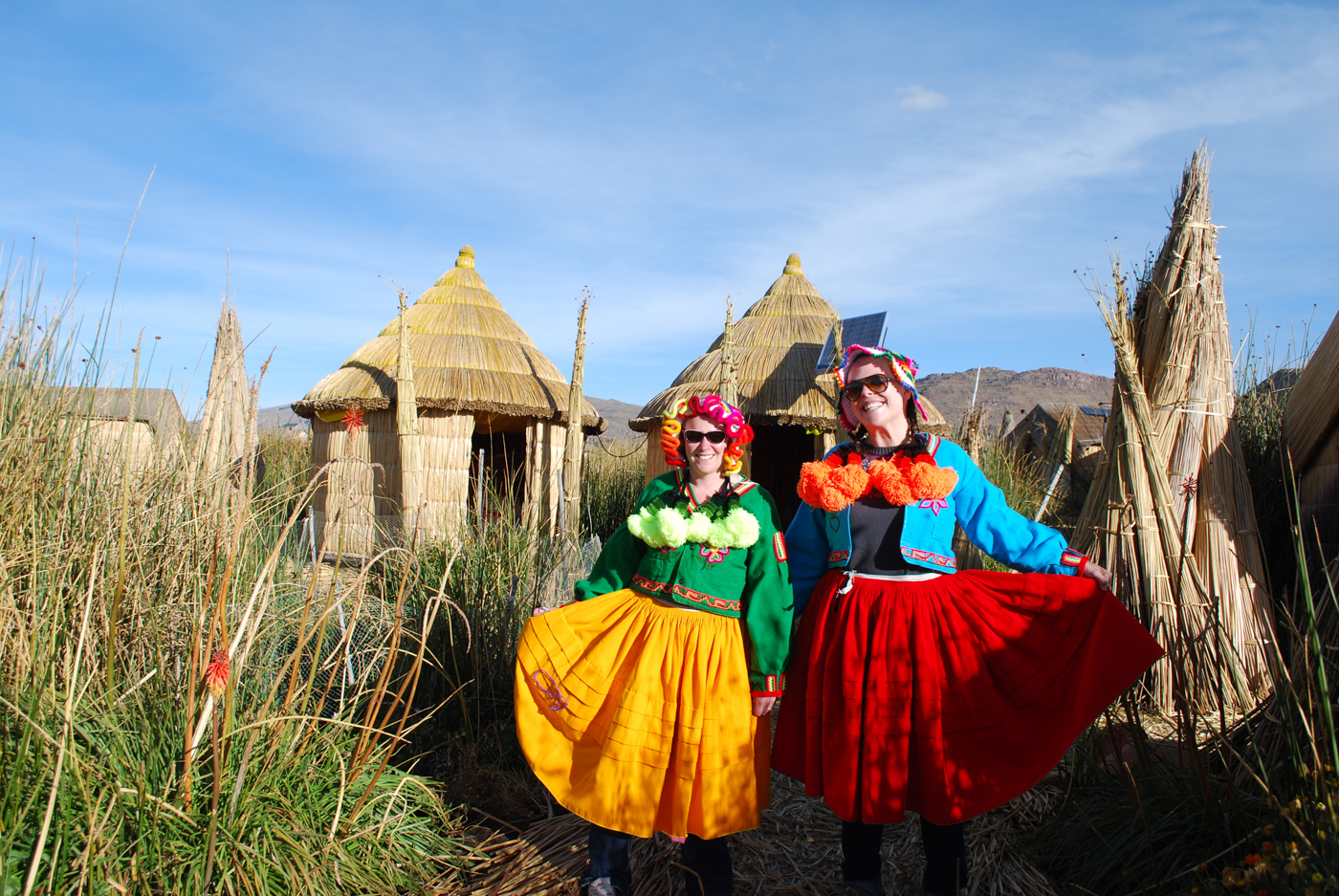 The Peninsula Llachon and Luquina (Península Chucuito), on the mainland fringing the lake are also places where you can stay within the community. Our Product Manager, Isabelle Mazille was enchanted by her well-organised stay at Luquina. Here you stay with the local families but in traditional-style rooms built expressly for the purpose of accommodating guests, with private bathrooms and solar heating. You'll eat with your host family: Isabelle says the food was very nourishing. It's a little more developed than some of the other homestays; you can immerse yourself in local life, observing the daily activities of the farmers, but also go off hiking, kayaking or sailing with expert guides from the region.
If you'd like something homely but with a little more comfort, the former Casa Andina Private Collection chain hotel on the island of Suasi (now called simply "Isla Suasi") has been handed back to its original owner, Marta Giraldo. It's more of a retreat than a community homestay, as it is a private island, but the perfect opportunity to commune with nature in a timeless, vehicle-free environment.
We have three different holidays on our website which visit the islands of Luquino Chino, Llachon and Taquile and could include a homestay. These are our Value Peru, Family Peru and Signature Andes holidays.
Tailor-made holidays
Flexible, custom-made holidays to Latin America created to match your exact requirements: our tailor-made itineraries are as unique as the clients for whom they are designed.
Design my trip