Life on Lake Titicaca's shores
20 February 2015

At a dizzying altitude of 12,500 feet, Lake Titicaca holds the grand title of being the world's highest navigable lake. It is also, without a doubt, one of South America's most historically intriguing and picturesque natural attractions. Wedged between Peru and Bolivia, this Andean lake covers a vast 5,201 square kilometre, equivalent to the entire metropolitan area of London, and reaches down over 900 feet at its deepest point. The calm, deep blue water gently ripples against a backdrop of sun bleached hills, steeply terrace farmland and snow-capped volcanoes. Combine this image with an azure sky, interrupted only by a few horizon-skimming clouds, and it's easy to see why this lake is so cherished by locals and visitors alike.
On the Bolivian shores of the lake you'll find Copacabana, a quaint but bustling town, neatly framed by two large hills. Despite being a fraction of the size of the city of Puno on the Peruvian side, there is plenty to do in Copacabana; from hiking opportunities, for which you'll be rewarded with spectacular views across the lake, to boat excursions to one of the numerous islands, each with its own unique character and traditions. If you'd prefer some downtime, Copacabana is the ideal spot in which to simply relax and soak up the atmosphere. I'd suggest a visit to the white-washed colonial cathedral which houses a 16th Century idol of Bolivia's patron saint 'Our Lady of Copacabana'. This carving of the virgin, dressed in the robes of an Inca princess, is the result of years of laborious work by the Inca craftsman, Tito Yupanqui, a descendent of the first Inca king, Manco Cápac. The sculpture has long been famed for its power to work miracles and is one of the most important pilgrimage sites in Bolivia. You could be mistaken for thinking that Copacabana's much larger Brazilian namesake was so named due to its beachfront likeness and laidback attitude. In fact, one of the myths associated with the Bolivian town recalls how a group of Brazilian fishermen were stranded by a brutal storm over Lake Titicaca. The fishermen's desperate prayers for help were answered by the Virgin of Copacabana, who brought them back to dry land, unharmed. The fisherman then safely returned to Brazil, taking the name of 'Copacabana' with them.
Copacabana cathedral is also the place to observe the somewhat theatrical ritual of vehicle blessings – a fascinating cultural practice which combines both Catholic and indigenous customs. Upon buying a car, many Bolivians opt to make the steep and winding commute to Copacabana in order to sanctify their new vehicle and ensure their future road safety. The popularity of this practice is perhaps all the more nonsensical when you consider the region's cliff-hugging dirt roads and daredevil drivers! The blessings begin at around 10am each day, as a rapidly growing line of vehicles, ranging from motorbikes to buses and commercial trucks, begins to form outside the Basilica of Our Lady of Copacabana and snake around the neighbouring blocks. Vehicles are lavishly decorated with swathes of colourful flowers, paper garlands, confetti and any number of other small and bizarre trinkets, including miniature hats, Catholic statuettes and cars, purchased for next to nothing from one of the many roadside vendors. Once the cars are suitably adorned (the emphasis here being on more rather than less!) a Catholic priest uses a carnation to sprinkle each engine with holy water. Given the amount of vehicles waiting to be blessed, the only feasible way to transport the amount of holy water required is often in a plastic bucket! Far from being a sober affair, the cars are then doused (inside and out!) in alcohol to appease Pachamama, the Andean goddess of the earth. Those who can afford it opt to splurge on champagne but it's not uncommon to see beer, and even coca cola, being used by those on a smaller budget. The ceremony dramatically concludes with a flurry of firecrackers before the owners are finally happy to leave, safe in the knowledge that they will be protected by both the Virgin and Pachamama on their long drive home.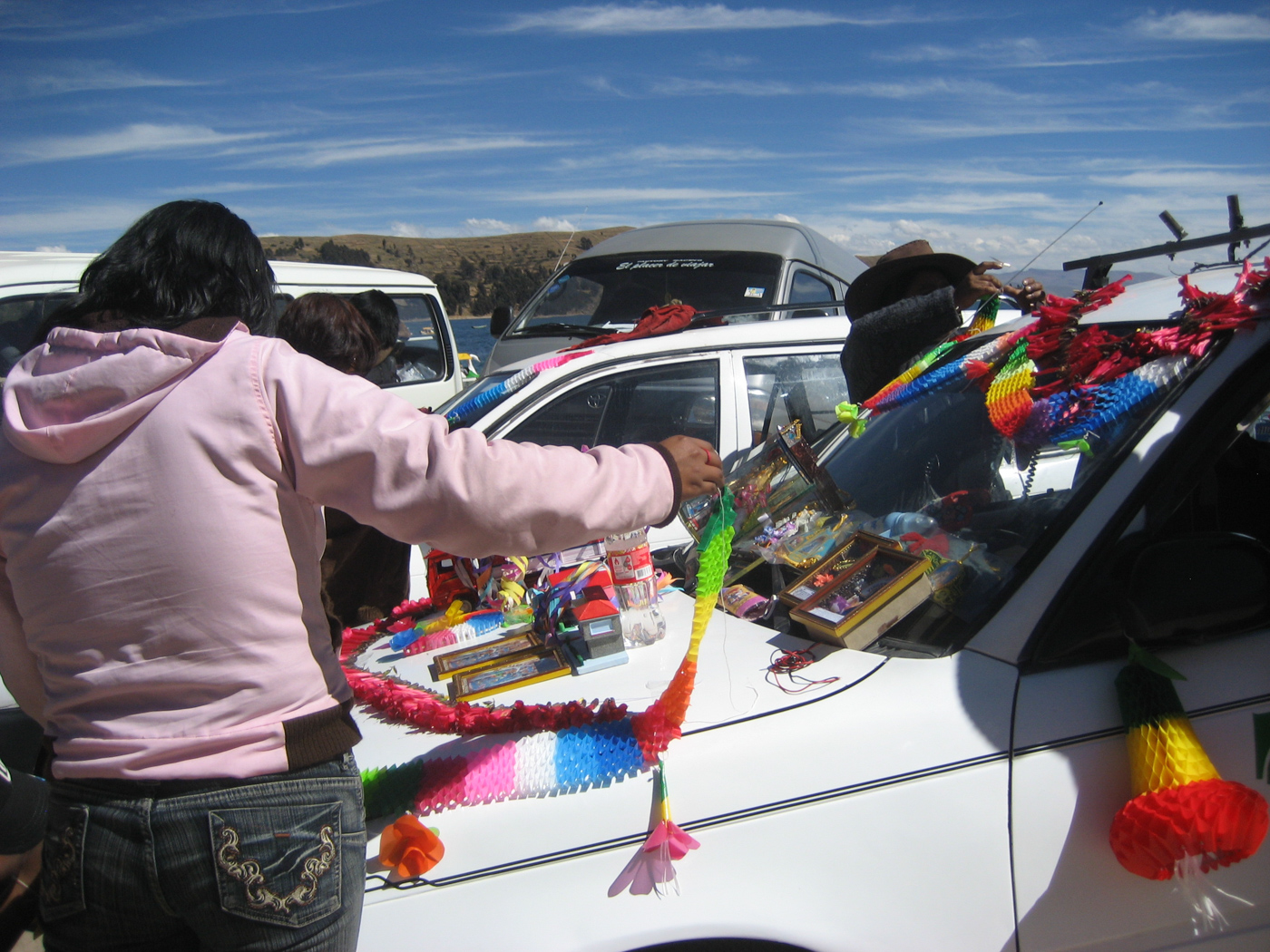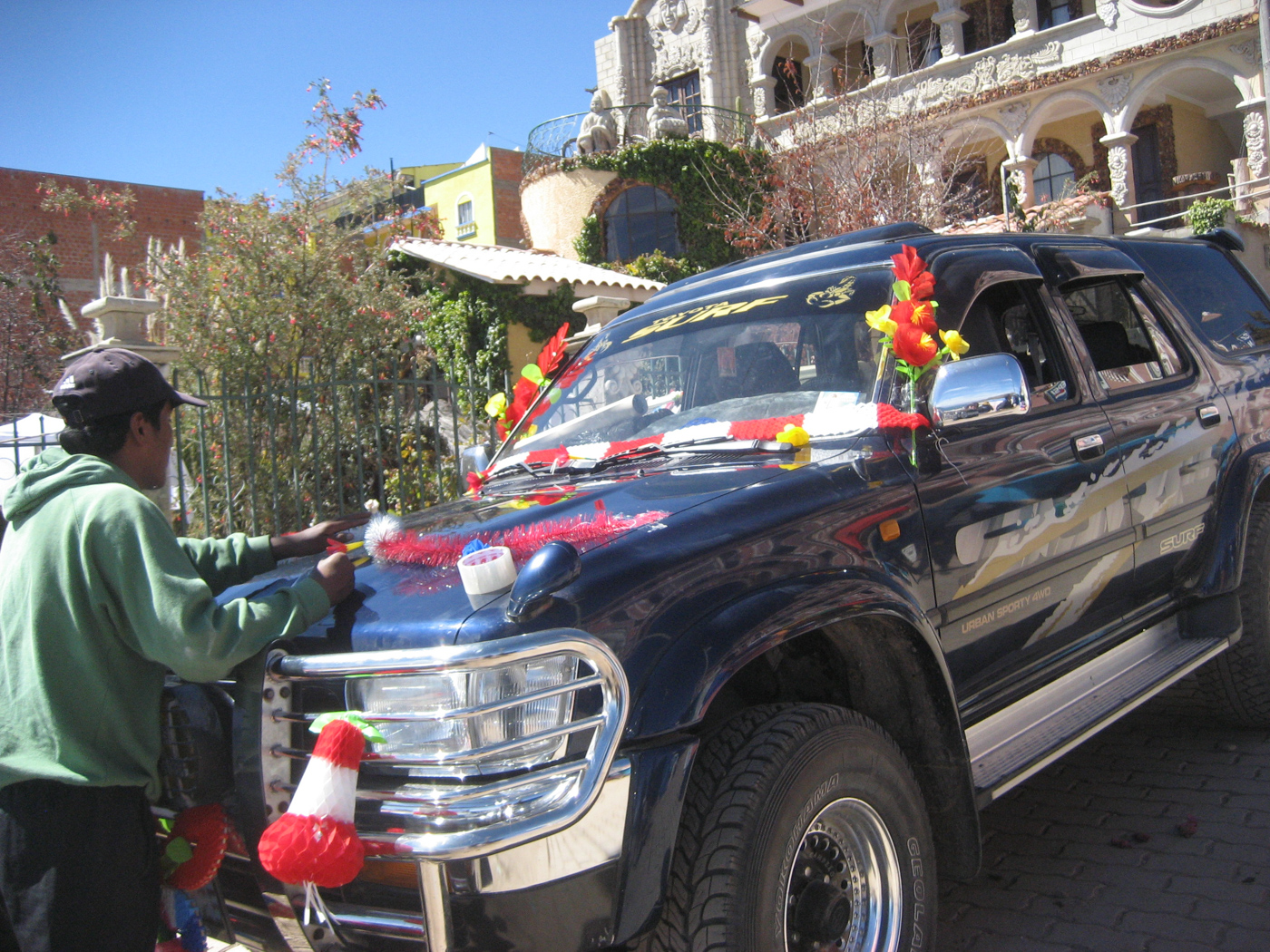 If you want to witness this spectacle, consider our Andes & Altiplano: Cusco, Lake Titicaca and La Paz holiday.
Tailor-made holidays
Flexible, custom-made holidays to Latin America created to match your exact requirements: our tailor-made itineraries are as unique as the clients for whom they are designed.
Design my trip