Back
Belmond Hotel Monasterio
Atmospheric first class hotel in a converted colonial monastery, featuring the ultimate in modern comfort juxtaposed with a vivid sense of history.
Relive the rarefied atmosphere of the colonial era with modern luxury refinements in this converted monastery in the heart of old Cusco. You can't ignore the strong presence of history here – Gregorian chanting is piped through the cloisters and Catholic art looms from the stone walls – but nor would you want to: the place is totally captivating.
Operated by Belmond (formerly known as Orient Express - the owner is the same only the name has changed), the levels of service at Belmond Hotel Monasterio are characteristically high and the rooms are decorated in distinctive style with remarkable attention to detail. Each is different in size and shape owing to the building's former role – some were once monks' cells, others spaces dedicated to religious devotion. Many have a state-of-the-art oxygen enrichment system to reduce the effects of altitude.
The building centres around a stunning cloistered courtyard, where a serene garden and shaded seating invite relaxation and contemplation. There's also a series of smaller courtyards to wander around and a magnificent stone-arched restaurant serving inventive gourmet cuisine. Don't miss the chance to look around the chapel with its ornate wooden carvings and gold filigree.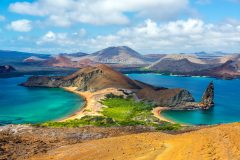 What our clients say
By far the best hotel we stayed at. The setting is amazing and the service outstanding. Would recommend it to anyone who stays in Cuzco, as we think it's unsurpassable.

Probably one if the nicest hotels we've ever stayed. Beautiful and incredible service.

The most impressive hotel I have ever been to

Could hardly be bettered.

This was a fabulous place to stay - I felt like Royalty! The staff are excellent but I think the hotel would benefit from a pool, or at least an…
Our Expert's Opinion