Back
Go snorkelling in the Panamanian Caribbean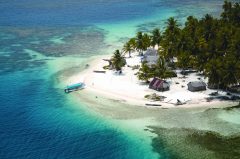 Watch shoals of tropical fish dart between coral reefs in the crystal-clear seas of San Blas.
With its colourful coral reefs and seas as clear as cut glass, San Blas is a paradise for snorkellers. Scuba diving is prohibited here, so this is the very closest you can get to the thriving underwater world surrounding the islands.
The warm waters of the Caribbean archipelago teem with tropical fish, while the ocean bed is peppered with starfish. There are also manta rays, moray eels and turtles to be spotted as you swim out from a pristine white-sand beach or jump straight into the aquamarine expanse from the deck of a boat.
Panama
Portobelo and San Blas Islands