Back
Tranquilo Bay
Secluded lodge in harmony with its stunning natural surroundings, offering smart and stylishly decorated jungle cottages.
The secluded Tranquilo Bay lodge is set high up above the shore with views over the treetops towards the sea. Wood dominates the architectural style, blending into the luxuriant greenery that surrounds each of the buildings.
The smart cottages housing the guest rooms are spacious and stylish, with local hardwood furnishings, minimalist white walls and Panamanian crafted artwork. There are some nice little details such as coffee machines and a handful of books in each room; outside there is a veranda with a hammock that invites lazy relaxation in the tropical heat.
Meals, served in the main lodge building with its warm and friendly atmosphere, are devised using local ingredients with options varying daily. There's also a bar and entertainment room.
Excursions centre on environmental interest, with plenty of outdoor activities such as hiking, mangrove and coral snorkelling, fishing, surfing and kayaking. Many of the walking trails are in the lodge's own extensive grounds, which are overflowing with natural plant life and visited by a variety of tropical bird species. But you can travel beyond the property to visit other islands and beaches. It's a great place to take the family.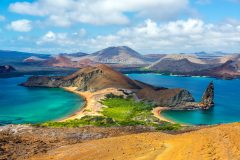 What our clients say
"Bocas del Toro was great fun and frivolous and a great journey there by boat."

Each part of my trip had a special moment. I loved both the new and old parts of Panama city, but my highlight there was seeing sloths while walking up…

Because of my interest in shipping, the Panama Canal partial transit was fascinating.

Top experiences in Panama - going through the canal and exploring Panama City and surrounding area. I was surprised to find that Panama is not just the Canal Zone!

Most memorable experience: "Tranquillo bay was a cut above everything else. Staying on Waidup (near Isla Tigre) was also special."

Most Memorable Moment?: Too hard to choose one. Panama Canal Transit was a lifelong ambition.
Our Expert's Opinion