Back
Visit the home of Leon Trotsky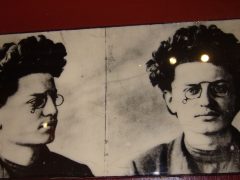 Take a look around the bullet-riddled house in which the Russian revolutionary lived in exile before meeting a gruesome end.
Often combined with a visit to Frida Kahlo's Casa Azul, the former home of Leon Trotsky forms a surprising part of Mexico City's historic mosaic: this was the house where the Russian revolutionary was assassinated with an ice pick blow to the head.
Trotsky was expelled from Russia by Stalin and had already survived several attempts on his life by the time he arrived in Mexico City at the invitation of his friends, the muralist Diego Rivera and his artist wife Frida Kahlo, with whom Trotsky had a brief affair.
The austere house has been left much as it was on the fateful day of its occupant's brutal death – rabbit hutches in the garden, glasses and shoes left in their customary places – and starkly contrasts the simplicity of the Marxist theorist's life with the violence of his death. You can still see bullet holes in the walls and doors from a previous assassination attempt, completing a picture life on the run.
Mexico
Mexico City