Back
Four Seasons
Elegant and well-located hotel with a beautiful, manicured courtyard area, outdoor pool and stylish restaurant.
The rather grand and altogether elegant Four Seasons is centrally located near leafy Chapultepec Park. It's a big place built on 9 floors but inspired by a warm colonial style. The property caters for business people and leisure visitors alike, and is an extremely professional place with slick management.
Rooms are spacious and classically furnished in muted colours, with air-con, cable TV and a large marble bathroom with a deep bathtub. Views of the surrounding avenues or the attractive central courtyard with its fountain and al fresco dining area add the final touches. There is a good restaurant in keeping with hotel's smart décor serving contemporary Mediterranean cuisine, as well as a fully-equipped modern gym, spa with Jacuzzi, sauna and massage room, and a heated outdoor swimming pool and terrace.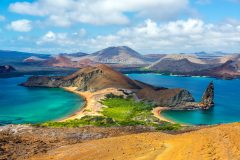 What our clients say
Highlights?: Probably seeing the Diego Rivera murals in Mexico City although it is hard to pick out as there were so many moments that we loved. A boat trip on…

Most memorable aspect: "All the visits to temples and pyramids. With very knowledgeable and extremely pleasant guides

Most Memorable Moment?: Hard to say as we enjoyed every part of our trip. We loved the mixture of ancient sites and other attractions so we did not feel overwhelmed…

Highlights?: Hacienda Ticum and Uxmal

Highlights: Palenque site. The beach at Tulum

"While is difficult to find the better part, staying in the Hacienda Chichen Resort was magical, seen the Toh bird in Tanka was wonderful, as was swimming in the cenotes…
Our Expert's Opinion