Back
Visit San Miguel de Allende's art galleries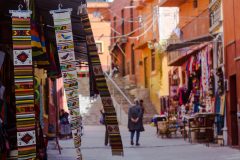 Stroll around the cobbled streets of colonial San Miguel de Allende, Mexico's capital of art, and explore the dozens of museums, galleries, studios, workshops which are open to the public.
San Miguel de Allende, one of a necklet of mountain towns northwest of Mexico City founded during the era of Spanish colonial rule, is probably considered the art capital of Mexico. A UNESCO World Heritage Site, the exquisite town is a work of art in itself. The settlement was originally the site of a Franciscan mission, but was developed by the Spanish owing to its strategic position on the route to the nearby silver mining towns and became the home to some of the richest silver barons in the country. San Miguel played a role during the war of independence but its reputation as a centre of the arts was triggered by the founding of the Fine Arts school and a course in mural painting in the 1930s.
Since then the town has been a magnet for painters, sculptors, photographers and craftsmen from all corners of Mexico and other parts of the world including the USA and many have settled here: it is now an outward-looking, friendly and peaceful place. Nowadays there are more than 40 galleries, workshops and museums in the town, all welcoming visitors and exhibiting a huge variety of objets d'art, textiles, photographs and sculptures. If you are tempted to try your own hand at the creative arts there are plenty of courses available.
Mexico
Colonial and silver towns