Back
Take a cruise in the Galapagos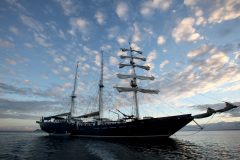 Discover the Galápagos Islands for yourself – this is one of the most sought-after experiences in travel, and the reality does not disappoint.
This natural paradise of twisted lava and deserted beaches is a haven for endemic wildlife, offering a fascinating glimpse into the processes of natural selection that gave shape to life on Earth.
The islands' fauna enjoys an undisturbed life free from predators and unthreatened by man. No matter which islands you visit, you will be greeted with wildlife in extraordinary abundance and with no fear of your presence, making this one of the most magical places on the planet for nature lovers.
Cruises can last anywhere between 4 and 15 days, the boats we use range in size, accommodating between 12 and 100 guests. No matter what the overall group size, guided excursions on land will be small and intimate – by law tour groups on the islands can consist of no more than 16 visitors.
The daily itinerary is very similar from boat to boat, making landfall twice a day with time for snorkelling and observing the ever-enthralling theatre of natural life all around. On-board lectures cover topics from natural history and conservation to Darwin's famous voyage around the archipelago, inspiring 'On the Origin of Species'.
Galapagos Islands
Isabela (Albemarle)