Back
Relaxing Galapagos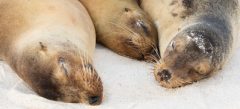 Base yourself at the Galapagos Islands on a cruise or in a hotel to relax and revive.
You've heard that the Galápagos Islands are a wonderful relaxing destination for a holiday for lovers of wildlife, where you can view trusting birds and reptiles in an unspoilt volcanic environment.
Most visits are to be by cruise, where you stop at a series of different islands for short exploratory visits, returning to your vessel for meals and to sleep. Snorkelling and swimming are also offered from cruise yachts. However nowadays you have the option of spending more time on the islands themselves, based at any of the hotels and spas springing up on the larger islands, most of which are very eco-friendly and low key. There you have time to relax on white sand beaches, and dine on high quality fresh meals served in the hotel restaurants. If you are staying close to one of the towns, especially Puerto Ayora, you can browse the shops and bars in a laid-back atmosphere, where iguanas cross the road and sea-lions bask on the pavements.
It's a warm and sunny tropical environment, with lovely views from many spots. In fact, a perfect wind-down at the end of a busy holiday itinerary, as well as a great restful destination in its own right.
Galapagos Islands
Isabela (Albemarle)