Back
Land-based island hopping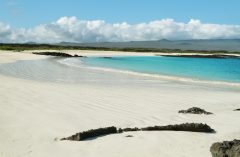 Explore the Galápagos Islands on an hotel- based holiday hopping from island to island by boat, with the opportunity to hike, bike, kayak and snorkel.
The volcanic, ruggedly beautiful Galápagos Islands are home to giant tortoises, iguanas, penguins, frigate-birds, waved albatrosses and blue-footed boobies as well as a wealth of rare flora. But the lava strewn cliffs and forested mountains, lagoons and swamps and bleach-white beaches are exquisitely beautiful in themselves.
Most visitors discover the islands on a 3-10 day cruise, dropping anchor at a selection of islands and making wet landings to explore for an hour or so with a naturalist guide. This used to be the only way of exploring the islands but now we can offer you the flexibility of a land-based adventure. Not for you the rolling sea and rigidity of a fixed timetable limiting your experience on each island…
This way, you can visit 3 very different islands, hopping from one to the other by speedboat: that alone is exhilarating. You'll get a more comprehensive, intimate and diverse knowledge of each: not only will you enjoy observing the unique wildlife and natural landscapes but you can also take part in active adventures: hiking, kayaking, snorkelling and stand-up paddling.
Galapagos Islands
Isabela (Albemarle)