Back
Bird watching in the Galapagos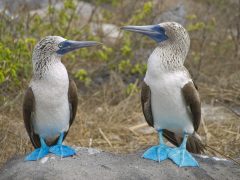 Spot birds on guided nature walks in the Galapagos Islands, visiting nesting and feeding sites.
The Galápagos archipelago is an accommodating habitat for a broad range of bird species, from penguins to albatrosses and blue-footed boobies to flamingos.
While the number of individual species is not as high as many other top birding destinations, it's the high proportion of endemic varieties and the opportunity to get up close to birds with no fear of man that makes this such a special place for bird watchers.
Sea birds include the waved albatross, with a wingspan of over 2m, the flightless cormorant, pelicans, petrels, frigate birds and the blue-footed booby, with its endearing and rather comical mating dance. On land, there are Darwin's famous finches, which helped to unlock the mysteries of evolution, the Galápagos dove, Galápagos hawk and Galápagos rail among others.
If you are keen to see a particular species, you may need to plan your trip around certain islands and visit within the appropriate season – we can help you devise an itinerary.
Galapagos Islands
Isabela (Albemarle)