Back
Visit Gran Piedra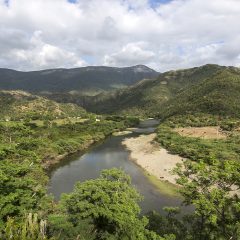 Enjoy a taste of the Sierra Maestra countryside with a day trip combining visits to botanical gardens and the ruins of a coffee plantation with a rewarding climb to an unusual rock formation.
Surveying the surrounding landscape from the summit of a forested hill, the Gran Piedra, ('Big Rock') is a surreal protrusion from the Sierra Maestra mountain range. It's also a natural lookout point, offering panoramic views over the dramatic terrain to reward those who make the climb up a steep staircase to the top.
On this varied day trip you'll also visit the nearby botanical gardens with their collection of native flora and fauna, and the ruins of a 19th century coffee plantation.
Cuba
Santiago de Cuba