Back
Walking tour of Old Havana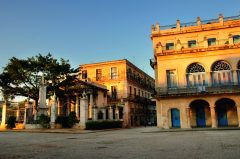 Explore the cobbled streets, mansion-lined plazas and colonial churches of La Habana Vieja, discovering the former haunts of Ernest Hemingway.
The historic core of this wildly atmospheric capital is a maze of cobbled streets, elegant plazas and picturesquely crumbling colonial mansions, a joy to explore on foot. You'll have the chance to admire all the most important historic buildings and churches while learning about the city's history and legends.
You can extend the tour by following in the footsteps of one of Havana's most famous residents, Ernest Hemingway, who was once a regular fixture in the smoky cocktail bars of the capital. To get a sense of his life here, visit the author's former home in La Vigia and the room he occupied in Ambos Mundos hotel, where he began writing 'For Whom the Bell Tolls'. Stop for one of the daiquiri cocktails Hemingway so enjoyed before heading onwards to the fishing village of Cojímar, inspiration for 'The Old Man and the Sea'.
Cuba
Havana