Back
Hotel La Habanera
Simple, likeable hotel in a restored colonial house occupying an ideal location in the centre of town.
The likeable Hotel La Habanera is right in the centre of town, on a pedestrianised street offering easy access to an abundance of restaurants, bars and places of interest. It occupies a lovingly renovated colonial house, with tasteful, understated décor in neutral colours complemented by vibrant tropical accents.
For a hotel of its category La Habanera is quietly elegant, with lofty ceilings and rattan furniture. In common with most colonial houses of this type, rooms are clustered around a central patio; some overlook the main plaza. The hotel offers a friendly service and a good value base in the heart of Baracoa.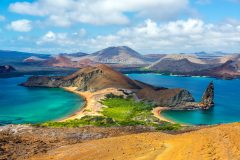 What our clients say
"Baracoa was well worth the trip and this hotel is in the middle of town. We were impressed by how friendly and helpful the staff are here, especially as we…

Helpful, friendly, charming. Like Baracoa itself - warm and special.

Another great location, we could watch the dancing in the street from our balcony during the 1 May celebrations. We were able to use the swimming pool at their sister…

A great location in the centre of town. Food was basic but staff were friendly. Bathtoom was a little pongy.
Our Expert's Opinion