Back
Explore the Cocora valley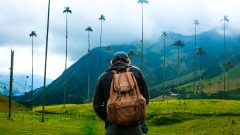 See Colombia's national tree, the majestic wax palm, swathing the scenic slopes of the Zona Cafetera.
The slender trunks of the wax palm shoot up from the slopes of Colombia's coffee-growing region, reaching a height of up to 60m. The sight of these spindly giants covering the rolling hills and fertile plains of the Cocora valley is one of the highlights of the area and an iconic image of Colombia.
From the tranquil Andean village of Salento, hike into the surrounding landscape to walk amongst these towering palms.
Colombia
Coffee Region (Zona Cafetera)