Back
Walking tour of Cartagena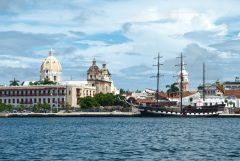 Stroll the atmospheric streets of a historical treasure trove on the shores of the Caribbean.
Evoking a romantic era of history with its fortified ramparts, cobbled streets and abundance of colonial architecture, Cartagena ranks high on the list of Latin America's most charming cities. Its historic core, enclosed by impregnable city walls, is a treasure trove of elegant churches and lovely 17th century mansions, their balconies spilling over with fragrant flowers.
Every turn within the compact Old Town reveals a historic building or picturesque street scene, so there's no better way to explore than on foot. The port city's dramatic history, charged with high seas adventure, piracy, and the cruelty of the Spanish Inquisition, comes to life as you wander through the colourful streets and up to Las Bóvedas, the old dungeons now converted into handicraft galleries.
Colombia
Cartagena