Back
Revel in Colombia's Barranquilla Carnival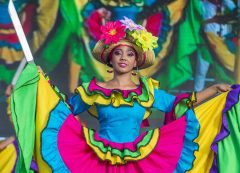 Enjoy the spectacle or join in the fun at Barranquilla's extravagant carnival, a riot of passion and colour.
The UNESCO-listed Carnival of Barranquilla, held annually over four days leading up to Ash Wednesday, is reputedly the second largest fiesta of its type after Rio de Janeiro's. Extravagant, exuberant, entertaining and exotic, it shows off the diversity and flamboyance of Colombian culture as a whole and that of the Caribbean region in particular.
This colourful spectacle fuses elements of both African pagan ceremonies and Catholic rituals, touched with inspirations from indigenous traditions. The result is an over-the-top display of music genres and dance, with participants dressed up in lavish costumes. The carnival was once considered a holiday for slaves of African origin, but now it has been embraced by many Colombians and foreign visitors as an opportunity to celebrate these traditions in a massively ebullient way.
Choose between a one day experience or dive in for the whole four day period of delirium, attended by over 1.5 million people watching or taking part.
Colombia
Caribbean coast and islands