Back
Visit Pablo Neruda's former home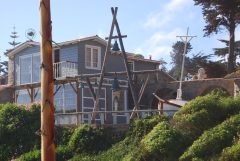 Explore Isla Negra and the nautically themed former house of one of Chile's most celebrated sons.
One of the most beloved literary figures to have emerged from Latin America, Pablo Neruda is almost universally adored within his native Chile. You can visit a number of the poet's former homes, now converted into museums dedicated to his life and loves.
The most famous of these is found in Isla Negra, not actually an island at all but rather a coastal enclave near Santiago. The design of the house follows a decidedly nautical blueprint that can leave no doubt as to the occupant's obsession: interiors resemble those of a ship, an anchor theatrically appears to moor the house to land, and walls are lined with an array of shells, figureheads, maritime curios and model boats.
Chile
Valparaiso and Vina del Mar