Back
Whale watching in southern Brazil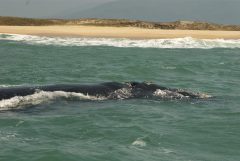 Encounter the giants of the seas on a southern Brazilian boat trip guided by experts.
If you're lucky enough to be in southern Brazil between August and late October, you could find yourself humbled by the sight of southern right whales breaching off the coast of Santa Catarina as they mark their arrival from Antarctica. These ocean behemoths migrate north to birth and nurse their calves in the warmer waters of Brazil, setting the stage for an awe-inspiring spectacle.
Unlike many other whale-watching areas, here the whales come very close to shore, meaning that on this trip more time will be devoted to watching and admiring these majestic creatures rather than spent sailing out to deeper reaches.
Brazil
South Brazil's mountains and beaches