Back
Experience New Year's Eve in Rio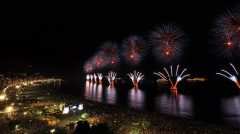 Join in the festivities at Copacabana beach's New Year's Eve celebrations with a million participants gathered on the beach for a extravagant firework display.
As a spectacle, the New Year's Eve celebrations on Copacabana beach in Rio are second only to Carnival in scale and extravagance. It's a jaw-dropping display: over a million people, mostly local residents dressed entirely in white (for good luck) congregate on the sands, the beach-side promenade and and Avenida Atlantica, closed to traffic for the event.
Why not join them? Everyone is in party mood, the scores of restaurants and bars lining the beach and streets of Copacabana are full to the brim with people electrified by anticipation, while the sea is speckled with the lights of dozens of boats and cruise ships which anchor in the bay.
Things start warming up at about 8pm, when live bands begin their joyous performances of samba and rock on pop-up stages erected along the beachfront. Then, not long before midnight, traditional ceremonies take place, such as the offerings of flowers and candlelit miniature boats launched onto the ocean in homage to Lemanjá, goddess of the sea.
The climax of the evening takes place on the dot of midnight when a sumptuous 20 minute pyrotechnic display explodes into life, with fireworks launched from the buildings lining the beach. Everyone gasps with excitement: people leaning out of windows and balconies, while the crowds below gaze up in delight.
After the fireworks the party continues, with nightclubs and bars thronged till dawn.
Brazil
Rio de Janeiro