Back
Explore the gold rush towns of colonial Brazil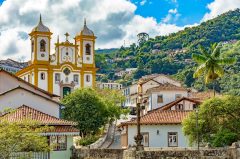 Discover the former mining towns of colonial Brazil in Minas Gerais - gorgeous baroque churches, cobbled streets and semi-precious stones.
The state of Minas Gerais inland from Rio and São Paulo is packed with vestiges of Portuguese colonial history, rolling mountain scenery and some of Brazil's friendliest and brightest people. During the 18th century, the state became wealthy on the back if its minerals: gold, diamonds and semi-precious stones.
After the gold rush, the mines were closed but the former opulence is still evident in the necklace of delightful baroque towns, with their superb ornate churches, museums, former mansions and municipal buildings. Ouro Prêto, Mariana, Congonhas and Tiradentes are among the gems, the first-named famous for its university and bubbly carnival.
You can spend a delightful few days touring the region, dipping into the history of each town. To recreate the atmosphere of a bygone age, you can even make part of the journey by steam train. There are opportunities to buy good-value semi-precious gems and jewellery, and hiking opportunities in the surrounding countryside.
Brazil
Ouro Preto and Minas Gerais