Back
Take the Train to the Clouds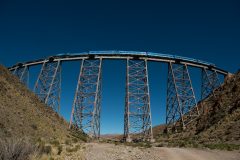 Traverse spectacular canyon scenery on one of South America's best rail voyages.
Whether it's for the great heights – ascending to over 4,200m above sea level – or for the peculiar sensation of floating on air as the single track glides across gaping canyons, Salta's Train to the Clouds is certainly aptly named. Although the original railway between Salta and San Antonio de los Cobres (3,775m) is now only open to freight, passengers are still able to travel along the section of track between San Antonio and the magnificent Polvorilla Viaduct.
Soaring across the arid highlands of the North West, this narrow-gauge railway performs some mind-boggling feats. Short but sweet, it's a thrill ride that lasts just an hour and - together with the connecting road trip from Salta - spans some of Argentina's most beautiful scenery.
Argentina
Salta and the northwest Andes