Back
Mingle with the gauchos at Mataderos market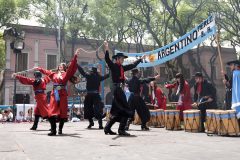 Explore the Feria de Mataderos, an authentic traditional gaucho market on the fringe of Buenos Aires.
Do you relish the cut and thrust of an authentic market with the sights, sounds and aromas that go with it? If so, head off on a guided tour to the Feria de Mataderos, the most traditional market in Buenos Aires. Mataderos is a gritty, working-class neighbourhood and home to the main cattle auction in Argentina.
The Feria was created to celebrate and preserve gaucho culture and traditions. On market day gauchos wearing their traditional outfits converge on the market from their ranches in the pampas to present typical dance, music, customs and handicrafts and you may catch a performance of the sortija - a classic gaucho horseback sport. To add to the revelry and rustic atmosphere, there over 300 stands selling artisania and delicious things to eat – you may well be tempted by tasty creole street food, or unable to resist a fragrant steak sandwich from the open air barbecue.
Argentina
Buenos Aires
Holidays Mingle with the gauchos at Mataderos market
From expertly designed Private Journeys to trail-blazing Group Tours, browse our range of carefully crafted holidays.
Private Journeys