How to Ride Like a Gaucho
8 April 2014

Joaquin Dedomenici shares his tips for adapting to the more rugged horse riding style of the gauchos when on an estancia holiday in Argentina.
I have been riding horses since I was five years old. I grew up in a family with a passion for horses and cattle: we have been in the cattle breeding industry for three generations and, as for anyone involved with cattle in Argentina, riding a horse was one of the most important skills we could learn.
Not just any kind of horse, but a criollo horse. The criollo horses are famous for their endurance and their performance as working horses.
If you want to know how to ride a criollo, first of all forget about the way you ride a horse in Europe (you will be riding in the distinctive landscape of the pampas, and besides, the horses are not trained to respond in the same ways as European horses). Clear your mind of everything that you have learnt so far.
To get into the gaucho spirit you need to get in costume. You will need to use bombachas (trousers), leather boots (alpargata shoes with polainas – a sort of legwarmer – are even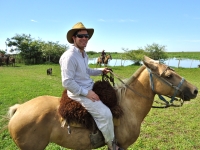 more traditional), a shirt and a beret. Some estancias will lend you this type of garb and it all adds to the experience. Of course if you feel confident enough in your riding skills you can also add the spurs.
You will be using a recado (a traditional Argentinean saddle), which is more comfortable than a European saddle, so you sit in a more relaxing way – but always keeping a straight line between your shoulder, hip and ankle. As the horse moves, allow your own movements to follow the motion of the horse; you achieve this with
the balance of your body.
You ride holding the reins with one hand, pulling them to the left or right to guide the horse. To be a true gaucho, you will need one hand free for your lasso or your rebenque (whip).
The horse needs to know who is in control, and more importantly, he needs to trust you. If he doesn't trust you, the horse will do whatever he wants. You show control with your legs more than anything else. He needs to know who is the master but you shouldn't forget that you depend on him as much as he depends on you.
If you have the chance to work with cattle even better, but if not just relax and enjoy your ride over the famous pampas.
Argentineans have a passion for horses, and when you add into the mix our love of sports it's no surprise that the Argentinean national sport is a type of 'horseball' known as the pato (although of course we are more famous for our football!). And don't forget that the biggest Polo tournament in the world is the Abierto de Palermo, held in November/December in Buenos Aires.
Tailor-made holidays
Flexible, custom-made holidays to Latin America created to match your exact requirements: our tailor-made itineraries are as unique as the clients for whom they are designed.
Design my trip