We were on a road trip, my good friend and colleague David and I, exploring areas unknown to us in the Argentinean Lake District. Whizzing in a 4x4 through unpaved roads, this was so far the best trip I've had in ages – except that at that particular moment the exhilaration was dampened by the fact that I wasn't driving and therefore I couldn't properly use the "x4" of the equation, which, for me, is the whole point of driving a 4x4. That was, at least my point of view, but David was having none of it, being cautious and making sure nothing happened to the car. It was useless to point out that, as a hired vehicle, the whole idea was to push the beast a bit harder. Not a chance. And as I had broken a rib – long story involving a pisco sour and a wheelbarrow, there was no chance for me to drive it and thus I had to limit myself to sing-a-long whatever great tune was playing (an unforgettable experience for all the wrong reasons, which doubled as revenge for not being able to drive) and watch the scenery.
And what a scenery! You could almost believe in miracles – if you're so inclined. We had taken the car in Chile and crossed over to Argentina in a tiny ferry that had room only for 2 cars and a handful of people, from Puerto Fuy to Puerto Pirihueico and then through the Huahum Pass towards San Martin de Los Andes. So near the border and such a difference! The northern part of the Argentinean Lake District is radically different from the one on the other side of the Andes. Whereas in Chile you will find lush, temperate and thick woods, once you cross the mountains the horizon is suddenly, staggeringly, over there. Further away. No big trees limiting your view but a vast endless landscape with open skies, a few fluffy clouds, lakes galore and mountains idem.
We had been in San Martin already – a picturesque town on the shores of Lake Lacar – and were now driving north towards Lake Huechulafquen in the Northern area of Lanin National Park. I had never been there before but I did know it was at the foot of the Lanin volcano, and I also knew that this particular peak was a difficult one to spot as it's always surrounded by clouds. With my eyes glued on some far away point in the distance, I managed to figure out where the volcano should be and ... it was surrounded by clouds. Still, hope didn't leave Pandora's Box and therefore I kept looking, waiting for a miracle.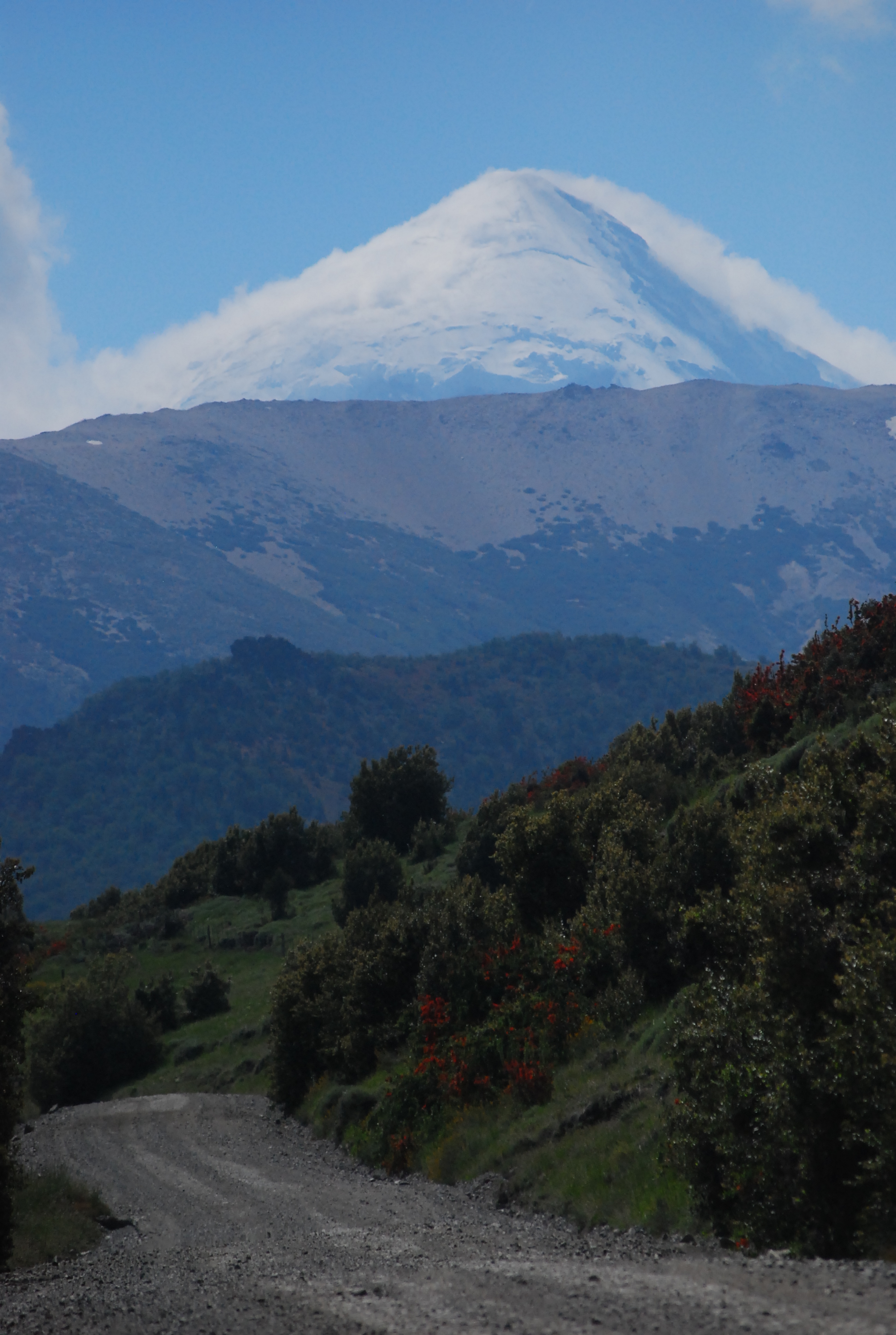 Lanin was unyielding.
After a long-ish tale – I'm ashamed to admit I've forgotten most of it – she opened a photo album and proudly pointed at a specific image. All we could see was a tree and a circle surrounding a leaf. There as a bit of a smudge, or so I thought, in the old photograph, but other that, I couldn't see what she was pointing at. Finally, disappointed by our blank stares, she blurted out "The blessed Virgin, of course!" - "Say again?" We answered. "The Virgin Mary, there, on that branch, see? (We couldn't) She pointed out the place for me to build this and here we are!" We didn't have the heart to argue and thus decided to go out again to find the exact spot of the Virgin's apparition. As it was now becoming my custom, I looked up – and, lo and behold! – Lanin was there! Clear, present and ready for that beautiful shot I still treasure. It lasted for no more than 5 minutes and then the clouds covered it again and we then continue walking towards the blessed tree, considering whether to become a believer or just assume it was a coincidence...
Tailor-made holidays
Flexible, custom-made holidays to Latin America created to match your exact requirements: our tailor-made itineraries are as unique as the clients for whom they are designed.
Design my trip